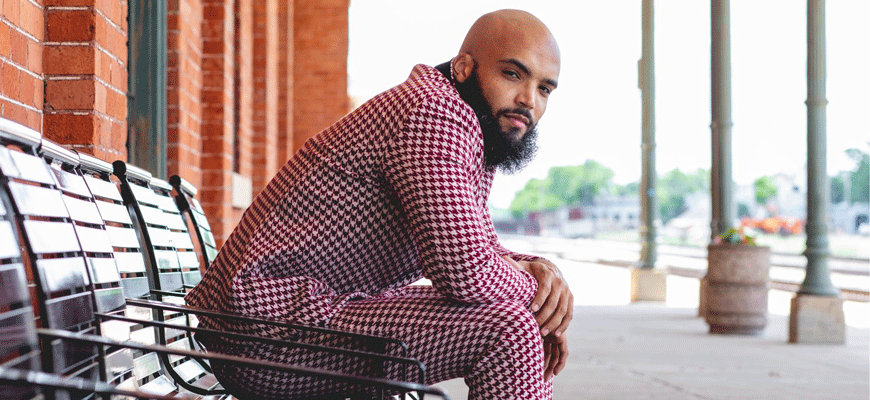 USC music series helps give artists social voice
Racial justice, equity grant funds commissions that explore social justice, pandemic isolation
---
By Marlena Crovatt-Bagwell,
crovattb@mailbox.sc.edu
---
Like many Americans, Marcus Norris' sense of community was jarred by recent events, and he was frustrated by what he felt was a lack of sincerity for social justice.
"The pandemic coincided with the death of George Floyd, Breonna Taylor and many racial protests. We saw this uptick in performative alliance from corporations and things that didn't even make sense," says the composer and producer from Jackson, Michigan. "Corporations, politicians and organizations would say 'black lives matter' or a lot of things like this, but there wasn't always any action behind it," he says.
From Norris' perspective, some politicians and celebrities made a public show of support but did nothing to change policy or take meaningful steps to diminish racism.
He remembers a 2020 photo of members of Congress wearing stoles made of Kente cloth during a moment of silence for George Floyd. He thought, "Can you just get up and go change something? You actually have the power to change something, but instead, you're posing for this picture — these kind of symbolic gestures."
Norris is one of two composers commissioned to write pieces for the University of South Carolina School of Music's Southern Exposure New Music Series. The works were written last year and performed at the School of Music Recital Hall in May.
Norris grew up listening to rap and R&B but says he was "bitten by the bug" of classical composers such as Bach and Beethoven. Now he uses his music to bring different styles together in interesting ways. He says the commission offered him an opportunity to explore how music and the arts have the power to reveal difficult truths as well as our struggle to grapple with them.
Composer Nicky Sohn, whose music is characterized by jazz-inspired, rhythmically driven themes, was also commissioned to write a piece. Her body of work includes solo, chamber and orchestral, and her current speciality lies within theatrical music, such as ballet and opera. Her composition for the Southern Exposure series focuses on the impact and isolation of COVID-19.
A grant from the Racial Justice and Equity Research Fund at the University of South Carolina helped underwrite the commissions and their recordings. The fund supports the university's commitment to ending racial injustice, racism and discrimination while promoting racial equity and justice throughout society.
"By providing research grants to our UofSC faculty who are centering race and racial justice in their work, we hope to be on the cutting edge of creativity as a university," says Julian R. Williams, vice president for diversity, equity and inclusion at University of South Carolina.
Through the grant program, Southern Exposure artistic directors Michael Harley and David Garner saw a way to showcase the talent of School of Music faculty while supporting composers from underrepresented communities.
Creating art from frustration
As a young Black man, Norris hails from a community that is often represented in trauma and given false hope — or love. The commission allowed him to express his emotions about a sudden rise of empathetic influencers, companies and industries to racial injustice.
Our award demonstrates the importance of artistic projects to contribute to racial justice and equity.

Southern Exposure artistic director David Garner
Norris' composition I Don't Want Your Love explores his exasperation. He says the work's two movements move from sadness to frustration and irritation.
"I don't want this kind of false love and was reflecting on this as I wrote this piece," he says.
By poetically calling out the systems that have caused division and calling in the community that is bringing change and unity, Norris strives to create power and beauty.
"When you write something, you don't really know how it's going to sound. When I heard the recording, I'm like, this is beautiful. It immediately became one of my favorite things I've done," he says.
The poignancy of I Don't Want Your Love is exactly what Southern Exposure hoped to achieve with its call for commissions from young composers.
"We strongly believe that contemporary classical music and a series like Southern Exposure can have a meaningful voice in the crucial dialogues we as a society are having — or need to be having — about racial justice and equity, particularly as they relate to the arts," Harley explains.
Roots in isolation
Sohn's composition, Deer Friend, exposes another effect of the impact of COVID-19 on community — the feeling of extreme isolation.
Sohn wrote Deer Friend while at Ucross, a residency program for artists, writers, and composers situated in northeast Wyoming at the foothills of the Bighorn Mountains. With fewer than a dozen artists in residency, she discovered a different kind of isolation from the separation she had been experiencing due to the pandemic.
"We were very cautious about COVID, so I was very, very isolated in this beautiful studio with a piano and a nice, big space all by myself," she says. "I would wake up in the morning and open the curtains and there would be these animal friends just visiting me in the morning."
These magical mornings reminded Sohn of childhood memories watching "princess" movies with her sister before she moved from Korea to the U.S. She tried to capture the sweet sincerity of these memories in the composition to counter her isolation and homesickness.
"It was sort of like a wordplay to come up with the title Deer Friend. It sounds like a dear friend, but it's actually like the animal deer," says Sohn. "It was really fun to work on the piece for the University of South Carolina. Writing for flute, violin, cello and piano was a very, very cool experience for me."
Garner says the results of the commissions are a win for all involved:
"I was really pleased we were awarded funds, since most of the language for the grants seemed to be geared more towards social and historical research instead of the arts. Our award demonstrates the importance of artistic projects to contribute to racial justice and equity."
---
Listen to the compositions
Nicky Sohn, Deer Friend (2021)
Marcus Norris, I Don't Want Your Love (2021)
The Southern Exposure New Music Series is devoted to exploring the rich variety of contemporary classical and world music written in the past 30 years and masterworks of the 20th century. For more information contact artistic director Michael Harley, mharley@mozart.sc.edu.
Banner image: Marcus Norris by Stay Gold Photos
---
Share this Story! Let friends in your social network know what you are reading about
---