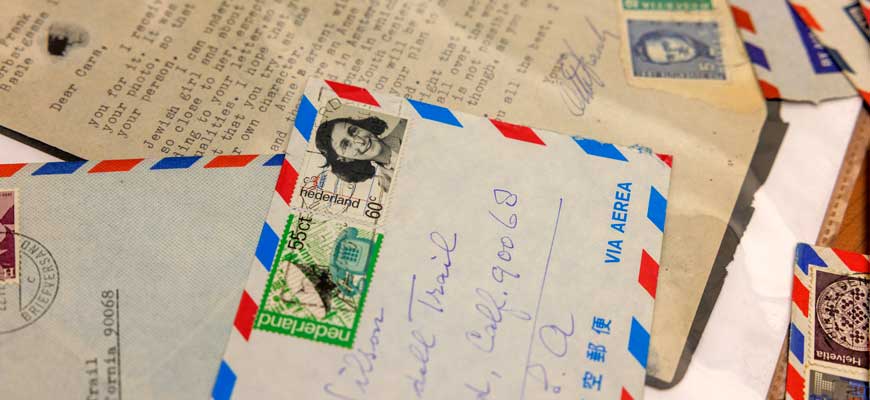 Letters of Hope
Author Cara Wilson-Granat reflects on the correspondence of Otto Frank
---
By Craig Brandhorst,
craigb1@mailbox.sc.edu
, 803-777-3681
---
In June 1968, shortly after the assassination of Robert Kennedy, UCLA undergrad Cara Wilson-Granat wrote a letter to Otto Frank, father of Anne Frank.
It wasn't the first time the young college student had reached out to the man responsible for shepherding The Diary of a Young Girl to publication. The two had been corresponding for close to a decade by that point and would continue to write until Frank's death in 1980. But among the more than 100 missives the two exchanged, that particular letter is among the most meaningful to Wilson-Granat.
A cri de coeur that also touched on the assassinations of President John F. Kennedy and civil rights leaders Martin Luther King Jr. and Medgar Evers, it's a snapshot of a tumultuous time and riddled with urgent questions about fixing a broken a world. It could have been written by any number of disillusioned young people at that point in history, but its audience and circumstances lend it a powerful and distinct aura.
"That was a pivotal point for me," says the Colorado-based author, who had initially written to Frank in 1959 after auditioning for the Anne Frank role in the Hollywood adaptation of the diary. "I've always been an optimist, but I also fight hopelessness. And that's what I wrote to Otto. I said, 'You know, I don't know why you have so much hope for the world, because I have none. I will never bring a child into a world this cruel.' And I meant it so strongly. How could I?"
Frank's hopeful response — "Life goes on and perhaps your child will bring the world one step further," he advises — is now part of a trove of correspondence that Wilson-Granat recently donated to the Anne Frank Center at the University of South Carolina.
"We're now in a world of so much animosity and hate and antisemitism," says Wilson-Granat, whose long relationship with Frank is detailed in her 2021 memoir Tree of Hope. "If this collection could be a forum for opening up discussions rather than just being put away somewhere, it lives on."
Comprising more than 100 missives written by Frank between 1959 and 1980, the collection offers the renowned humanitarian's reflections on history and insights into a range of subjects, from love and marriage to the power of hope in the face of despair. The letters also provide a window on Frank himself, who was well known for responding thoughtfully to young correspondents from around the world.
"What shook me to the core when I finally met him — which was so emotional — was when he opened up this huge cupboard door, from the ceiling to the floor, and I saw boxes and boxes and boxes of letters, notebooks from children all over the world," says Wilson-Granat, whose own collection is now the basis for the new Anne Frank Center Archive, a collaborative effort between University Libraries and the Anne Frank Center.
We're now in a world of so much animosity and hate and antisemitism. If this collection could be a forum for opening up discussions rather than just being put away somewhere, it lives on.

Cara Wilson-Granat
And there is certainly a lot of other Anne Frank-related correspondence still out in the world. Otto Frank received more than 10,000 letters from children around the world, and Anne Frank Center Executive Director Doyle Stevick hopes Wilson-Granat's gift will inspire others.
"Anne's legacy was guided and shaped for more than 35 years by Otto Frank. These letters reveal the personal side of a private man who always wanted his daughter's words and spirit to be front and center," says Stevick. "His heartfelt responses to Cara help us understand how he saw Anne's continuing relevance in turbulent times."
But Wilson-Granat's experience seeing her own correspondence with Frank amassed as a single collection more than 40 years ago in Basel, Switzerland, was also about how he saw the other children who looked to him for sage wisdom and even fatherly advice.
"It was overwhelming, totally overwhelming," she says. "Especially when he sat me down and put this huge box in front of me and said, 'These are your letters.' I get moved by it every time I think of it. I mattered to him. We all mattered to him."
---
Share this Story! Let friends in your social network know what you are reading about
---