Turning on the Light
The university's Anne Frank Center is dedicated to the legacy of the famous Holocaust diarist — and is committed to changing the world through education and conversation.
When Mary McElveen was in seventh grade, a boy in her French class told her she shouldn't exist. Because she is Jewish. Because of the Holocaust. Because, to his mind, Hitler was right.
"I don't remember what prompted him," McElveen explains, "but he said to me, 'The Jews deserved it. They were taking over the government. Hitler did what he had to do to protect his people. He should have killed them all. You shouldn't be here.'"
McElveen was one of the only observant Jews at her small Charleston, S.C., school. She was offended. She was scared. She was also young and didn't know how to respond. "I just sort of looked at him," she says. "I'm sure I didn't handle it well. Thankfully, my teacher intervened."
But when school administrators asked if she wanted them to pursue expulsion, McElveen declined. "I said no because, at the end of the day, that would have caused more issues. Also, it would have taken away the opportunity for education, where we could learn from each other."
After the incident, the school revamped its curriculum to include more Holocaust literature. And while the boy's attitude persisted, eventually, in 10th grade, he apologized. It was a small victory but, for McElveen, a meaningful one. "I do think there was a change in him," she says. "He said he recognized how terrible the things he said were, that he was immature. He went through a whole spiel."
Now a junior at the University of South Carolina and vice president for religious events and cultural programming with Hillel, the university's Jewish student organization, McElveen is committed to peer education. It's one reason she took part in a training session at the Anne Frank Center, where she plans to become a docent.
"The focus of the training is student-to-student education," McElveen says. "As opposed to standing in front of a group and talking, it's 'Let's start a conversation.' Hopefully after someone has toured the Anne Frank Center, they can guide their own peers in discussions and have a ripple effect."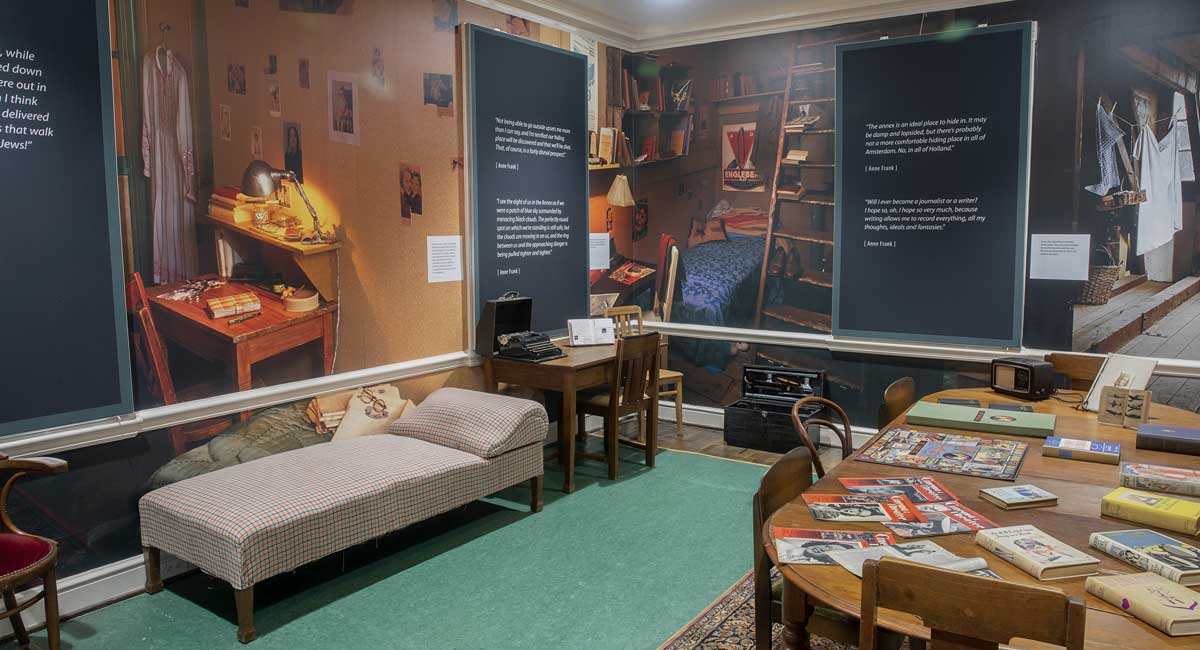 The Anne Frank Center at the University of South Carolina — one of just three such centers in the world, and the only one in North America — doesn't resemble the canalside building in Amsterdam where 13-year-old Anne wrote her now-famous diary. Located in the Barringer House, a Georgian-style home once occupied by the university's alumni association, the center backs up on a formal garden used for wedding receptions and special events.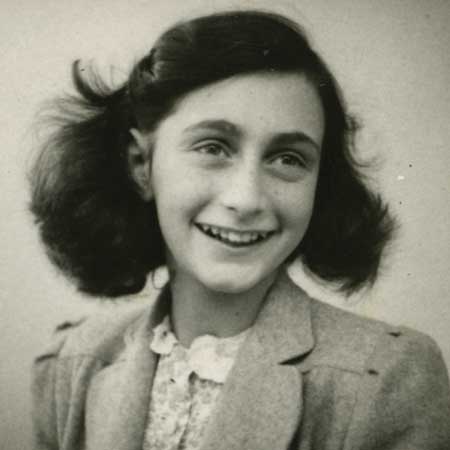 But inside it's a different world. A detailed time line sets Anne Frank's personal tragedy within the larger context of the Holocaust, the Nazi government's systematic murder of more than 6 million Jews between 1933 and 1945. A room decorated with period furniture and ephemera left over from a film adaptation of the diary helps guests visualize the secret annex where the Franks and four other individuals hid from the Nazis between 1942 and their arrest in 1944. Another room is dedicated to the people who helped them hide.
The exhibits were designed in partnership with the Anne Frank House in Amsterdam, where the center's founding director, Doyle Stevick, once spent a summer as a visiting scholar. The programming reflects the philosophy of Otto Frank, Anne's father, who survived the Holocaust and oversaw the publication of his daughter's diary after WWII.
"Otto insisted that we needed not just history lessons, but the lessons of history," says Stevick, who is also an associate professor in the College of Education. "We very much embrace the Anne Frank House's 'three R' philosophy: remember, reflect, respond."
Tours at the Anne Frank Center are by appointment only and are currently conducted by staff, though the plan is to train students like McElveen to assume some of those duties. And while there is plenty to learn from the exhibits, the hardest work will occur in the adjoining conference rooms where students, teachers and other visitors will gather to debrief.
"That's really where this blossoms in a million directions," says Stevick. "It's not hard to transmit information. If people want to learn, they will. But to have the courage to reexamine your own perceptions and attitudes and be open to change, that's difficult. There has to be an invitation, and it takes time. It's a process."
Stevick has been writing about Holo­caust education since the early 2000s and cooperating with the Anne Frank House nearly as long. He brought the Dutch museum's traveling exhibit to Midlands schools in 2013 and helped bring Otto Frank's stepdaughter and Holocaust survivor Eva Schloss to campus in 2017. He has a knack for networking. Indeed, the center is located where it is because President Harris Pastides, who maintains an office on the second floor, was so intrigued by the project's possibilities.
But Stevick's work also has a personal dimension. In 1999, when he was teaching at Indiana University, one of his former students went on a three-day shooting spree across two states, targeting Blacks, Jews and Asians. The shooter ultimately killed two people and wounded nine before taking his own life.
The media would recount a series of troubling incidents leading up to the murders, but Stevick was oblivious until he saw the story on CNN. "I had a pretty simplistic notion about racism," he says. "My image of a racist was skinheads and neo-Nazis and Klan members. This was just a quiet kid in the back of the room who would chuckle at my corny jokes. I hadn't seen him as he really was."
But Stevick is also an optimist. Maybe, he concluded — with the right conversations at the right time in the right context — things might have turned out differently for his former student. Maybe in the future they might turn out differently for someone else.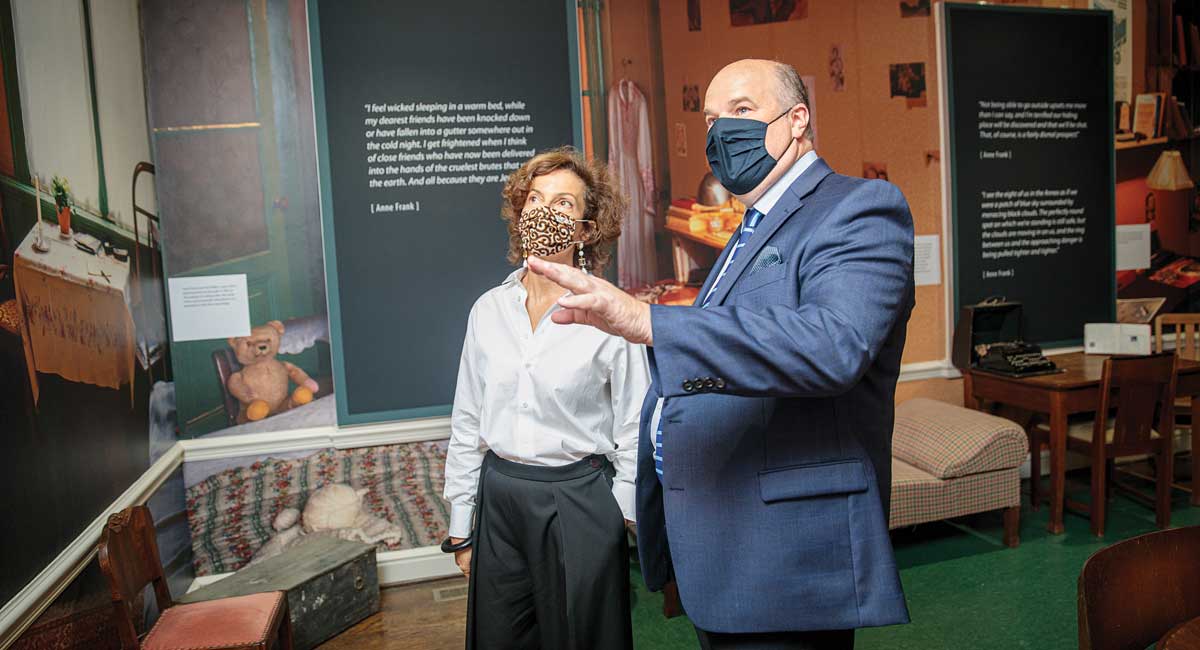 The Anne Frank Center may be brand new, but the hard work is already underway. In October, for example, the South Carolina Council on the Holocaust and the Anne Frank Center held their first joint workshop for Midlands-area teachers. The pilot cohort consists of 10 middle and high school teachers who will teach The Diary of a Young Girl before bringing their students to campus this spring.
For the council's executive director, Scott Auspelmyer, '04 M.Ed., the partnership is an opportunity to improve Holocaust education statewide. As part of the project, he and the staff at the center are collaborating on instructional materials to help the teachers maximize their impact.
"Our concern is always going to be making sure teachers have the right content and can provide the right context," says Auspelmyer, himself a veteran social studies teacher. "Yes, you can read the diary and visit the center, but do you understand the Holocaust and how Anne Frank's story fits into it? As a council on the Holocaust, we're dedicated to making sure teachers can fill those gaps."
The same mission is echoed by faculty on campus, from the University 101 instructors who have already brought sections to the center, to Jewish Studies Program Director Federica Schoeman, who is teaching her course on the Holocaust this fall, to history professor Saskia Coenen-Snyder, whose Honors College course on The Diary of a Young Girl will benefit from a wealth of new resources this spring.
Letters of Hope
Anne Frank's father, Otto Frank, corresponded with thousands of young people as he worked to promote his daughter's legacy. His decades-long correspondence with author Cara Wilson-Granat is now the foundation of the university's new Anne Frank Center Archive.
Read the Story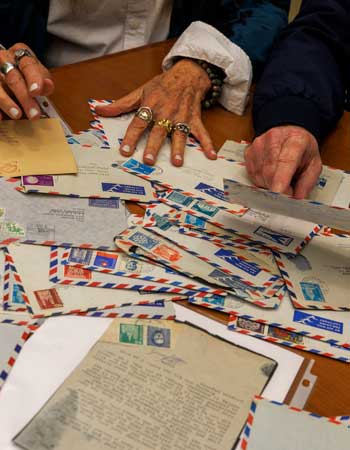 Carolinian Magazine
This article was originally published in the spring 2022 issue of Carolinian, the alumni magazine for the University of South Carolina. Meet more dynamic Carolinians and discover once again what makes our university great.
View the Carolinian