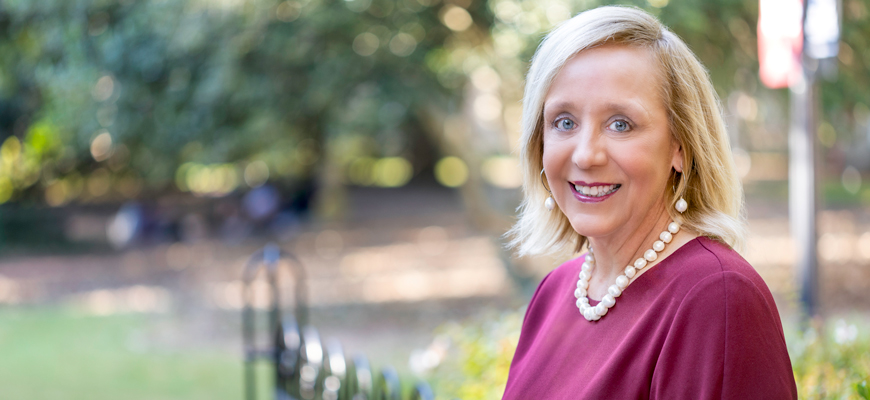 Dodenhoff's promise
New vice president for development is a familiar face
---
By Craig Brandhorst,
craigb1@mailbox.sc.edu
, 803-777-3681
---
When new Vice President for Development Michelle Dodenhoff was decorating her office at the University of South Carolina's Osborne Administration Building last month, two pictures went up right away.
One is a framed 2013 poster of 'The Hit,' when defensive end Jadeveon Clowney flat-out leveled a University of Michigan tailback in what seemed like a nanosecond, cementing his place in Gamecock football history. The other, which hangs above Dodenhoff's desk, is a picture of the university's Historic Horseshoe, inscribed by former university President Harris Pastides.
"You are a once-and-always Gamecock who embodies all that is good about our university," reads the inscription on the Horseshoe print. "We thank you and wish you happiness and success in New Orleans. We will welcome you back, and that is a Carolina Promise."
See, this isn't Dodenhoff's first trip 'round the Horseshoe. She was associate VP for development from 2004 to 2009, then vice president for development and alumni affairs from 2009 to 2013, when family matters drew her home to Louisiana. For the past nine years, she has served as chief development officer and senior vice president for philanthropy at Ochsner Health in her native New Orleans.
Except part of her was still at Carolina. Or wanted to be. "Leaving USC was first and foremost a family decision," she says. "But it was very difficult, probably the hardest professional decision I've ever had to make."
Why wouldn't it be? That "Carolina's Promise" pun on the Horseshoe print? That was Pastides' thank you for her leadership on the university's first-ever $1 billion capital campaign, which Dodenhoff's team pushed across the finish line after she and her family returned to her hometown.
For fundraising to be successful, the relationship between the president and the chief fundraiser needs to be very tight.

Michelle Dodenhoff
Now back on the Columbia campus as a key member of new President Michael Amiridis' executive cabinet, Dodenhoff is ready for the next challenge, which means laying the groundwork for the next capital campaign. She's done it before and is confident she can do it again. But that doesn't mean she'll whip out the same old playbook.
"I'm going to try my best to approach this as if this is my first time at the university," she says. "Because I am aware that not only has this university changed, but the world has changed. We are in a very different place in 2022 than we were in 2019, and certainly than we were in 2013."
And Dodenhoff herself is different. For nearly a decade, she sharpened her leadership skills spearheading fundraising efforts at Ochsner, a $4.3 billion company with 32,000 employees. Early in the pandemic, she enrolled in a distance education master's program in communications through the University of Alabama, just to broaden her horizons. She keeps her eyes squarely on the future. Did she really want to revisit the past?
"I spent the last nine years at a remarkable health system, the biggest health system in the state of Louisiana, but I was also at a point where I was looking for the next opportunity and I found it at USC," she explains. "At first, I was like, 'Can you really go back?' And I was of the mindset that you couldn't. My mindset has always been, do your thing and keep moving."
So what changed? She thinks out loud, floating explanations — "Fate?" "Destiny?" "Divine intervention?" — but she eventually settles on one word: "epiphany." "It was like I was soul searching," she says. "And then it just hit me: 'I really need to go back to South Carolina. I hope the position is still open!' "
Epiphanies rarely happen in a vacuum, though. Dodenhoff circled back to Carolina for a lot of reasons, but near the top of her list was the announcement back in January of former South Carolina provost Michael Amiridis as the university's 30th president.
"At the end of the day, my coming back had a lot to do with Michael," she explains. "When I first came to South Carolina as AVP for development, he was the dean of engineering. I worked with him and his gift officer. Then, when I became vice president, he was the provost. I just have a profound amount of respect and admiration for him."
That relationship will be critical as Dodenhoff settles back into her role at Carolina. "For fundraising to be successful, the relationship between the president and the chief fundraiser needs to be very tight," she says. "I felt that we could be a great team as we embark on the university's next capital campaign."
---
Share this Story! Let friends in your social network know what you are reading about
---