Twenty years ago, more than three-quarters of nurses worked in hospitals. Now, only about half do. Increasingly, they also work in community centers, primary care and home health settings, and in telehealth and mobile care.
While registered nurses remain crucial to our health care system, they are in short supply — especially in South Carolina, which has the lowest nurse-to-population ratio in the country. Among the reasons for the shortage are an increased demand brought on by an aging population, ever-expansive roles and high turnover made worse by pandemic burnout. It's a stressful job, and nurses are leaving the bedside in record numbers.
The University of South Carolina is working to meet the challenge on all fronts, through attracting, retaining and better training nurses.
"Nurses enter the profession because we are givers who want to help individuals optimize their health. But we haven't done a good job of taking care of ourselves," says College of Nursing Dean Jeannette O. Andrews. "If we can change this, we can advocate for improved staffing models and compensation, address the burnout nurses experience, improve effective coping strategies to manage the stresses of the job, and help retain more nurses in our crucial field."
As part of its ongoing efforts, the College of Nursing has updated its curriculum to meet the changing nature of nursing. The college's online graduate program is ranked No. 1 in the country, and the university's nursing students are in the Top 1 percent in the U.S. for their pass rate on the NCLEX-RN exam. Learning from South Carolina's nationally recognized faculty, students become agile nurses who can thrive in a wide range of patient care settings.
Even as the college focuses on academic excellence, enrollment has also climbed: Since 2015, the college has increased prelicensure nursing student enrollment by 33 percent. Overall, the university system awards 900 nursing degrees each year.
Here's a look at the remarkable efforts of students, faculty, alumni and university leaders to advance nursing education and help meet the need for more new nurses.
Bringing diversity into nursing education
Crystal Murillo, College of Nursing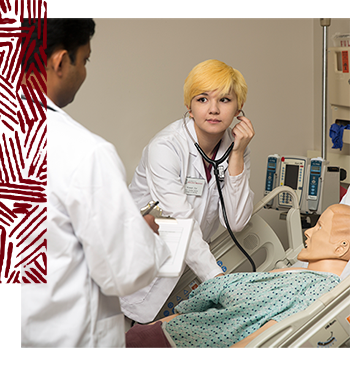 When Crystal Murillo first encountered the nursing mannequins commonly used to train new nurses, she was struck by one thing: all the mannequins and task trainers in the training lab were white.
That was in 2013.
"It was that initial, very powerful observation that made me think about how I could connect the dots and diversify the mannequins, the facilitators and the pedagogy," says Murillo, now director of the Center for Simulation and Experiential Learning at the University of South Carolina College of Nursing.
The lack of patient diversity in simulation, Murillo says, can limit the experience for students. That's why she joined forces with a group of like-minded professionals pushing for change in the manufacturing of mannequins.
It's also why she conducted an anonymous survey during a conference in 2018 about incorporating DEI into simulation. One big takeaway? Some nursing educators are uncomfortable talking about racism and cultural differences. Another? Some educators are uncomfortable even teaching about the social determinants of health.
Addressing these issues is crucial, says Murillo, whose research in simulation and nursing education has made the university a leader and a hub for resources and best practices in the state.
"It's really about preparing them to transition to the workforce," she says. "And in order to do that accurately, what we do in education should mirror the patient populations in which they will serve in practice."


Read more about Murillo's research
Public-private partnership will grow nursing pipeline
University partners with Lexington Medical Center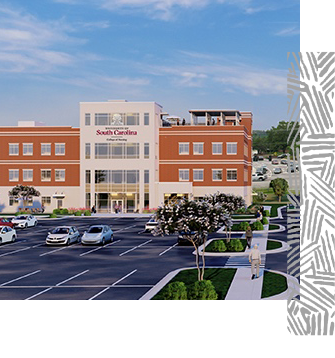 It's no secret that the state of South Carolina faces a nursing shortage, but the extent of the challenge might be surprising to some. According to the federal Bureau Health Workforce, the state has the lowest nurse-to-population ratio in the United States — 7.89 nurses per 1,000 people, compared with a national average of 12.06.
Thankfully, the University of South Carolina is taking proactive steps to address the problem. In July, the university announced an expanded partnership with Lexington Medical Center that will see the hospital system build a 50,000-square-foot nursing simulation center and teaching space to provide clinical training to the university's nursing students.
The project, funded by LMC, is expected to be completed in 2024. With the new space, the university will be able to graduate 400 nurses per year in the Midlands — an 80% increase annually. The new building will be used primarily for clinical training of the university's third- and fourth-year nursing bachelor's students as well as master's program students.
"Our innovative partnership with Lexington Medical Center is great news for South Carolina residents, who will directly benefit from the training we provide to future nurses," says Jeannette Andrews, dean of the College of Nursing.
"The College of Nursing continues with its steadfast momentum of excellence in the preparation of nursing professionals to advance their careers," Andrews says.


Read more about this partnership
Helping nurses improve their own health
Michael Wirth, College of Nursing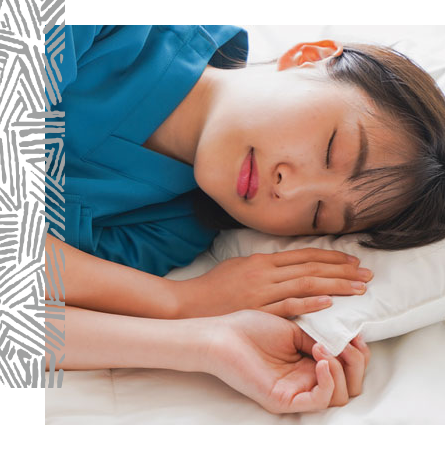 Shift work is hard — and, increasingly, researchers are coming to understand how hard it can be on the body.
Assistant professor of nursing Michael Wirth understands the challenges facing workers in high-stress occupations like nursing and law enforcement, and his research aims to help.
In one study, which Wirth is conducting in collaboration with Arnold School of Public Health associate professor Brie Turner-McGrievy and College of Nursing associate professor Robin Dawson, he's looking at the diets of nurses who work at least two or three night shifts per week. Each nurse enrolled in the study tracks their diet over a weeklong period. The ultimate goal is to create dietary interventions for an at-risk group in a high-stress work environment.
It's important stuff, not only for the nurses — their health and well-being, their happiness and career satisfaction — but also for the profession itself. Within the first year of nursing, Wirth explains, upwards of 40 percent of nurses either quit the occupation, go back for an advanced degree to escape the grind, or change units to get out of night shifts.
"Very few researchers have actually looked at changes in health that occur as these nurses start working and whether those changes are associated with their stress, their depression and why they are actually leaving the profession," Wirth explains.


Read more about Wirth's research
Prisma Health invests in nursing at Columbia, Upstate campuses
Scholarship program aims to address statewide shortage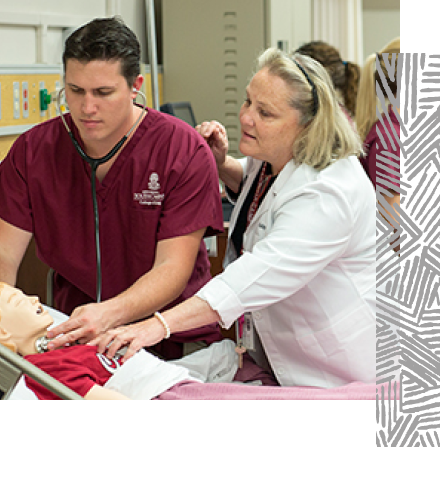 The University of South Carolina's Columbia and Upstate campuses are recipients of an investment from Prisma Health to help counter the state's critical nursing shortage.
Prisma's pilot nursing recruitment program will provide $5 million for scholarships and additional resources at five South Carolina colleges and universities. The program will support student learning and prepare students for the workforce.
"USC College of Nursing is preparing and graduating new nurses to enter the workforce who are well-prepared to meet South Carolina's health care needs," College of Nursing Dean Jeanette Andrews says. "We thank Prisma Healthcare for their commitment to provide our students with opportunities during their training and after graduation."
The Prisma Health Nursing Scholars program should impact more than 200 students statewide. The university's Upstate program, which includes 24 students, launched in September. The Columbia campus program launched in January.
"Prisma Health is providing our nursing students with opportunities for scholarships and access to clinical experiences," says Andrews. "This pilot nursing program will support USC College of Nursing's commitment to solve the critical nursing shortage in our state with affordable solutions for our students."
Read more about Prisma Health's support
Finding joy at USC
Gayenell Magwood, College of Nursing faculty
In 2021, Gayenell Magwood was at a crossroads in her career. After more than two decades at MUSC, she was ready for a change in environment. She could retire or contribute more to her field. But she still felt led to continue supporting and mentoring fellow nurse scientists.
"I wanted to be in an organization that valued my contributions, was progressive and aligned with my values and vision," she says. "I was being recruited across the country, I turned down opportunities and was about to decide to leave the state."
Then, Magwood was invited to USC as a visiting professor and was impressed. She felt at home — some of the faculty were her former students. She learned about faculty members' experiences and saw threads of commonality.
Magwood joined USC's faculty in 2022. The university has given her the opportunity to focus on health equity and disparities in underserved populations. Her work centers primarily on community research and engagement, cardiometabolic risk and prevention, and cancer control and prevention.
"Everything that I had wanted to do in this phase of my career and what other organizations tried to offer was right here at USC. I chose joy," Magwood says.
Bilingual nursing student seeks to serve others
Mariela Moreno Nava, USC Beaufort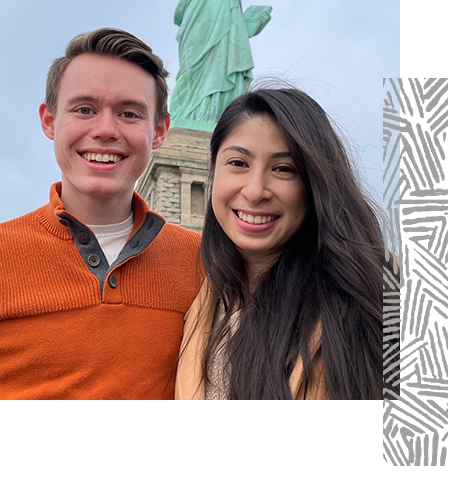 Being a nurse requires more than technical skills and knowledge. It requires effective communication skills. But for the estimated 221,714 South Carolinians who speak Spanish at home, it can be a challenge to find health care workers with the linguistic abilities needed to care for them.
Mariela Moreno Nava, a first-generation student at the University of South Carolina Beaufort, learned at age 15 how important communication is in a health care setting, when her sister was diagnosed with leukemia. Her mother did not speak much English then, and Moreno Nava took note of the important role nurses played in keeping her family informed.
"I noticed that it was the nurses who comforted us and educated us about what to expect and how to care for my sister," she says.
A decade later, her sister is fully recovered and Moreno Nava is a nursing major who believes it's critical for health care professionals to speak to the community they serve in their native language.
Moreno Nava is the recipient of the National Hispanic Health Professional Student Scholarship, a highly competitive national scholarship from the National Hispanic Health Foundation. The foundation established the scholarship for medical, nursing, dental, pharmacy, public health, and health policy students with outstanding academic records, leadership, and who are dedicated to serving the Hispanic community.
"I look forward to serving all my patients — and especially Spanish-speaking patients," Moreno Nava says.


Read more about Moreno Nava's Story
University ranks #1 in online graduate nursing
Flexible degree programs offer pathway to nursing leadership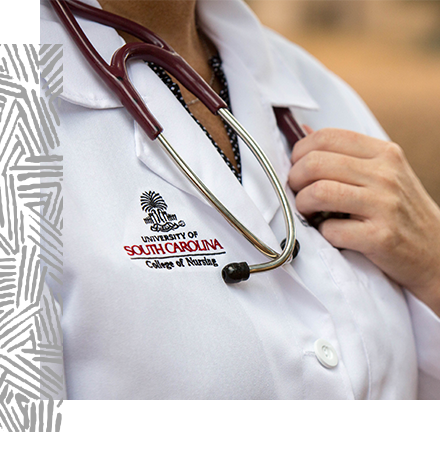 Online graduate programs are particularly important in nursing because they offer flexibility to students who already are practicing in the field. So, it's a big deal that the University of South Carolina ranks No. 1 in this area.
Specifically, last January the university's College of Nursing retained its No. 1 ranking in U.S. News for its online graduate nursing program. In addition, South Carolina's online master's in nursing administration broke into the Top 10 and the nursing school kept its No. 1 spot as the top online nursing graduate program for veterans.
The university's success in this area demonstrates both its academic excellence and its commitment to providing flexible degree pathways. And, as the university produces more nurses with master's degrees, it also produces tomorrow's leaders in the field of nursing.


Working with the state to address nursing faculty retention
General Assembly allocates $10 million to institutions statewide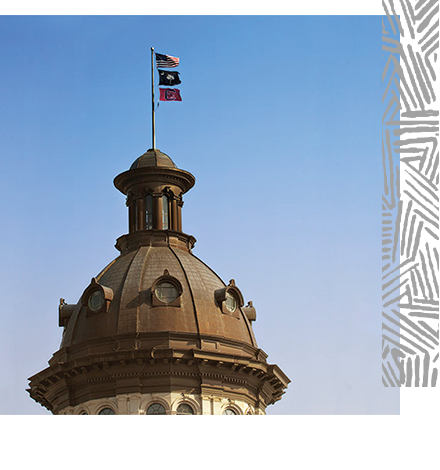 In June, the General Assembly included $10 million in the state's FY 2022-23 budget to address the nursing shortage in South Carolina.
The allocation is a result of the College of Nursing and other public institutions in South Carolina working with Gov. Henry McMaster and state legislators to tackle a vital issue — nursing faculty retention.
According to national and state data, a key contributing factor to the overall nursing shortage is the lack of earning potential in nursing education compared to private health care practice. Improving faculty retention is an important part of addressing the larger nursing shortage, because having more faculty allows institutions to bring in more students.
Half of the state allocation will be used to improve pay for clinical nursing faculty at institutions throughout the state. The remaining funds will help lower financial barriers by providing tuition reimbursement and scholarships for graduate-level students in nurse educator programs.
"Nursing is vital to the health care system, so the benefit of this support will be significant in improving health and health care for South Carolina," says Shirleatha Lee, dean at USC Upstate's Mary Black College of Nursing.