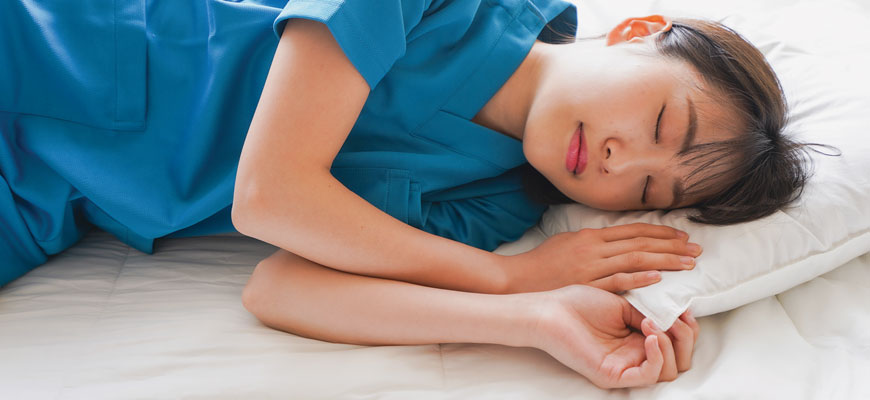 Eat, sleep, be healthy
Diet and lifestyle studies aim to improve health outcomes
---
By Craig Brandhorst,
craigb1@mailbox.sc.edu
, 803-777-3681
---
Assistant professor of nursing Michael Wirth is a busy man these days, with his hands on multiple projects. The over­arching goal? Healthier diets and lifestyles for shift workers in high-stress occupations like nursing and law enforcement and better sleep for everyone.
One study, which Wirth is currently conducting in collaboration with Arnold School of Public Health associate professor Brie Turner-McGrievy and College of Nursing associate professor Robin Dawson, is the Shift-working Investigation of Fasting and Timing of Diet Study, or SHIFT.
The observational study is looking at the diets of nurses who work at least two or three nightshifts per week. Each nurse enrolled in the study tracks their diet, at work and not at work, over a weeklong period. The ultimate goal is to create dietary interventions for an at-risk group in a high-stress work environment.
And it's important stuff, not only for the nurses — their health and wellbeing, their happiness and career satisfaction — but for the profession itself. Within the first year of nursing, Wirth explains, upwards of 40 percent of nurses either quit the occupation, go back for an advanced degree to escape the grind, or change units to get out of night shifts.
But while there has been plenty of research on the root causes of turnover, much of it has focused on organizational structures rather than on the health and behavior of the nurses themselves.
"Very few researchers have actually looked at changes in health that occur as these nurses start working and whether those changes are associated with their stress, their depression and why they are actually leaving the profession," Wirth explains.
The team began rolling recruitment for the SHIFT study in September 2021 and by December had enrolled approximately 100 nurses. By the study's completion in March 2022, they hope to have observed the dietary habits of around 140 individuals. The goal is to parlay the findings of the pilot study into a randomized controlled trial to study time-restricted feeding next year.
In that study, nurses in the intervention group will choose a daily eight-hour window when they eat. The control group, on the other hand, will be given healthy diet information. The researchers will use saliva measurements to track the subject's health.
Very few researchers have actually looked at changes in health that occur as these nurses start working and whether those changes are associated with their stress, their depression and why they are actually leaving the profession.

Michael Wirth
"We know there are health deficits that occur especially early on in nursing," says Wirth. "We see weight gain as frequently as we see reported increases in other chronic diseases, and a lot of these things are tied to diet, as well as to physical activity and sleep and stress reduction."
Wirth compares the various health deficits to "dominoes," with one deficit triggering another and another. It's something he's seen play out since he was a master's student, when he joined onto another study of an at-risk workforce, the Buffalo Cardio Metabolic Occupational Police stress study, or BCOPS.
Started in the early 2000s by SUNY Buffalo nursing professor John Violanti, and pursued with assistance from former University of South Carolina professor James Burch (now at the Virginia Commonwealth School of Medicine), the longitudinal study began as a collaboration with the National Institute for Occupational Safety. It is much larger in scale and more firmly established than Wirth's new SHIFT study, having tracked hundreds of Buffalo area police officers for close to two decades, but the findings have shown a similar domino effect.
"The cohort was set up to really focus on cardiovascular related health in these police officers, both men and women," Wirth says. "And again, we see increased rates of heart disease, suicide and depression, diabetes and cancer compared to some other occupations."
As a result, BCOPS has continued to attract funding, including a recent renewal from the National Institute of Justice. Wirth, meanwhile, has been able to study some additional deficits and markers among the remaining cohort. "One of the big things for me is looking at diet timing, so we've added some aspects of that for the officers who are still involved in the project," he says.
And then there's a third study underway that seems like a bit of a wildcard alongside SHIFT and BCOPS — until you remember Wirth's domino analogy and the relationship between poor sleep and other health deficits. Conducted in collaboration with Dawson and College of Nursing pro­fessor Jean Davis, the small-scale study is designed to test the viability of a new commercially manufactured under-mattress sleep sensor that purports to offer data comparable to that obtained through traditional polysomnography.
The jury is still out on the new technology, at least in academic circles, but if the tests bear out, the device could potentially serve as an in-home sleep measurement device, particularly for parents of children with sleep disorders. Instead of having to hook a child up to a cumbersome polysomnography unit outside the home, the smaller, wireless device could quietly do its thing from under the child's own mattress.
Through an arrangement with BioSerenity, a local sleep diagnostic company, Wirth and his collaborators are placing sensors under the mattresses of individuals already undergoing other sleep tests. For Wirth, whose first love research-wise was the study of circadian rhythms, the mattress study scratches that itch.
"These sensors can get a little bit more granular than just, 'Are you asleep, yes or no?,'" he says. "They can't get quite as far down as a polysomnography right now, but it seems they can get close, which is impressive."
---
Share this Story! Let friends in your social network know what you are reading about
---