From the time Katey Tyler created classrooms for her cousins as a child, she knew she wanted to be a teacher.
But when it was time to build her career, obstacle after obstacle stood in her way — military family life, motherhood and medical challenges among them.
Rather than deter her from goal, her trials again and again have reinforced her passion for the classroom and influenced her teaching style.
"It took me a long time to get here," says Tyler, '21 elementary education. "When I began college, I was unable to complete my degree because my husband's military service moved us frequently — even to Okinawa, Japan."
After earning an associate's degree, she put additional schooling on pause to focus on her children and their education. Those experiences as a mom, in turn, have shaped how she interacts with parents and advocates for her students.
For instance, Tyler noticed her son's reading abilities were hurt by family moves and school changes, but she was unsure how to help him. After the family moved to Okinawa, he finally met with a reading specialist. The result? His scores soared.
"As a young mom, I was unaware of how to get my son the help he needed," she says. "I have watched him flourish and choose to read after initially shying away from books. I see the results of fighting for what the students need."
After three years in Okinawa and stops in other cities, Tyler and her family found their way back to Columbia. In 2016, she enrolled in classes at the University of South Carolina's College of Education. She thought she would finally be able to fulfill her dream.
She enjoyed learning from her professors and classmates, but something was not right. She felt tired after classes and needed a nap to get through the day.
"I kept thinking to myself, 'Is this how school feels at 34?' " Tyler says. "I could not figure out why I was so exhausted."
The culprit turned out to be breast cancer.
Undeterred by her diagnosis, Tyler attended class after her first biopsy and finished the fall semester hoping to start her internship in the new year. But after two days of classes, the effects of chemotherapy were too much. She needed to take a break.
That spring, her father was diagnosed with cancer, and they attended treatments together. Tyler's family then moved to Maryland, but she returned with her children when her father's condition declined. He died two weeks after they arrived.
Afterwards, Tyler knew she needed to move forward so she applied to the College of Education to complete her degree.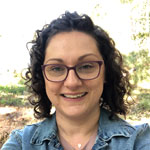 Then another hurdle — the pandemic — introduced fresh challenges to Tyler's internship and parenting at home. With steadfast resolve, she graduated in May 2021 and was immediately hired to teach third grade by Richland School District 2.
But when Tyler finally launched her teaching career, she had no idea a new obstacle was brewing: shoulder pain. She shrugged it off as a pulled muscle or poor sleeping position.
After a month of teaching through the pain, she went to the doctor for further investigation. Tyler had a fractured spine.
"I immediately messaged my oncologist and was brought into the office for an evaluation," she says. "We found that the cancer was back and had spread through my bones and liver."
As with other setbacks, Tyler did not let the second diagnosis dampen her passion. She worked with her school to plan the rest of the semester. She recorded lessons on days she would have treatments and scheduled chemotherapy sessions close to the weekend so she could return to class Monday morning.
"I took all of what I learned during virtual learning and applied it to my treatment days," Tyler says. "I recorded my lessons on an iPad for my students to build consistency and keep from interrupting their learning patterns."
Tyler's recovery took longer than she had hoped, but in April she returned to her students and finished the year.
"My brain needed to be with the kids," Tyler says. "When you're sitting at home, you get stuck on all these things that are out of your control and happening to you. Being in the classroom was where I wanted to be."
This past summer she continued to receive treatment, which she will likely need for the rest of her life. Again, she carried on and planned for the new school year — never wavering in her commitment to her students and the profession.
"I'm hoping my story teaches my students perseverance," Tyler says. "I will keep showing up every day that I can, doing what I need to do and moving forward."