Born and raised in South Carolina, Dr. Ta-Tanisha Favor has no intention of leaving.
"South Carolina is always going to be home," Favor says. "It's where my family and friends are. I care about the people. I greatly value the sense of community."
Favor, a 2006 graduate of the School of Medicine Columbia, specializes in emergency medicine and worked at The Regional Medical Center of Orangeburg & Calhoun Counties for 11 years, a facility that serves many rural communities. She points out that unemployment in rural communities is directly related to health care challenges.
"If people aren't receiving routine health care, because perhaps they're uninsured, then they're not attending to their health care needs," Favor says. "That ultimately develops into more health problems and, by the time they go to the emergency department, they often have something that could have been prevented or better controlled but is now an acute, uncontrolled situation."
Over a quarter of South Carolina's 5 million residents live in rural areas and are located significantly farther from health care facilities than those living in urban areas, according to the South Carolina Office of Rural Health.
The shortage of facilities and health care workers is a challenge, but for those practicing in rural areas it means that the work is always varied.
"I get to serve as a primary care provider and can also serve in traumatic moments and everything in between," says Favor, who works at Lexington Medical Center and Beaufort Memorial, and also does shifts at the Orangeburg-Calhoun Regional Detention Center. "There's never a dull moment."
Community is another reason to practice medicine in a rural setting, she says. She has stories about people bringing her cakes and pies and asking about her baby after she'd been out on maternity leave.
"There's something special about small town people. It becomes one big cohesive family," she says. "The sense of compassion and caring: There's just something different about working in a rural community."
Mary Kathryn McGregor also has a desire to work in rural health. A second-year medical student at the School of Medicine Columbia, she's the president of the school's Rural Health Interest Group.
"We actually have a lot of students in our interest group who grew up in rural parts of South Carolina and they want to go back and practice there because they're familiar with it," she says. "They've seen the need in those areas."
McGregor's aunt is a surgical nurse in a rural part of Georgia. She arranged for McGregor to shadow multiple doctors when she was in high school, giving McGregor a sense of what rural medicine looks like. That helped fuel her desire to help people who have less access to health care.
"I think it's really important that everyone has equal access to health care," she says. "Unfortunately, a lot of people don't due to where they live. Different trainings and mobile units help, but these areas ultimately need more doctors and nurses."
McGregor, like Favor, has learned about the personal relationships rural health doctors build with their patients. One doctor spoke to her about the trust patients put in him because, with no specialists in the area, they go to him for all of their medical problems.
"He got to know these patients, their living situations, their families, treat their children and grandchildren," she adds. "To be able to have those longstanding effects on patients — I want to do that."
To further her goals, McGregor is completing her preceptorship at the School of Medicine's regional campus in Florence, and plans to do her clinicals there also. Students at the Florence campus complete their clinicals through McLeod Regional Medical Center and MUSC Health Florence Medical Center, which serve a large rural population.
"I've gotten to learn about family medicine in Florence and how it differs from family medicine in more academic hospitals," McGregor says. "In Florence, the family medicine residents do everything. One resident I was shadowing was on inpatient pediatrics, another was on labor and delivery. They get to experience doing full care of everything in the hospital and outpatient settings, and I think that's something to be desired in a residency program."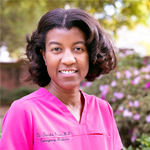 In addition to the wide-ranging clinical experience and sense of community that come from practicing in a rural area, Favor and McGregor note that there can be financial incentives to serve in rural areas, too.
"Practicing in rural communities is a good way for people to get their student loans paid back because there are more incentives," Favor says. "You don't have to pull someone's arm to get them to practice in places like Charleston or Charlotte. These small towns come up with different ways to incentivize."
Ultimately, though, practicing in a rural area is all about serving people who need the help.
"There's always a need in these communities," Favor says. "There's room and a need for more physicians to serve. I believe in serving all people."