Morgan Romano knows the statistics — only 28% of the STEM workforce is made up of women, and vastly more men major in the science, technology, engineering and math fields in college.
Romano, a USC chemical engineering alumna and recently named Miss USA, also realizes the difficult task of creating a pipeline for more young women to pursue careers in the STEM fields. She's working to address the challenges, with her newfound status as Miss USA offering a platform for furthering her efforts.
That's why Romano, who now is an application engineer at R.E. Mason in Charlotte, spends her free time encouraging young girls to help build their interest in STEM opportunities. Romano works with the Best Buddies International program to promote STEM and offer opportunities to young girls and disadvantaged children in North and South Carolina. She also is a classroom assistant for Project Scientist's after-school STEM program. And her personal initiative, Outside the Box, sends a science box to hospitals, classrooms and libraries – hundreds of boxes were provided in 2022 – with the goal of sparking a STEM interest in young girls.
"Some of the science boxes are sent to children's hospitals. Little girls are pulled from school and they have to do online classes and they sometimes lose interest in learning because it's more of a chore," Romano says. "These STEM boxes make learning fun. They forget they're learning, they forget they're doing science. It's just a fun activity that's subconsciously creating that passion within them."
Last November, Romano helped with Charlotte's STEM Girls Change the World event. The event brings STEM leaders together from across the nation so leading women can share stories about their journeys, obstacles and techniques they've used to become successful in the field.
"We need more women (in STEM) and that starts at a younger age because your curiosity and the things you're passionate about start to shape when you're young," Romano says. "If kids aren't being told about STEM, how would they know to ever pursue it? I went through elementary, middle and high school and no one ever talked to me about STEM opportunities. I just stumbled upon it and checked the box for chemical engineering and had no idea what to expect."
What she found when she arrived at USC from her home in New York was professors who wanted to see her succeed and gave her confidence to reach her potential. Those experiences in the College of Engineering and Computing molded her passion and paved the way for her future in STEM.
"I always recommend USC, especially the engineering school, because our professors are so invested in you," she says. "The professors, especially within the chemical engineering department, are there for you even if it's not about school, if you just need someone to talk to. They really care about their students. You're more than just a grade on a page to them. And that makes all the difference. I was successful because I was never afraid to go talk to my professors."
Romano's focus was all on her studies and, because the majority of her classmates were male, her mother suggested she find a hobby that would help her make some female friends. Romano had competed in a beauty pageant at age 14 and was Miss New York's Outstanding Teen runner-up. She missed being on stage and performing, so she decided to get back into it while she was a student at USC. The lifelong dancer won Miss Midlands in Columbia her first year and competed in Miss South Carolina three times, but never got the crown.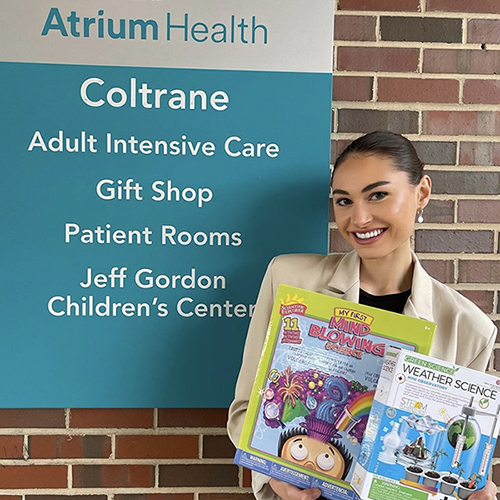 She moved to Charlotte after graduation to start her job at R.E. Mason, but her desire to give the crown another shot was something she could not ignore. Working full-time and training in the evenings, Romano went on to win Miss North Carolina in 2021 and was first runner-up at Miss USA 2022. Because the Miss USA winner was just crowned Miss Universe, Romano took over and now holds the title of Miss USA. It is, as she says, "almost a Hannah Montana double life," working in the male-dominated engineering industry during the day and getting in shape for the swimsuit competition and practicing for interviews at night. Romano says the hard work was more than worth it because the pageant world has a lot of reward.
"You never know who you're going to meet and the connections you'll make because pageants have such a diverse group of people involved," she says. "You can gain so many things that you never expected from competing in Miss USA or even state competitions. Even if you never win, so many girls have gone on to use those connections for their careers."
The pageant preparation also played a large role in her community work, getting her involved with the Best Buddies International program and Project Scientist.
Romano's advice for girls wanting to pursue a career in STEM: "An Olympic swimmer doesn't look in the lanes next to them. Focus on your path no matter what other people say. Why couldn't I be an engineer and be in pageants? You can be absolutely anything you want. You can be outside the box. That's where the name for my initiative came from. Don't be what people expect you to be; follow your passions and you'll reap the benefits."