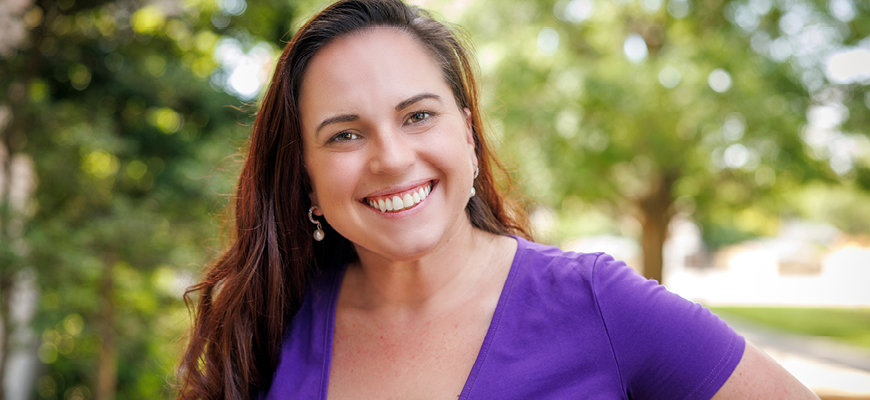 Gamecock alumna helps spearhead South Carolina's attack on Alzheimer's
---
By Kyndel Lee,
kyndel@mailbox.sc.edu
, 803-777-3697
---
When imagining her career, Taylor Wilson, '07 management and marketing, had a pretty clear vision: "I thought I was going to be some great executive in a corner office." But life had other plans for the West Columbia native.
Growing up in a family full of Gamecock alumni and fans had Wilson aching to apply to the University of South Carolina from a very young age. The thing she remembers most: her family's celebrations following touchdowns during football season.
"You never see adults celebrate like that and it just made such an impression on me. I knew I wanted to be a Gamecock."
Throw in the fact that Wilson is "almost 100% sure that nothing orange was ever purchased" for her, and you've got the making of a Carolina legacy.
Wilson studied at the Darla Moore School of Business, and she recalls the diversity shaping her into a more well-rounded person.
We read a lot of stories about people who were helping other people. And that touched something inside of me.

Taylor Wilson, '07 management and marketing
"I got to meet so many people not only from the United States, but from around the world. And I had only ever been in West Columbia. It opened up my world so much."
Of all the classes in her curriculum, Wilson says her medical ethics class had one of the biggest impacts, planting a seed that what would ultimately lead to her career path.
"We read a lot of stories about people who were helping other people. And that touched something inside of me."
Wilson interned for the South Carolina Council on Economic Education — her introduction to the world of nonprofits. She got into broadcast sales right after graduation but, within seven days, realized that was not her calling. She went on to work for the South Carolina Campaign to Prevent Teen Pregnancy (now Fact Forward) for six-and-a-half years, followed by two years at Pawmetto Lifeline.
Then Wilson's grandmother began showing signs of dementia. So when the chance to work for the Alzheimer's Association presented itself, she couldn't turn it down. Wilson started her position as the director of communications and advocacy for the South Carolina chapter of the nonprofit in September 2015, and her grandmother was diagnosed with Alzheimer's the following month.
"I wanted to be where I could get information for my grandmother and be more immersed in what we were facing," Wilson says.
She took on the position of director of state policy in 2019 as the Alzheimer's Association acknowledged that state and federal efforts can go hand-in-hand, like the potential for state legislators to be educated on efforts to secure federal funding for research universities within their districts. Wilson became responsible for overseeing both federal and state policy in 2021 and continues that role for the South Carolina chapter today. She is also the chair of the Alzheimer's Resource Coordination Council, which serves as the South Carolina Alzheimer's Registry Advisory Council and as the stakeholder group for the BOLD Infrastructure for Alzheimer's grant. Wilson praises the advances UofSC continues to make in regards to Alzheimer's research and the resources available in South Carolina.
"The Arnold School of Public Health has the Alzheimer's Disease Registry, the oldest and most comprehensive registry of its kind. The College of Arts and Sciences has the McCausland Center where researchers perform high-resolution brain imaging studies. We've got the School of Medicine Columbia, all of the colleges working together to share information," she says. "We have the dementia dialogues from the South Carolina Office for the Study on Aging. There's the Alzheimer's Research Coordination Council. Our reach is so wide."
There are currently 95,000 people throughout the state who have been diagnosed with some form of dementia, and 197,000 caregivers look after them. According to the Alzheimer's Association, the national cost of caring for those with Alzheimer's and other dementias is estimated to be $321 billion this year, increasing to nearly $1 trillion by mid-century. Wilson's goal is to celebrate the first survivor of this disease and she says that potential is what motivates her every single day.
When asked how she handles sporting purple, the official color of the Alzheimer's movement, Wilson remembers her childhood wardrobe and laughs.
"I work at an organization that requires me to wear purple, but I can guarantee you I've never paired it with orange," she jokes. "I'm always going to be 'Forever To Thee.'"
---
Share this Story! Let friends in your social network know what you are reading about
---