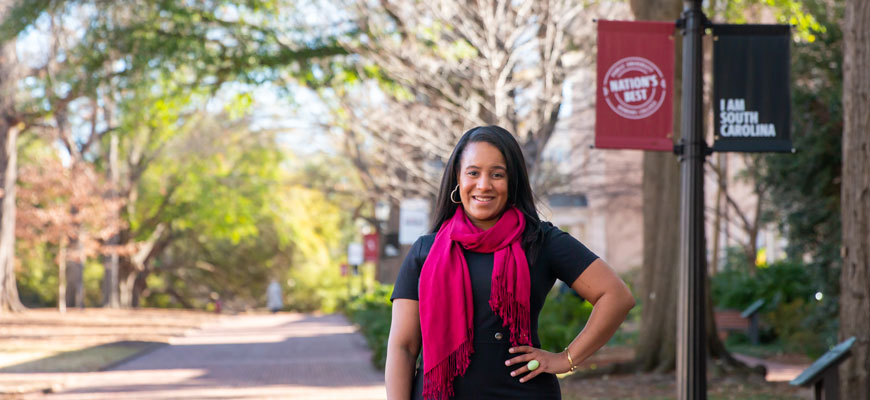 Telling South Carolina's civil rights story
UofSC alumna guides employer's gift to Center for Civil Rights History and Research
---
By Megan Sexton,
msexton@mailbox.sc.edu
, 803-777-1421
---
Kelly Adams stood on the grounds of the South Carolina State House — the place where she once worked as a page and later as a legislative staffer, advocate and lobbyist — and told her story.
She was in awe, she says, that she got to stand there; a place where people of color would not have been welcome decades ago. A city where her grandmother, who cleaned other people's homes, sent her children to college on a domestic worker's salary.
She was standing just a few hundred yards from her alma mater, the University of South Carolina, a place where she made lasting connections and friendships. And a place that now would benefit from her story and her career choices.
Adams is the managing director of state government and regulatory affairs for Williams, an energy infrastructure company. At Adams' request, Williams donated $1.5 million earlier this year to help the university's Center for Civil Rights History and Research share the story of South Carolina's role in the nation's civil rights movement.
The gift will help the center fund traveling and permanent exhibitions, expand the center's collection of oral histories, acquire archival collections, and enhance student learning throughout South Carolina. It also will give the center's exhibit "Justice for All: South Carolina and the American Civil Rights Movement," a permanent home in the university's Booker T. Washington High School auditorium.
For Adams, the connection with Booker T. Washington makes the gift even more special – and more personal. Her mother, aunts and uncles are all graduates of the historic Black school, built in 1956 and named to the National Register of Historic Places in 2018. It's a place Adams calls "a testament to elite education at a time when things weren't always equal." Its list of graduates includes Black attorneys, educators and community leaders. "Those were mentors. They were the names that I knew, that I heard, as a kid."
Early days
Adams grew up in Clinton, South Carolina, where her father was a teacher, administrator and coach. The middle of three children, Adams spent parts of every summer in Columbia with her grandmother, who lived off Millwood Avenue on Bratton Street, with cousins and other family members nearby.
When it came time for college, Adams' mother steered her to UofSC. It was, she says, "the logical choice," close to her grandmother, who was so excited her granddaughter was in Columbia that she called her five times a day her freshman year. Adams initially considered a career in medicine but became an exercise science major, thinking she might become a physical therapist. But she also was drawn to public service and government, working as a page and legislative aide in the State House with Rep. Gilda Cobb-Hunter of Orangeburg.
"I was always interested in politics," Adams says. "I didn't come from a political family; just a middle-class family of teachers who voted. But I did it to get more involved in the process and to learn."
She earned her undergraduate degree in exercise science from the Arnold School of Public Health in 2001 and decided to follow her passion for public policy.
"I realized I could help more people through policy than direct service," she says. "I was interested in working with children and families, anything that helped 'the least of these,' people who needed a hand up or a level playing field."
Her career took her to work for South Carolina First Steps, the state's early childhood initiative, along with becoming the caucus director for S.C. State House Democrats. She worked on campaigns and raised money for candidates. By her early 30s, after accomplishing the goals she had set for herself in South Carolina, she decided it was time to tackle different challenges in a different place.
This is our history, and this is how our history in South Carolina propelled the national movement and those stories should be memorialized and preserved.

Kelly Adams, UofSC alumna and managing director of state government and regulatory affairs for Williams
She moved to Washington, D.C., worked as a lobbyist at the Pew Charitable Trusts and earned her M.A. and MBA in government and business administration from Johns Hopkins University in 2015. Then the shooting at Emanuel AME Church in Charleston happened, when nine African Americans were killed during a Bible study, including Clementa Pinckney, the church's pastor and a state senator Adams had worked with in Columbia.
"I quit my job and came home to help. I felt like I had to be there," she says. "It was hard. All of us wanted something to do. I took a year off and then went to work for Everytown for Gun Safety for three years."
She worked to pass gun safety measures in Maryland and increase funding from Washington, D.C. But the work was difficult and draining, as she was "out there" for every mass shooting that occurred around the country.
She started thinking about a new path and wrote a description for the type of job she wanted; not an advertised job, just the work she was drawn to do. She connected with Williams, an energy pipeline company that also has new ventures focused on solar, carbon capture and natural gas.
She was hired as director of state and local government affairs and was quickly promoted to managing director of state government and regulatory affairs for Williams, a company headquartered in Tulsa, Oklahoma. Adams is based in Washington, where she now oversees a staff and a team of lobbyists and monitors legislative and regulation activity around the country.
Telling South Carolina's story
Williams' interest in supporting causes important to its employees is what started Adams thinking about home. When she met history professor Bobby Donaldson, the director of the Center for Civil Rights History and Research, he showed her pictures of her mom, aunts and uncles from Booker T. Washington High School. She learned more about the work of the civil rights center, which was established in 2015 and is dedicated to documenting the contributions of South Carolinians to the American civil rights movement.
"It was just a natural fit. It was the right thing to do at a time when my company was asking employees, 'What can we do more of?' I brought it to our leadership, they loved it and without hesitation ran with it," she says. "Think about that. Some companies shy away from embracing personal stories. They forced me to tell the story. They were the ones who encouraged me. That's a testament to leadership and who we are as a company."
The investment by Williams will help the civil rights center expand its offerings and share previously untold stories — something particularly important to Adams.
"These are the stories that drove the civil rights movement. Some of these stories I hadn't heard about until I talked to Bobby Donaldson. The church Bobby shows in his presentation, Zion (Baptist Church), where Martin Luther King met with local leaders — that's my grandmother's church," she says. "This is our history, and this is how our history in South Carolina propelled the national movement and those stories should be memorialized and preserved."
Adams is especially pleased that the stories will be told by the University of South Carolina, a place where she made close friends and deep connections.
"Carolina holds a special place in my heart. I'll always be supportive because it was a great foundation for me. And it will always be with me."
---
Learn more
Visit the Center for Civil Rights History and Research website to learn more about this joint initiative of the College of Arts and Sciences and the University Libraries.
---
Share this Story! Let friends in your social network know what you are reading about
---