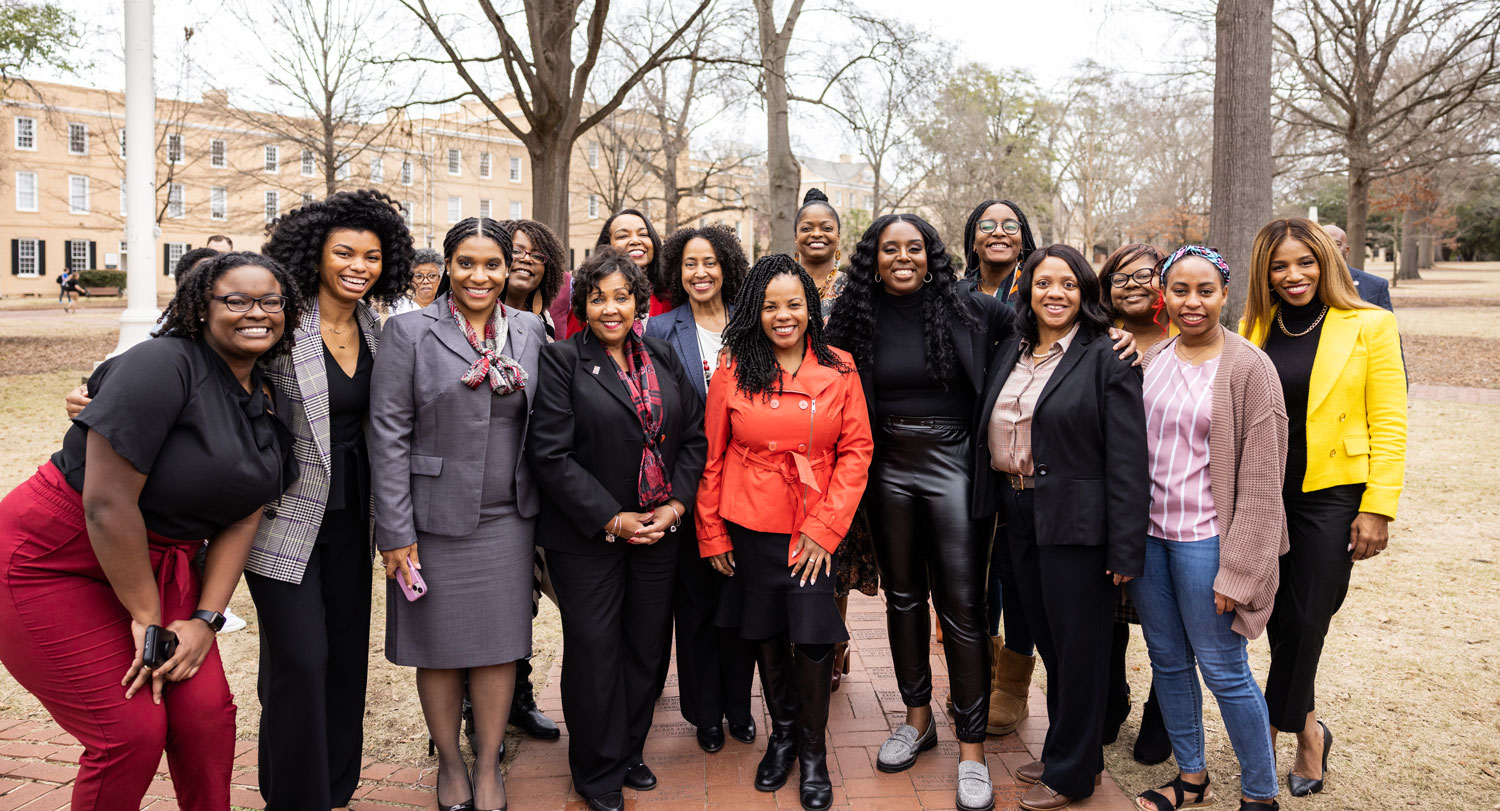 When Hannah White was choosing a subject for her Honors College thesis, the 2022 graduate didn't just have one good idea. She had 18.
As a sophomore, White had interviewed several influential Black alumni for a podcast as part of One Creed, One Carolina — a 2020 campaign that raised funds for programs affecting Black students.
Those stories, she realized, could provide the spine for a documentary that would tell an even more powerful story — one about the important roles and lasting legacies of Black women at USC.
Several months and a lot of hard work later, The Backbone debuted to a packed house at USC's Russell House Theater and earned White the Honors College's annual William A. Mould Senior Thesis Award.
But it didn't end there. As a permanent tribute to the women featured in the documentary, USC's Office of Diversity, Equity and Inclusion purchased 18 personalized bricks from the Alumni Association and had them installed on the Horseshoe near Lieber College. The bricks were formally unveiled at an event in February.
White, who is now pursuing a master's degree at the London School of Economics and Political Science, was unable to attend the event, but the documentary's production and distribution manager, Lyric Swinton, '20, was one of the featured speakers.
"I hope that this continues to inspire students to do more. I hope it inspires the university to do more," Swinton says. "This is the bare minimum. It shouldn't have taken this long to put 18 Black women on the Horseshoe, but they won't be the last. This is a step in the right direction."
Who are the honorees? Read more below.
Hazel Bridges
Hazel Bridges graduated from the Honors College with a bachelor's degree in political science in 2015. During her time at USC, she participated on the student senate and served as president of the Iota Chi chapter of Delta Sigma Theta. The Bennettsville native returned to the university for a dual J.D. and Master of Public Administration, which she received in 2018. She is now an attorney-advisor at the Federal Highway Administration.
Alkeiver Cannon
As an undergraduate studying biochemistry and molecular biology, Alkeiver Cannon joined the Iota Chi chapter of Delta Sigma Theta sorority and served as president of the Association of African American Students. After graduating in 2017, she entered USC's Ph.D. in biomedical science – immunology program, which she completed in 2022. She is now a research fellow at Brigham and Women's Hospital/Harvard Medical School, where she is exploring clinically relevant microRNAs as potential therapeutic targets for multiple sclerosis.
Stephanie Frazier Cook
Triple alumna Stephanie Frazier Cook earned a bachelor's degree in business in 2000, a master's degree in educational technology in 2004 and a Ph.D. in higher education administration in 2013. As a freshman, she participated in the TRIO Opportunity Scholar program. Now assistant general manager at SCETV and Public Radio, Cook was recently tapped to serve as the organization's interim president and CEO.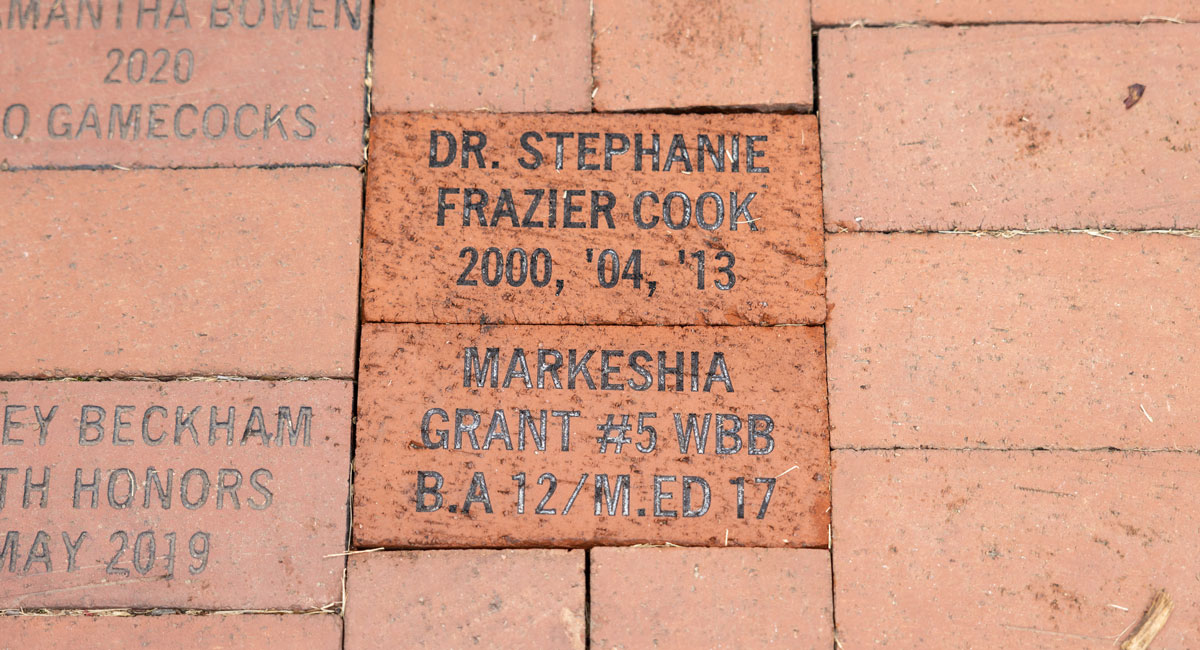 Althea Counts
Originally from Tryon, North Carolina, Althea Counts earned a bachelor's degree in economics in 1993 and a Master of Education in Student Personnel Services in 1995. She served as a resident advisor for University Housing while at USC, an experience that sparked her interest in working with college students. Once a first-generation student herself, she now provides guidance to others like her as director of USC's TRIO Programs, which encourage and assist students who are traditionally underrepresented in post-secondary education.
Gail Bush Diggs
Gail Bush Diggs graduated with a bachelor's degree in criminal justice in 1977. Diggs was crowned the university's second-ever Black Homecoming Queen in 1975 but didn't receive her Homecoming scepter until last fall, when the university honored her in a ceremony after her story was featured in The Backbone. While at USC, she was a member of Sigma Gamma Rho. Today, she is a city councilwoman for Aiken, South Carolina.
Tjuan Dogan
A native of Greenville, Tjuan Dogan served as a member of Delta Sigma Theta and the Association of African American Students executive board and graduated with a bachelor's degree in advertising in 1991. She returned to the university for a master's degree in education in 1998 and Ph.D. in education in 2002. After earning her Ph.D., she completed a year-long fellowship at Harvard Business School. Today, Dogan is global director of social impact at Coursera, one of the world's leading online learning platforms.
Markeshia Grant
While pursuing her bachelor's degree in psychology, Tampa, Florida, native Markeshia Grant was a standout member of the Gamecock Women's Basketball team. She ranks sixth in university history in career 3-point field goal percentage. Grant graduated in 2012 and continued her education at USC with a Master of Education in Educational Technology in 2017. She is the founder and CEO of Savvy Skills LLC, a business dedicated to transforming the way students think about life and sports.
Amber Guyton
While studying advertising at USC, 2008 alumna Amber Guyton served as president of the Association of African American Students and as a member of Alpha Kappa Alpha. She earned an MBA from the University of Georgia in 2014 and spent time working in the marketing and financial services industry before founding Blessed Little Bungalow, an Atlanta-based interior design business.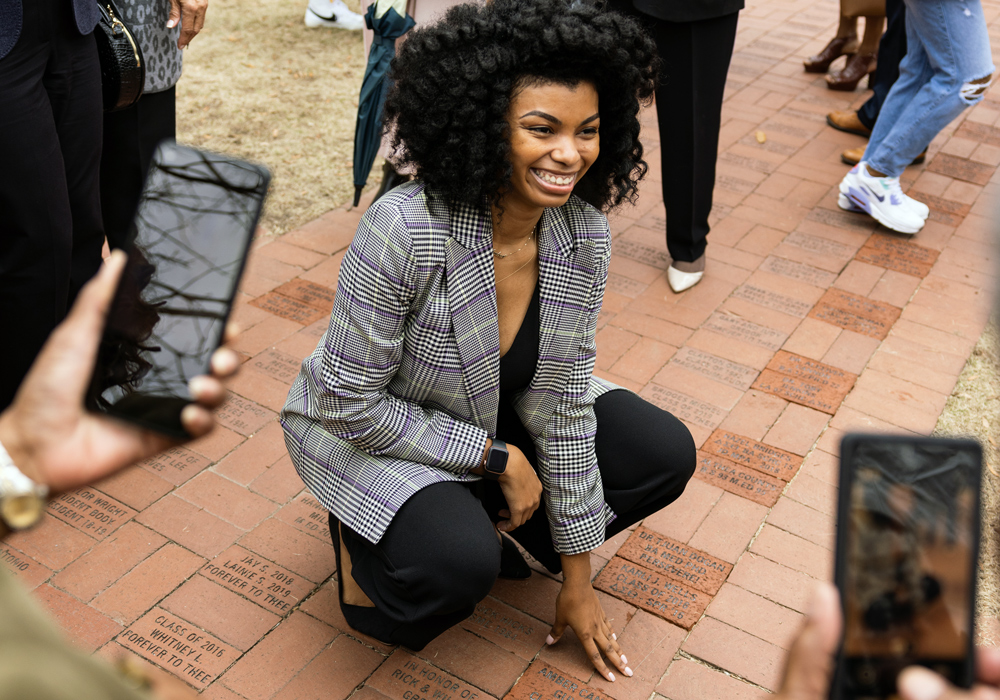 Toby Jenkins
Honors College graduate and Columbia native Toby Jenkins earned her bachelor's in journalism in 1997 before earning a master's in education from the University of Maryland in 2000 and a Ph.D. in educational theory and policy from Penn State in 2007. While at USC, she participated in Delta Sigma Theta. Her accolades include an Individual Leadership Award from the National Association of Diversity Officers in Higher Education and USC's Outstanding Black Alumni Award. In addition to working as an associate professor and director of the Museum of Education in the College of Education, she is interim associate dean for diversity, equity and inclusion for The Graduate School.
Kara Jones
Honors College graduate Kara Jones majored in international business and business economics and minored in French. As an undergrad, she was a Lieber, Cooper and National Achievement Scholar and was honored with several awards, including the Darla Moore Dean's Award for Undergraduate Achievement and USC's Outstanding Senior Award. After graduating in 2018, she spent a year in Andorra teaching English as a Fulbright Scholar. Jones is currently back at USC as an applied economics Ph.D. student.
Cheslie Kryst
Honors College alumna Cheslie Kryst earned a marketing and human resource management degree from USC in 2013 and J.D. and MBA degrees from Wake Forest University in 2017. During her time at USC, she was an athlete on the Gamecock women's track and field team. In 2019, she made headlines when she was crowned Miss USA. She paused her civil litigation career to fulfill her term as Miss USA but planned to return to her legal career to pursue justice system reform. Kryst died in 2022 and was posthumously honored with the Moore School's Young Alumni Award in 2022.
Yvonne Miller
Yvonne Miller was USC's first Black female student body vice president. During her time at the university, she participated in Alpha Kappa Alpha and served as vice president of the Sorority Council. After graduating with a public relations degree in 2005, she earned a J.D. degree from Western Michigan University Law School. As an intern in the White House's Office of Public Engagement during President Obama's first term, Miller worked on the Patient Protection and Affordable Care Act of 2010. She now works as an attorney, advisor and corporate counsel.
Jennifer Clyburn Reed
Jennifer Clyburn Reed is a triple alumna of the university: She earned a bachelor's degree in political science in 1991, a Master of Arts in Teaching in 1992 and an Education Specialist degree in 1998. Additionally, she has a doctorate in education from Nova Southeastern University. Reed is a member of Delta Sigma Theta sorority. After a successful career in education, she now serves as federal co-chair of the Southeast Crescent Regional Commission.
Casey Richardson
Casey Richardson graduated from the Honors College in 2012 with a bachelor's degree in corporate finance. While at USC, the Gadsden native joined the Theta Gamma chapter of Alpha Kappa Alpha sorority. She is the founder of BLAZE Group LLC, a firm that provides coaching, community and capital to Black female entrepreneurs worldwide.
Lindsay Richardson
Lake Wylie native Lindsay Richardson served as the university's second Black female student body president before graduating with a bachelor's degrees business administration and political science in 2015. That same year, she took home the university's top honor, the Algernon Sydney Sullivan Award. During law school, she worked in PepsiCo's legal department as a Larry D. Thompson Fellow and interned for the Honorable J. Michelle Childs on the Federal District Court for the District of South Carolina. She earned her J.D. in 2018 and is now an associate with Ropes & Gray in New York, where her clients have included the National Football League.
Hope Rivers
As an English major at USC, Whitmire native Hope Rivers was a member of Delta Sigma Theta and a TRIO Opportunity Scholar. She graduated in 1994 and returned to USC for a master's degree in education in 1996 and a Ph.D. in higher education administration in 2010. After working her way up the ranks of the South Carolina Technical College System, she was named president of Piedmont Technical College in 2020.
Linda Spearman Scott
In 1985, then-freshman Linda Spearman Scott was crowned Miss Black USC. Over the next few years, she was also involved with Delta Sigma Theta before graduating with a degree in statistics in 1991. Her journey at USC continued through graduate school – Scott earned an MBA from the Darla Moore School of Business in 1991. She is now a human resources executive at Bank of America, where she has worked for the past 13 years. Prior to that, Scott spent more than 12 years with Wells Fargo.
Karli Wells
Karli Wells majored in African American studies and minored in political science, graduating from the Honors College in 2016. While at USC, was a member of the Iota Chi chapter of Delta Sigma Theta sorority. She served on the executive board of the university's NAACP chapter and founded Students Invested in Change, an organization dedicated to making progressive change. She also co-founded the 2020 Vision movement. Wells graduated from Tulane University in 2021 with dual J.D. and MBA degrees and is now a judicial law clerk in Louisiana.
Also featured in the documentary were Jotaka Eaddy and Henrie Monteith Treadwell, both of whom already have bricks on the Horseshoe.
Jotaka Eaddy
Eaddy, a 2001 graduate in political science, was the first Black women to serve as USC student body president. The Johnsonville native hasn't lost momentum since then. Her work experience includes advising the president of the NAACP and directing policy and strategic engagement for a financial technology firm. Today, she is the founder and CEO of Full Circle Strategies, a social impact consulting firm based in D.C. that specializes in strategy development, management consulting, public affairs and community engagement.
Henrie Monteith Treadwell
Treadwell enrolled at the university in 1963, following a protracted court battle led by civil rights attorney Matthew J. Perry. She went on to become the university's first Black graduate since Reconstruction, earning a bachelor's in biochemistry in 1965. She later earned a master's in biology from Boston University and a master's and Ph.D. in biochemistry from Atlanta University. She has dedicated her career to public health and is founding executive director of Community Voices at Morehouse School of Medicine, where she studies health care for underserved populations.