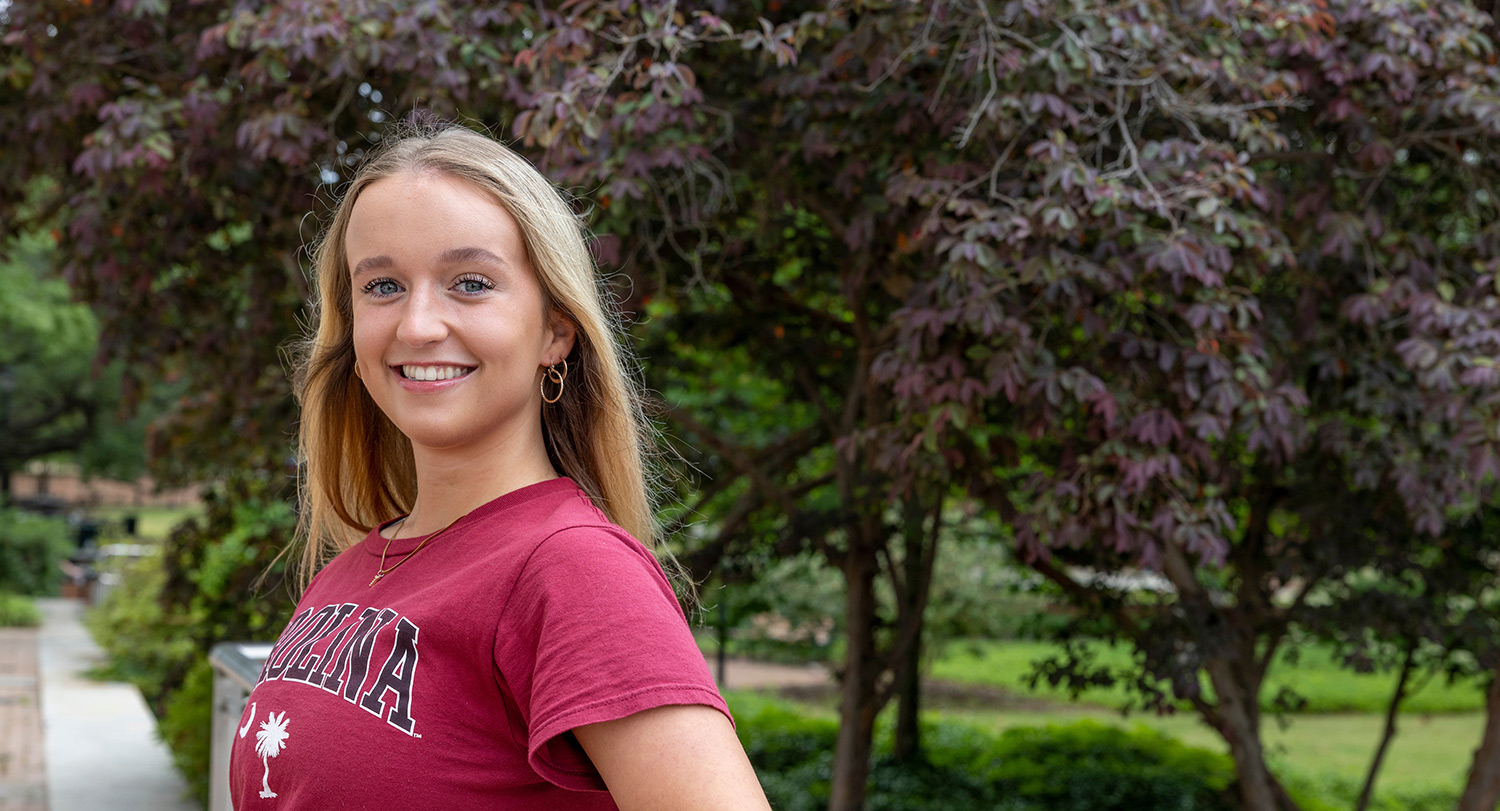 Like many other students, Tori Edsel's college journey started in her bedroom, staring at a monitor during the COVID-19 pandemic. But unlike most students, Edsel was recovering from a serious medical condition.
When she was 16, Edsel dreamed of being a dancer. She and her family moved to the Palmetto State from North Carolina so she could dance at a nationally recognized studio in Lexington. Then one day, as she was getting ready for bed, Edsel noticed she couldn't move her arm and had lost her ability to speak.
She was still a high school junior, but Edsel had suffered a stroke.
She was diagnosed with a rare medical condition called arteriovenous malformation. She spent a month in the ICU at Prisma Health Children's Hospital before transferring to a hospital in Atlanta.
Now a fourth-year early childhood education major at the University of South Carolina, Edsel knows what it means to work hard — and has a keen perspective on life.
During her recovery, Edsel suffered from kidney failure and developed breathing issues. She worried she wasn't ready for the rigors of a four-year college. She was also self-conscious of her half-shaved head and apprehensive about attending in-person courses. So instead, she enrolled in an online two-year associate degree program at Midlands Technical College. That experience gave her the confidence to take the next step — at USC.
Coming to USC was a fresh start for Edsel — she was welcomed by the warm Gamecock spirit. "The change to USC was good because I met people that knew me, you know, after my stroke," she says.
The traditional career path of an early childhood education major leads to a classroom, but Edsel's reflects her personal journey. Her experience with the child life specialists during her own recovery made her want to do the same for others. These are professionals who help children and their families navigate and understand their hospitalization.
"The nurses and doctors helped me recover, but the child life specialists made it tolerable," she says. "They made it fun. If the doctor said, 'I'm going to do X, Y and Z to you.' And I'm like, 'What?' They were able to translate into more kid-friendly terms."
Connecting with children through going to schools for her degree program and visiting the children's hospital on days off has motivated her to pursue a master's in child life at the College of Charleston after she graduates from USC. Last year while visiting a children's hospital, Edsel met a girl who reminded her of herself when she was in the hospital. The girl's head was shaved on one side, her arm was in a similar state, and she had a brace similar to the one Edsel used to wear. The girl could not talk, but Edsel still connected with her.
"She was maybe four, and she couldn't talk, but she was having a conversation with me by nodding and making silly faces," she says. "It was just really neat that I could be that person for someone else because I had that person for me."
The child life specialists who helped Edsel during her recovery helped change her outlook. And her medical issues changed certain aspects of her day-to-day life, but at her core, she's still who she was before her stroke.
"I'm still Tori from 2018, and even before my stroke," she says. "I still like going outside on hikes and nature walks. I still like fishing. I can still do most of the stuff I could do before. The stroke didn't change my likes or anything. It definitely changed what I want to do with my life, but it didn't really change me."