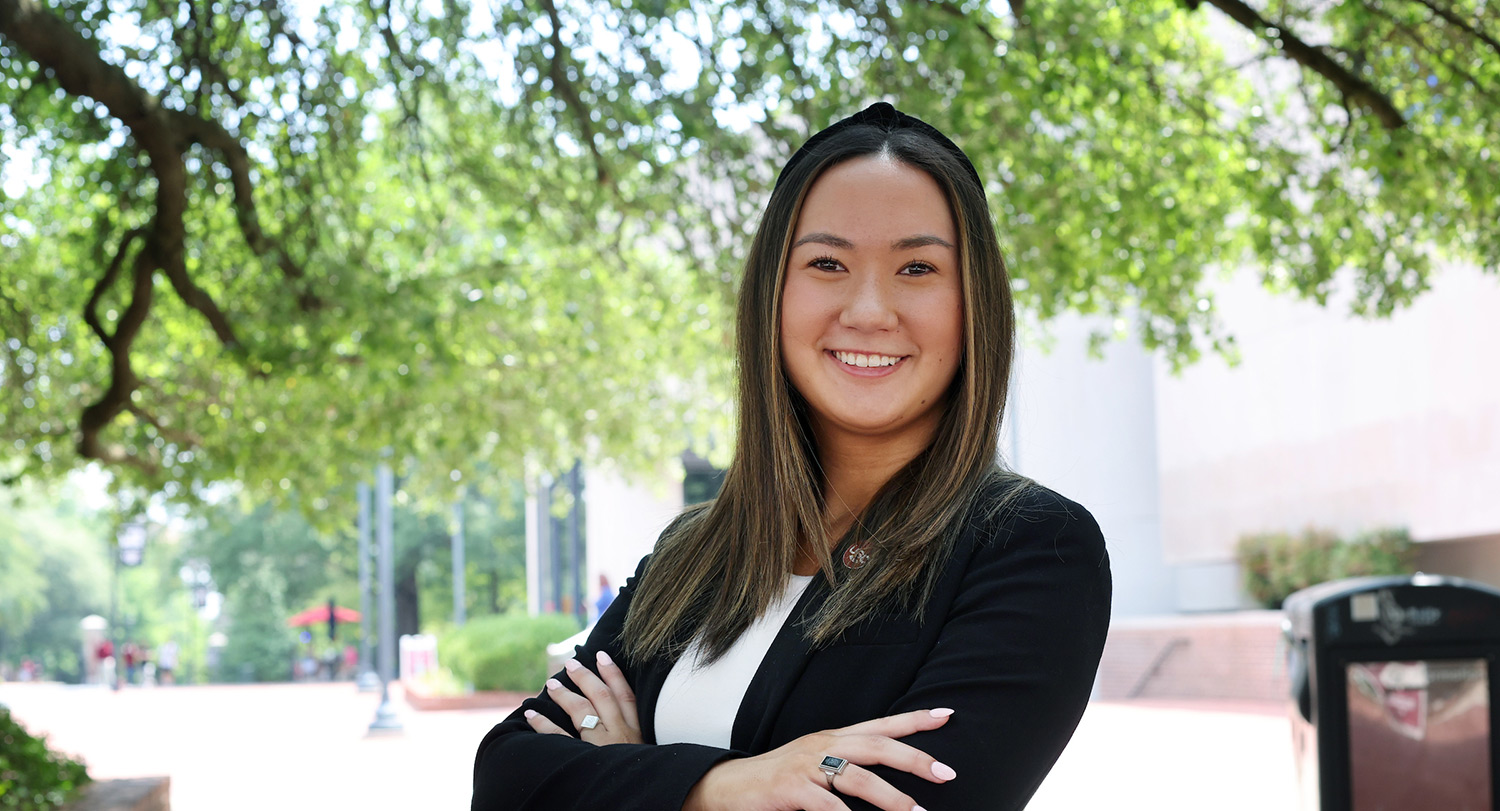 Student body president aims for change
Student body president Emmie Thompson has a vision for change at the University of South Carolina. She and her running mate, Abrianna Reaves, ran on a platform of small, tangible changes.
"The small wins that I help get on campus today could make a huge impact in a student's life, and then they go out in the world and can make the world a better place," she says.
Thompson's drive isn't motivated by political aspirations but by her fervent desire to bring people together and help them succeed.
"It's important for me to always care for others, and sometimes it's hard for me to figure out a way to do that directly," she says. "Student government has given me a way to do that."
She got her start in the student government cabinet as secretary of campus relations. She served in the role through her sophomore year. In that position, she worked with on-campus organizations to determine their needs and how to communicate with them. She served as the student body president's deputy chief of staff during her junior year.
A large part of Thompson's platform includes initiatives to make football game days safer. The first step toward that goal is providing phone chargers for student use at Williams-Brice Stadium. Starting this fall, students will be able to use these chargers for up to an hour in the stands, so they won't have to worry about their phones dying before leaving the stadium. She would also like for the university to offer discounts for rideshare services like Uber.
Thompson is concerned about the emotional and mental health of students on campus and wants to them to be more aware of the resources at their disposal, such as Thrive@Carolina, a 24/7 mental health support line.
Her agenda also focuses on the Carolina Core curriculum, parking and the overall student experience. Her cabinet members share that vision for creating a better student government culture.
"Part of that for us was bringing in a diverse group of students that could really represent the student body — be it major, race or ethnicity," she says.
Thompson grew up a Gamecock sports fan and always imagined she'd end up at USC. In second grade, she wrote in a journal entry that it was her dream to be a student in the South Carolina Honors College after a family friend told her that it was the best in the nation.
"I wanted the big SEC school with fun and football, but I really wanted those small discussion-based classes," she says. "The Honors College offered me both, and I've loved it."
She chose to study public relations because she wants to keep her options open. It allows her to pursue law school or enter the world of PR after graduating.
For now, though, she wants to improve the student experience.
"We've got a great student body, and I just want to pour into them as much as I can, so they can go out into the world and show everybody that it's great to be a Gamecock," she says.