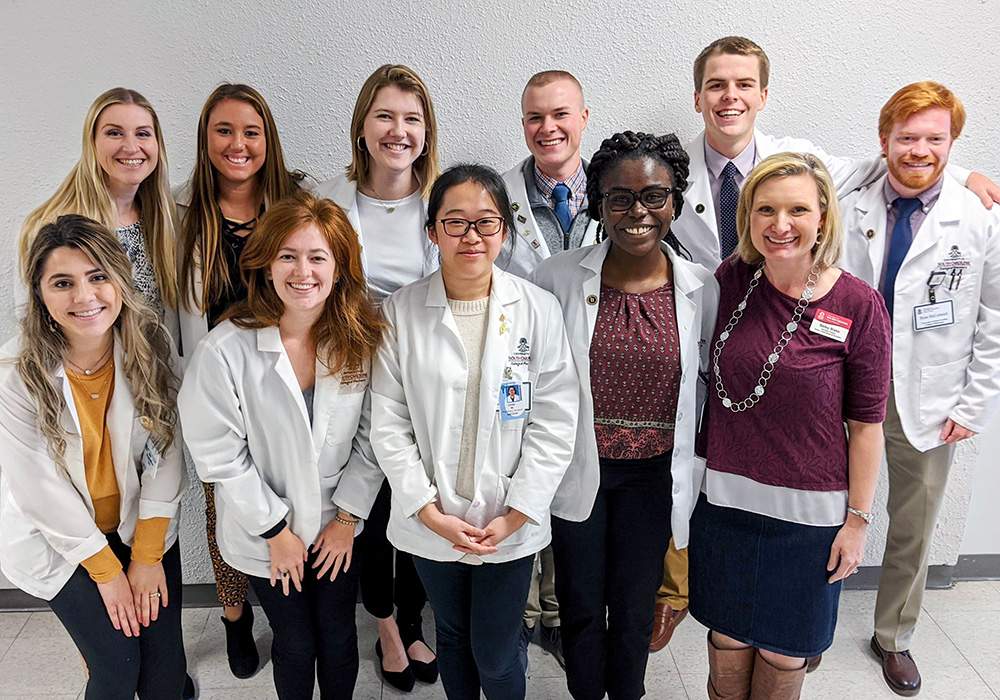 Collaboration, leadership break down barriers
Future Gamecock pharmacists bond with health science peers, learn what's ahead thanks to IPE program
Sydney Nicholls is a class of 2024 Pharm.D. candidate who is grateful for the learning opportunities she found in USC's Interprofessional Education program — especially when they came during trivia contests.
"This was fun because each team had a variety of different health care professions and the questions were catered so that each profession was able to contribute their unique expertise," Nicholls says. "Everyone attending could learn more about the kinds of roles that each profession partakes in."
Throughout her four years of pharmacy school, Nicholls participated in interprofessional educational events through the Institute for Healthcare Improvement Open School, even the ones that were online during the time of COVID-19 distancing.
"Since it was an in-person event, there was also lots of time for the students to talk and interact with each other in between events, which was a success of the trivia night as well," Nicholls says.
"My favorite activity overall was an in-person IHI trivia night."
College of Pharmacy students annually join the IPE program alongside peers from the 11 other health science professions across six USC colleges.
Future pharmacists gain meaningful interaction with those training to be doctors, nurses, social workers, physical therapists and speech pathologists, among other fields.
Through a mix of social events, training programs and interactive educational opportunities, the IPE program allows students to envision the real-life health care scenarios that will take place in their careers. It serves as a bridge for health science students on different pathways to collaborate on ways to improve research and the health care experience for patients.
And what might seem like "trivia" to one student's ears is the life-or-death instructions that guide those who are other types of caregivers.
Clinical associate professor Betsy Blake is the director of the Interprofessional Education Program and has been involved with it since 2009.
"There's been a huge growth in the number of students in this program. We've gone from two professions to 12, with pharmacy and medicine being the first two," says Blake. "The students are broken down into diverse teams that they work with throughout the semester, and we give them different scenarios and courses."
Students hear from community providers and learn about the use of technology for patient care in rural areas.
Pharmacy students typically participate in the program all four years and are required each semester to take specific courses and attend events. Some courses and activities require students to meet up to three times per semester. During their fourth year, students actively work and learn with other health professions during clinical rotations.
"Each scenario in this program may not apply to every single profession, but we try to make it to where you can think about how it would be applicable to their field," Blake says. "We give them YouTube videos to watch and discuss, discussion board questions on health impact and cases where they identify health and medication issues."
The IPE curriculum focuses on leadership, teamwork and communication. It incorporates ethics through health equity conversations and debates.
"Values and ethics are key parts of transforming health care," says Blake. "We've addressed sickle cell disease, opioid use, medication-assisted treatment options and care for the LGBTQ community, suicide awareness, Black maternal health and more."
More than 1,100 students participated in the 2022-23 program with over 320 pharmacy students in the program. Over 86 percent of those who attended Transforming Health Care for the Future said they learned from the collaboration and the program increased their awareness of other professions.
Teri Browne, dean of the College of Social Work, is a facilitator for the introductory IPE class. She notes that while health professionals will work in their careers on interdisciplinary teams, traditional medical profession education gets delivered in the silo of one discipline.
"In real-world health and behavioral health care settings, professionals almost never work in a disciplinary vacuum with only their profession," Browne says. "As patient and community health outcomes and interventions are so multifaceted, health professionals work with many other disciplines to help patients, families and communities."
To date, more than 5,300 Gamecock health science students have taken part in the ever-evolving program.
Rebecca Christopher participated in the IPE program as a student. She is now a counseling case manager and co-director of the program.
"We need to have collaboration and connection with other people to attain better patient care," Christopher says.
She started her studies as a nursing major. While attending the IPE program, she found herself instead wanting to be involved in social work.
She credits the faculty members as being important in finding her passion for the field.
"Without the knowledge, exposure and collaboration with other health disciplines, I would not be able to do the work I do today successfully," Christopher says. "It broke down barriers for me."