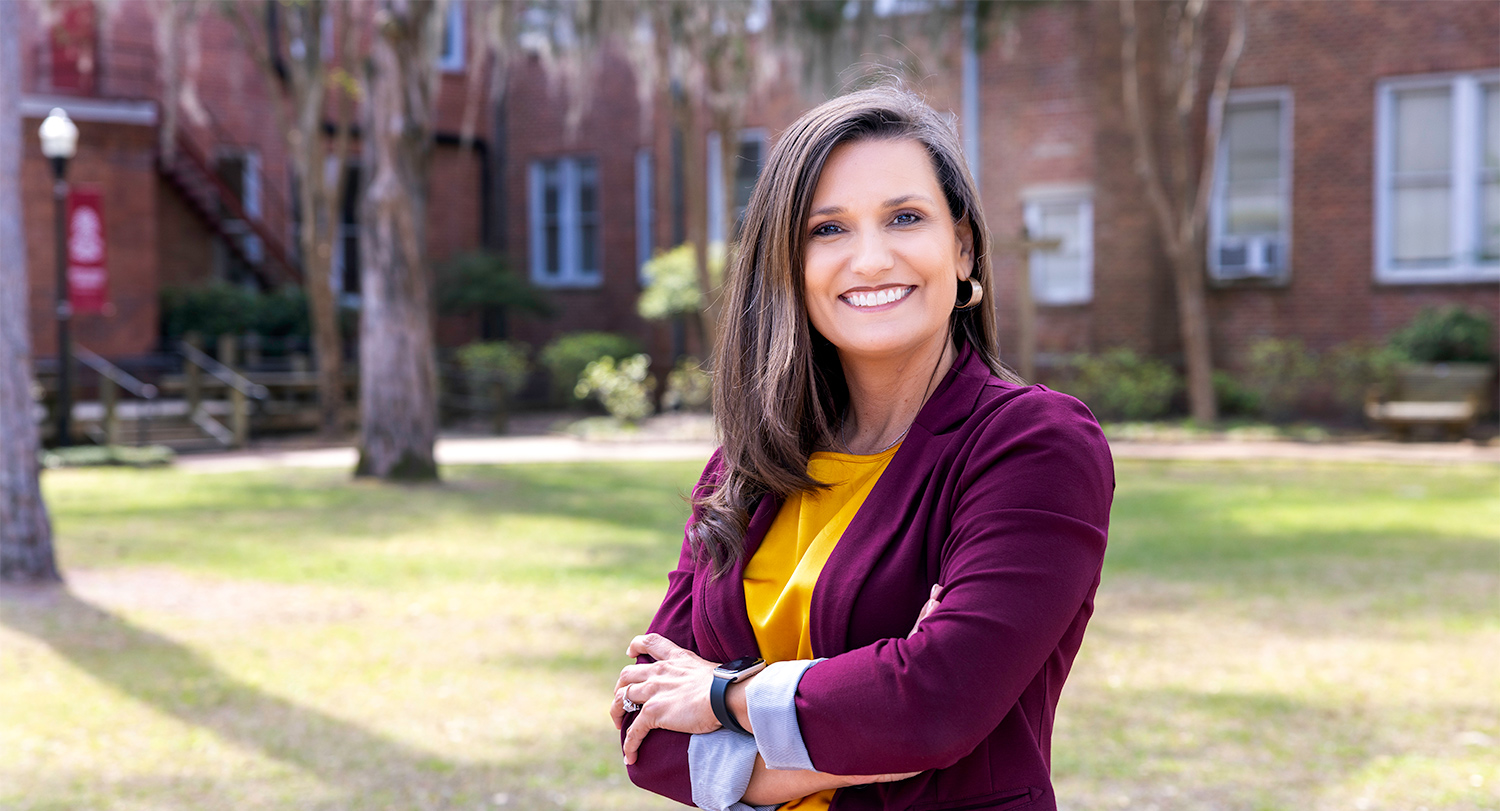 April Cone, dean of the University of South Carolina Salkehatchie, is right where she wants to be. And she has no intentions of changing that.
Cone has lived her whole life in the rural section of South Carolina served by the Allendale and Walterboro campuses. She grew up in Barnwell and now lives in her husband's hometown of Sycamore in Allendale County, what she calls a "blink and you miss it kind of town."
A nurse by training, Cone didn't expect to be in charge of the system campus that serves Allendale, Bamberg, Barnwell, Colleton and Hampton counties. After high school graduation, she earned her associate degree in nursing from Orangeburg-Calhoun Technical College. "And to be completely honest with you, at the time, I never expected to further my education beyond an ADN," she says. "This role had certainly never been on my radar."
But now that she's been in the job for almost a year, she recognizes the key role she plays in her community, a region with some of the state's lowest levels of education and college degrees. She knows the importance of serving students and helping grow the economy in a place where it feels like everybody knows and is connected to everyone else.
"You have so much more support from people when they know who you are, they know where you came from, and they know that you're doing what you do because you're truly invested in it," she says. "For me, longevity here is my goal. I don't plan to be anywhere else."
Those community roots run deep. Cone worked as a registered nurse in the local hospital and in the Allendale County school system before earning her bachelor's degree and moving to USC Salkehatchie to teach undergraduate nurses in 2010. The move changed the way she thought about education — and the way she thought about her future.
"As I moved into undergraduate education, I started to see just how important higher education really is, so I pursued my master's while I was here," she says.
She was brought along by mentors who encouraged her to earn further degrees, even as she taught future nurses at Salkehatchie. The manager of the campus nursing program prepared her to eventually take over the program. Meanwhile, Cone never wavered in her dedication to the people in the community — people she grew up with, understood and wanted to serve.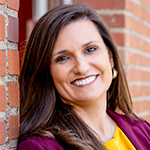 Cone says her 19-year-old twins, who are at USC and Georgia Southern, plan to return home after graduation and work in the area. "I'm just very invested in seeing the area flourish as much as it possibly can."
That connection to the area, its culture and its people has been critical to the success of Salkehatchie.
"There's something special about somebody who is a native of this area. I think having that foundational understanding of the culture and just how things function is really important," she says. "We always say, 'grow our own.' Several of our staff members were students here who went through and earned their bachelor's degree through Palmetto College, and now they're working for us. And there's no better story, in my opinion, than that."
The Salkehatchie campus, with locations in rural Allendale and 50 miles away near downtown Walterboro, offers students a chance to stay close to home for their college degrees. Students who start their bachelor's degree at Salkehatchie are eligible to transfer to another USC campus to complete their degree, finish online through Palmetto College or stay to complete their BA in elementary education degree through USC Aiken or their BS in nursing degree in partnership with USC Beaufort.
Her "baby," as she calls it, is Salkehatchie's nursing program. When Cone began teaching, the nursing students and instructors had to travel each week to the Columbia campus to use the College of Nursing's high-fidelity simulation lab. That 90-minute drive was a burden, particularly for students who came to Salkehatchie for its convenient location and may not have had the resources to make that trip each week.
She knew that having a smaller scale high-fidelity simulation lab on the Walterboro campus – where nurses can learn and practice procedures using high-tech mannequins — would make a huge impact to help recruit, teach and retain students to earn their four-year nursing degree. In 2017, Salkehatchie opened its own high-fidelity nursing simulation lab.
The program can accept up to 16 nursing students each year, "so it's a very small cohort. But again, that's what we like about USC Salkehatchie. It's small and we have the opportunity to spend one-on-one time with our students."
The majority of those nursing graduates — about 75 percent, she estimates — stay in the region to work as RNs.
Cone calls the creation of the nursing simulation lab "one of the highlights of my career," but there would soon be new challenges.
Cone, who earned her doctor of nursing practice degree from USC in 2019, was approached about applying for the dean's job on the campus that serves about 1,000 students.
"At that point my children were getting ready to graduate high school, so it couldn't have come at a better time, both personally and professionally," she says. "I can actually focus more on USC Salkehatchie and feel confident about the time and effort that I'm putting into this role."
In the community, USC Salkehatchie works with businesses and industry to aid the local economy. For example, the Propel Business Labs in both Allendale and Walterboro, offer entrepreneurs the chance to learn how to build and promote their businesses.
It also sponsors a pitch competition, with the winner receiving $10,000 to start a business.
"We are trying to get the community on campus. We're also trying to help with economic development and making sure that we are an integral part of developing our future leaders and our future workforce," she says.
And when Cone says, "Salkehatchie is just a very special place to me," there's no question she means it.
"I've always said USC Salkehatchie is the best kept secret around, but it should no longer be a secret," Cone says. "I want to make sure that people know what we have to offer and that there are many great opportunities right here at their back door — literally, at their back door."