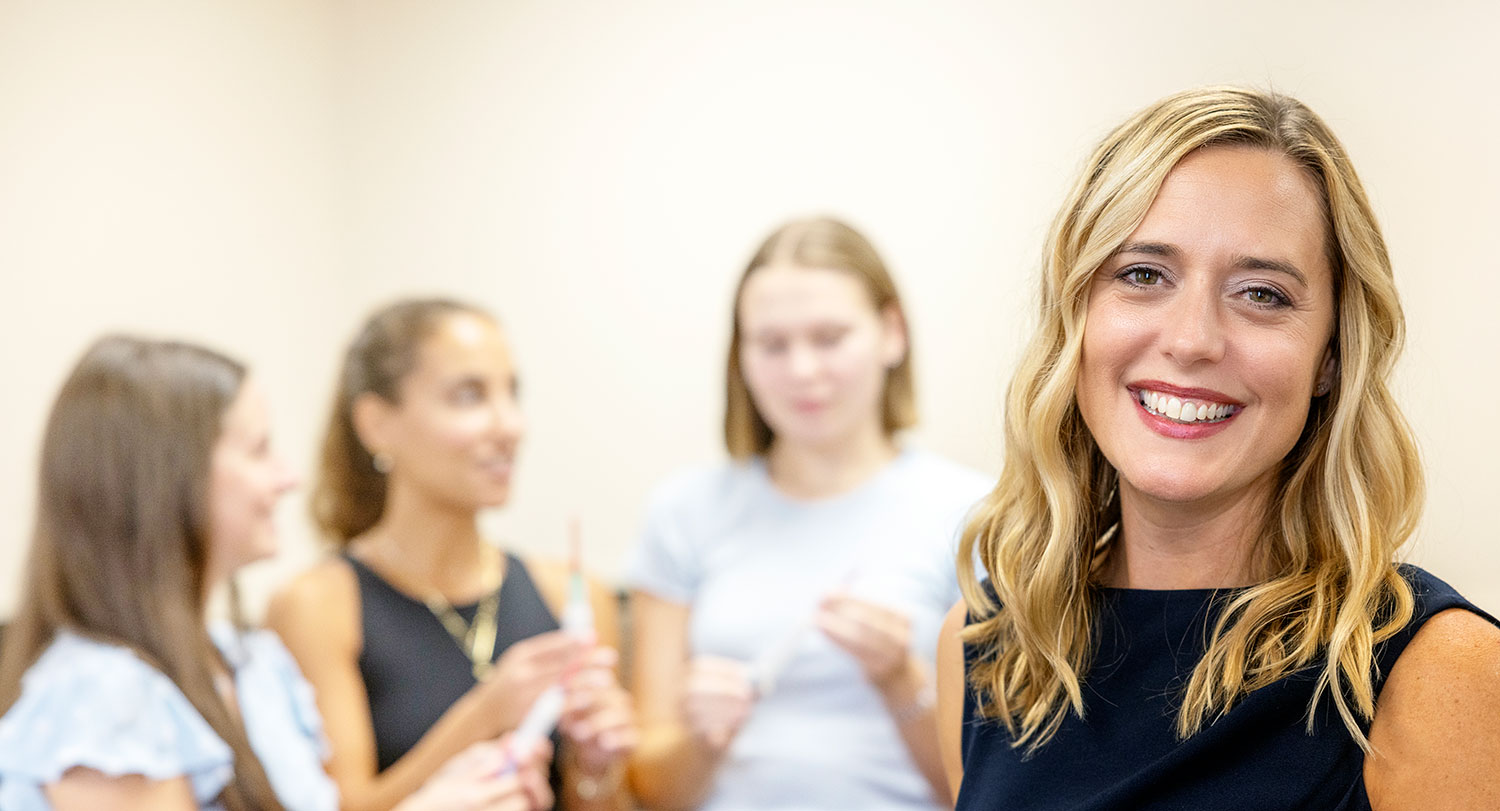 As a child, Christina Cox dreamt of becoming a pediatrician — she still remembers writing pretend penicillin prescriptions for her day care classmates. Eventually, she would realize that her real future was in recommending and filling prescriptions, not writing them.
"I was always really curious about the ingredients in medications and how they worked," Cox says. "So it was a natural segue once I found out I could do clinical pediatric pharmacy and combine that interest with patient care."
Cox is now living that dream as a clinical associate professor in the College of Pharmacy. After graduating from USC with her Pharm.D. in 2006, she completed her pharmacy practice residency and specialty training at Monroe Carell Jr. Children's Hospital at Vanderbilt in Nashville, Tennessee.
At USC, she teaches, conducts clinical research and oversees fourth-year students during their clinical rotations at Prisma Health Children's Hospital, where she works as a practicing pediatric pharmacist in the Neonatal and Pediatric Intensive Care Units. She also precepts Prisma Health pharmacy residents at Prisma Health and is a coordinator for the second-year pediatric pharmacy residency program.
The expertise she brings to the classroom and to clinicals is invaluable for pharmacy students, even those who don't plan to specialize in pediatrics.
"The majority of pharmacists, no matter where they practice, are going to take care of a child, and there are critical differences in taking care of these patients," she says. "They metabolize drugs differently, eliminate drugs differently. They're absorbed differently. Also, we don't have dosage forms for a lot of our children, because the vast majority of dosage forms for medications are in tablets or capsules, and I don't know a 2-year-old who could take those."
Shortly after joining USC in 2010, Cox developed a pediatric pharmacotherapy elective to help aspiring pharmacists better understand those differences. At the beginning of each semester, she assigns students fictional patients so they can learn to respond as various crises arise — dehydration, allergic reactions, abnormal heartbeats. Each case inspired by real situations Cox has encountered.
"These are real patients that I talk about, and the more we do that kind of thing, the more they retain," Cox says. "They remember that information because there's actually a meaning behind what they're learning."
In addition to the classes she teaches, she also assists with several team-taught pharmacy courses, allowing her to share her knowledge of specific topics and provide perspectives based on her clinical experience.
And there's a lot to share. After all, there is no one-size-fits-all approach when treating children.
"Pharmacists will take care of pediatric patients from the day they're born until they're 18 years old and big football player size," she says. "There are a lot of changes that occur in how we utilize medications and the medications that we actually use in those different age groups."
By the time students get to fourth-year rotations, they're in the home stretch of the Pharm.D. program. But just because they've been taught how to do something doesn't necessarily translate into confidence. So Cox involves students in every aspect of clinical practice, from answering patient questions about drugs to responding to pediatric emergencies. Under her guidance, they are even given the freedom to make recommendations and decisions about patient care. Learning in a safe environment where they can ask questions and see the impact of their decisions has a transformative effect.
"We can talk about how to increase a dose of this medication," she says. "And if I'm like, 'Oh, I would do this,' they're just going to do what I say. But if I ask them, 'What do you want to do?' then they have to defend that and make that decision. And if it seems reasonable, I let them make that recommendation, and then they can actually see the next day — or when we're checking labs to write a parenteral nutrition order or replace electrolytes, for example — the result of their recommendations. I think that gives them confidence. They truly see medicine in action versus being responsive."
And Cox gets to see them shine.
One student discovered that a pediatric patient was taking the wrong dosage of a medication by investigating refill history and talking with the parent. The mistake was likely the reason for the child's hospital admission. Another time, an oncology patient couldn't take a drug by mouth, but one of her students researched how to convert the medication into another form.
"I love those light bulb moments," Cox says. "I see them, and I get goosebumps. I mean, that's what I'm here to do, right? I can tell them the information, but once they learn how to synthesize it and apply it and practice it, that's why I'm here."