Nursing alumna endows scholarship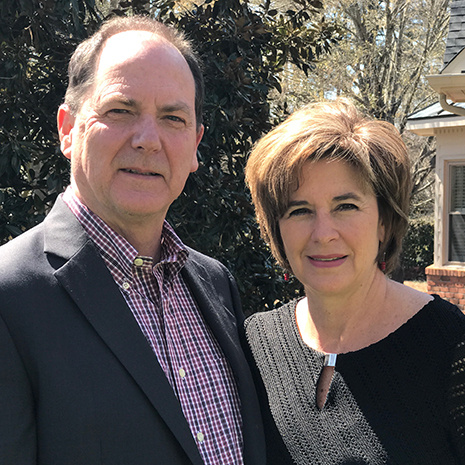 A nursing degree from the University of South Carolina helped make Patricia Edens Eddy's dreams come true. Now, she wants to help make that experience available for others.
Eddy and her husband, Nelson, have established the Patricia Edens Eddy Nursing Endowed Scholarship Fund to award scholarships to College of Nursing students.
"The university gave us such an opportunity to pursue an education and make our dreams come true," Patricia Eddy says. "I didn't want a young man or young lady to be held back by not being able to afford school. It's important to have great nurses, and Carolina is a wonderful nursing program--one of the best."
After her graduation in 1987, Eddy began her nursing career in Columbia, where she worked as an RN on a medical-surgical floor at Baptist Hospital (now Palmetto Health Baptist) and later moved to the operating room at Baptist.
"I didn't like the operating room as much because the patients are asleep," she says. "I liked the contact with the patients."
She met her husband, a Carolina graduate, in Columbia while she was working as a nurse and he was a dentist. The couple later moved to Boston, where she worked as a nurse on an oncology floor at Beth Israel Deaconness Medical Center, a Harvard Medical School teaching hospital, while her husband completed his residency as a peridontist. They moved home to Rock Hill, S.C., in 1992, and Eddy was an obstetrics nurse for the S.C. Department of Health and Environmental Control until the couple's first child was born.
They have four children: Joseph, a sophomore in dental school at the Medical University of South Carolina; Sarah, a junior studying exercise science at the University of South Carolina; Libby, a senior at Northwestern High School who plans to attend Carolina; and Maggie, a high school sophomore.
Since she was a young child, Patricia Eddy knew she wanted to serve others through a career in nursing. Now, as her children are older, she plans to once again get involved in health care.
In September, she began her term on the College of Nursing Executive Advisory Council, and says she's interested in looking at areas such as gaps in geriatric coverage and advocating for the elderly.
Her gift to USC will help future students as they prepare for careers in nursing.
"With benefactors like Nelson and Patricia Eddy, the College of Nursing is able to recruit and support high-achieving, diverse students who choose nursing as a career path," says Jeannette Andrews, dean of the College of Nursing. "The Eddys' endowment for student scholarships is not only critical to the college in our journey to educate our future nursing workforce, but equally important to each individual student who receives financial support during their education here at Carolina."
---
This story was originally published in the Fall issue of the College of Nursing magazine.