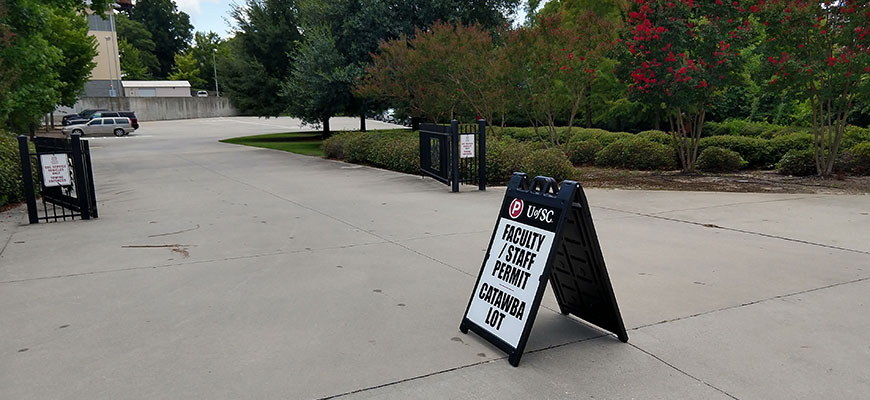 Fall brings parking, transit updates
Three new FS lots on South Campus expand capacity
---
By Koby Padgett,
kpadgett@sc.edu
, 803-576-6701
---
The university begins the 2021-22 academic year with three new faculty/staff parking lots, as well as updates to university transit lines and a consolidation to one on-demand, nighttime shuttle service.
Below is an overview of changes Parking and Transportation Services has made for the upcoming year.
New faculty/staff lots
Two of the three new faculty/staff (FS) lots are entered at Main and Catawba streets, near The Lofts at USC. The first, formerly labeled M4, converts to all faculty and staff. The second, a new lot labeled FS14, is located behind the BioMass building. The third lot is by the Blatt P.E. building and is labeled FS16; it was formerly for resident students (S8).
BullStreet District Park & Ride
The BullStreet District Any Decal (AD) Park & Ride lot is located at Colonial Drive and Harden Street. Details:
Open from 6 a.m. to 9 p.m. on weekdays. Lot is locked at 9 p.m. each day.
Serviced by a dedicated shuttle line, picking up every 20 minutes starting at 7:15 a.m. and ending at 7 p.m.
The shuttle stops at Pendleton Street Garage and 1311 Pendleton St., the former bank building/current faculty and staff S.A.F.E. testing site (on either end of the Horseshoe).
Founders Park lot upgrade
The Founders Park Any Decal (AD14) lot has been upgraded over the summer and is open to all members of the campus community in the fall. The lot, with new gravel, lighting and security, is covered by the West Campus shuttle from 7 a.m. to 6 p.m. daily.
Consolidated on-demand ride offering
Call 803-777-1080 to get an on-demand ride from any point on campus. These shuttles will take campus community members between any two points on campus, including the BullStreet District Park & Ride lot. On-demand rides are offered on the following schedule:
6 p.m.-6 a.m. Monday through Thursday
11 p.m-6 a.m. Sunday night/Monday morning
6 p.m. to 12:30 a.m. Friday nights
Lot closures
Two Any Decal (AD) lots along Whaley Street, AD6 and AD9, were closed permanently this summer, because of construction of the new Campus Village housing buildings.
Track your bus
All UofSC Transit buses and campus shuttles can be tracked on the Transloc website and with the Transloc app, available on both the Apple App Store and the Google Play Store.
Vehicle registration
Parking permits are available for purchase online. Also, free registration for bikes is available online.
---
Share this Story! Let friends in your social network know what you are reading about
---