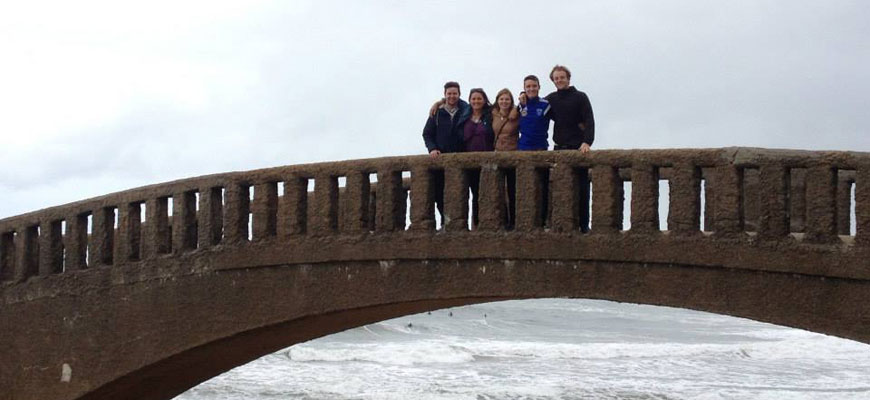 Globetrotters
---
By Chris Horn,
chorn@sc.edu
, 803-777-3687
---
Five points. That was the razor-thin margin of difference on his entrance exam that kept Guilherme Picanço from getting into the top business school in his native Brazil.
"I was really sad, but it turned out to be the best thing that could have happened," says Picanço, who learned shortly afterward about the University of South Carolina's Darla Moore School of Business and its No. 1 ranked international business program. He had already been accepted at several other prestigious universities in the U.S. and Europe by then, but Picanço wasn't interested — he had found what he was looking for.
He's now a rising senior in the Moore School, majoring in international business and global supply chain management and headed for Milan, Italy, next semester for study abroad. The polylingual undergrad (he's fluent in Portuguese, Spanish and English and becoming so in German) is on track for graduation next December, and he has made the most of his time, serving as vice president of the International Student Association at Carolina.
Picanço has also been an ambassador of sorts to American students at Carolina. "I roomed with six other guys my sophomore year who were all from Rock Hill, S.C.," he said. "Just by living with me and me living with them, they started to take notice of other cultures a little more. I introduced them to a lot of my international friends, and we all played soccer together. I think I sort of opened their eyes to Brazil and Latin America."
Vive la différence
About 1,500 international students are enrolled at Carolina in undergraduate and graduate programs, hailing from 100-plus countries. Two hundred more are improving their English-speaking skills in the university's English Program for Internationals.
The total number of internationals at Carolina has increased 47 percent in the past decade, and their numbers have risen 73 percent in the same time frame at universities across the nation. It's estimated that they collectively inject more than $30 billion into the national economy every year. Their presence generates multiple benefits for the Carolina campus community, says Jody Pritt, director of International Student Services at Carolina.
"What's great about having international students here is what they bring to the classroom and what they bring to the overall experience of college for everyone," Pritt says. "Their perspective broadens everyone's horizons.
"All that some American students know about China or Hong Kong or Thailand is what they see on the news. Then they work with a student from one of those countries on a class project and they later say, 'I met someone from there — they're different from me, but they're good people.' "
Helping faculty, staff and students understand basic cultural differences is part of Julie Medlin's role as an adviser in International Student Services through the Carolina Intercultural Training workshops. The key is understanding some of the basic premises of how other cultures communicate, she says.
"In some Asian cultures, it can be inappropriate to question your professor's assertion or even to ask a question during the lecture," Medlin says. "We discuss in the trainings how to incorporate those students from other cultures in discussions, since direct and verbal communication isn't appropriate in every classroom culture. Some students probably won't raise their hands or make eye contact.
"On the other hand, we Americans communicate directly, and usually you only need to say something once to get a point across. For some cultures, there is more negotiation and turn-taking. So we all have to be creative and try to bridge those differences."
Buddies beyond borders
Begun in 2012, Buddies Beyond Borders pairs current Carolina students with new international students to help the latter learn the cultural ropes of their new home. The program is aimed at ensuring that international students have opportunities to develop American friendships and have authentic American experiences — and domestic students have opportunities to learn more about the world through their international buddies' perspectives.
"We want them to feel they're getting not just an American university degree but that they are becoming Gamecocks, international Gamecocks," says Leigh Eleazer, a 2011 English/Russian graduate and program coordinator.
Homesickness was a little hard at the beginning of the fall semester for Laura Kock, a freshman from the island country of Aruba. But she found the buddies program helpful in navigating campus. "The biggest difference in adjusting to college here is all the time thinking, speaking and writing in English," says Kock, who also speaks Spanish, Dutch and a creole language used in Aruba and neighboring islands. "I've been to all the home football games. I didn't know anything about football — nothing, nothing, nothing — but I'm learning a lot."
Drew Grubba, a sophomore from Jacksonville, Fla., who hopes to get into the international business program, has been a buddy to students from France, Belgium, Portugal and Spain. "I met a group of Brazilians last year, and we hung out a lot together — I even started learning Portuguese," says Grubba, who also speaks Spanish, Chinese and German. "I met a girl from France, and we became really good friends. I stayed with her family when I was studying abroad this past summer."
For three semesters, Jo Jo Winkelmann, an advertising junior, has been a buddy with students from Ireland, France, Australia and the Netherlands. "I always request someone from a Spanish-speaking country because that's my minor, and I always get someone from somewhere else," she says, laughing. She has had them over for dinner at her sorority house and plans to study abroad in Australia in the spring.
She sings opera in French, Italian and German, which has spurred Valencia Callens' interest in all things international. "I have a love for people, but I really love meeting people from international cultures," says Callens, a master's student in opera theater student from Alabama. "Once they realize that you admire their culture, they open up and like to talk about it."
But explaining American culture can get tricky. Just ask Ashley Guthrie, a master's in public health candidate from Murphy, N.C., who is a buddy this semester with Nok from Thailand and Madushan from Sri Lanka.
"The funniest thing I have had to explain to both international buddies is the concept of tailgating," she says. "Even after 10 minutes of attempting to explain the activities and entertainment involved in the tailgating experience, both buddies were confused as to why it takes place in a field or parking lot and where the 'tailgate' comes into play."
Thinking globally
Connecting with individual students is great, but some internationals want to forge broader connections across campus and beyond. Thinking Globally, another program in International Student Services, offers them the opportunity to share about their countries in University 101 classes and K-12 schools in Columbia.
"When we present in the classrooms here on campus, it can get students thinking about the possibility of study abroad or at least get them thinking about the bigger world beyond this," says Pat Nobrega, a master's student in higher education who heads up Thinking Globally.
"We're trying to do more K-12 outreach," says Nobrega. "We presented at Gilbert High School, and it was probably the first time most of those students had met someone from Myanmar and Hong Kong. It was a lot for them to take in. Many of them might have never considered taking advantage of international opportunities in college, so it opened their eyes to that possibility."
Rubbing elbows with international students has inspired more than a few Carolina students to pursue study abroad experiences. The number of students venturing out has more than tripled — from 410 in 2004 to more than 1,500 last year — and the university's Study Abroad office is hoping to see the number reach 2,000 by 2017-18. The most popular destinations are Spain and Italy, followed by Germany, U.K., France and Australia, though there are 60 other countries where Carolina students have studied.
"When students study abroad, their levels of independence and self confidence grow exponentially," says Sarah Langston, associate director for the Study Abroad office. "We encourage students to not just take electives but also courses in their major. They gain a broader world view in their disciplines that way."
Laura Tarbox, a senior double-majoring in Russian and International Studies, spent nine months studying in Kyrgystan. "The ability to visit and see so many cultures and new places both within Central Asia and in Europe was amazing and a once-in-a-lifetime experience," she says. "Almost every expectation that you have about studying abroad will be incorrect, but the experience will be so much better than you could imagine. Every minute of nerves or anxiety or uncertainty is worth the memories, personal growth, and experiences."
Living in the International House at Maxcy College might be the next best thing to studying abroad. Ore Oluwole, a public relations senior from Greenville and a native of Nigeria, has done both. Oluwole lived in Maxcy his freshman year and has been a resident mentor there for three years.
"When I first came to USC, I thought it would be interesting to meet freshmen from other parts of the country. I didn't imagine I'd be rubbing elbows with international students," says Oluwole, who has studied in Germany during a Maymester course and in Australia this past spring.
Charles Marion is a junior business major from France, studying in the Moore School this semester. It's his first time visiting the U.S. "I've met a lot of Americans who have never studied abroad," he said. "Everyone loves football here. We don't have anything like it in France."
Another temporary Maxcy resident is Chloe Ng from Hong Kong, an exchange student in the Moore School's Chinese University in Hong Kong program. "When American students in my classes in Hong Kong talked about companies in America, it opened my eyes to the possibility of getting an internship here — I'm hoping for something in the San Francisco area," she says.
She's spent three semesters in Maxcy, but Katie Rudnik can't get used to having to say goodbye to international students at the end of each term. "That's the hard part," says Rudnik, who has studied abroad in three countries. "You get close to people so it's sad, very sad. But you can learn so much without ever leaving the country."
No. 1 attraction
One of the university's strongest draws for internationally minded Americans and international students is the Moore School of Business. Its No. 1-ranked international business program has gained a global reputation and enabled the school to partner with about 50 of the world's best business schools.
"The reason they partner with us is our No. 1 ranking in the U.S.," says Nancy Buchan, associate dean for undergraduate programs in the Moore School. "The international exchange students who come from those universities are very smart — it's like getting into Harvard for them to get into their respective schools.
"Our students get to hear about an issue or a cultural perspective from students who are living it. American students love that."
Group projects can be challenging, Buchan says, especially when international and American students struggle to communicate effectively with each other.
"Invariably, as with any group, there is conflict, and in these cases it usually involves cross-cultural communication," she says. "So the students get an incredible lesson in developing communication skills, adaptability and patience when working with people who are different than you, the kinds of soft skills that rank ahead of even business acumen and technical ability when considering job candidates. I think international students are often catalysts for that kind of learning."
Taking a course with internationals can be motivational, too. Kathleen MacKenzie, an international business/marketing senior and Honors College student from Princeton, N.J., has studied abroad in Europe and been a buddy to students from Oman, Switzerland, Italy and China.
"I sit in class next to someone from Slovakia who speaks five languages, and that's definitely motivational, knowing that students like her are potentially going to be competing for the same jobs I'm interested in," she says. "We're not competing just with American students in the Darla Moore School of Business. What they've told us all along really is true: we're competing with the rest of the world."
---
Share this Story! Let friends in your social network know what you are reading about
---