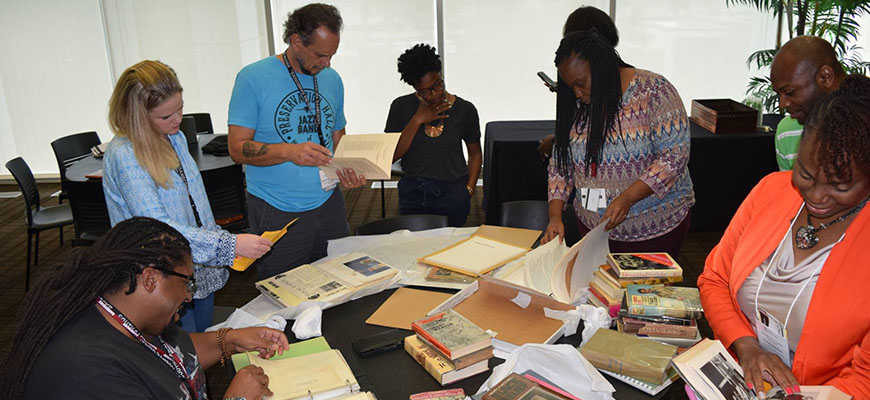 Foot soldiers in the classroom
Summer institute immerses S.C. teachers in civil rights history
---
By Mary-Kathryn Craft,
craftm@mailbox.sc.edu
, 803-576-6195
---
From gathering inside Zion Baptist Church — a safe haven for civil rights activists in the 1960s — to speaking one-on-one with veterans of the movement, a group of South Carolina middle and high school teachers this summer got an inside look at civil rights history in Columbia.
The inaugural South Carolina Civil Rights Teacher Institute, sponsored by the South Carolina Center for Civil Rights History and Research, was launched to connect social studies teachers with primary sources and ultimately improve classroom learning and community engagement.
Led by history professor Bobby Donaldson, the weeklong institute was funded in part by a National Park Service grant and included 15 eighth- and 11th-grade teachers.
Hearing firsthand from activists gave Richland Northeast High School teacher Brandon Harrison a renewed sense of purpose.
"In African tradition, it's the elders' job to pass down knowledge and wisdom to the next generation," he says. "My elders took this time to pass along their stories. Now it's my responsibility to share these stories of the civil rights movement in South Carolina and make sure the next generation knows what happened here."
A joint initiative of the College of Arts and Sciences and University Libraries, the Center for Civil Rights History and Research seeks to bring civil rights history to life and inspire an informed dialogue about today's social justice issues.
Teachers kicked off their week on campus opening boxes of a new civil rights collection recently received by the Irvin Department of Rare Books and Special Collections. What was inside included materials from Martin Luther King Jr., Coretta Scott King, Roy Wilkins and Jackie Robinson. Donaldson and participants discussed ways such primary sources can help educators reimagine how to teach about the civil rights movement.
Other activities included field trips to Booker T. Washington High School, Zion Baptist Church and a bus tour of other historical places significant in Columbia's civil rights past.
Perhaps most importantly, teachers got to listen to and ask questions of civil rights veterans who led protests, organized meetings and fought for equal rights decades ago and continue to share their stories and advocate for change today.
Civil rights veterans who joined the institute include U.S. Congressman James E. Clyburn, retired S.C. Supreme Court Chief Justice Jean Toal, photographer Cecil Williams and Henrie Monteith Treadwell whose legal battle led to the desegregation of the university in 1963.
"To me history is not about minute details and dates," says Bernadette Persons-Nelson, a teacher from Kennedy Middle School in Aiken, South Carolina. "History is about our different stories as we've gone through time. I want my kids to hear these stories because it's comforting for us to know what the country has gone through and survived. There are regular people living their lives out there every day doing extraordinary things."
One of those people was the Rev. Moses Javis, 81, a Columbia native who led protests as a student at Benedict College. He now lives in Leesburg, Florida, and traveled to Columbia to speak at the institute. He decided to extend his trip an additional day so he could attend the event's closing.
"You have a wonderful opportunity to transform the lives of the children that come into your class," Javis told the teachers. "You can open the eyes of the blind. You can put energy into the crippled. I thank God for the past, the present and the most hopeful future."
The work is just beginning for the teachers, who now have a month to prepare lesson plans and activities based on their experiences in Columbia. The learning activities will be compiled into a guide for teaching S.C. civil rights history and be available to the public and teachers statewide via the center's website.
"There is great work to be done in this community and our state as we teach and document this important history, and I'm grateful to have foot soldiers in the classroom," Donaldson says.
---
Share this Story! Let friends in your social network know what you are reading about
---