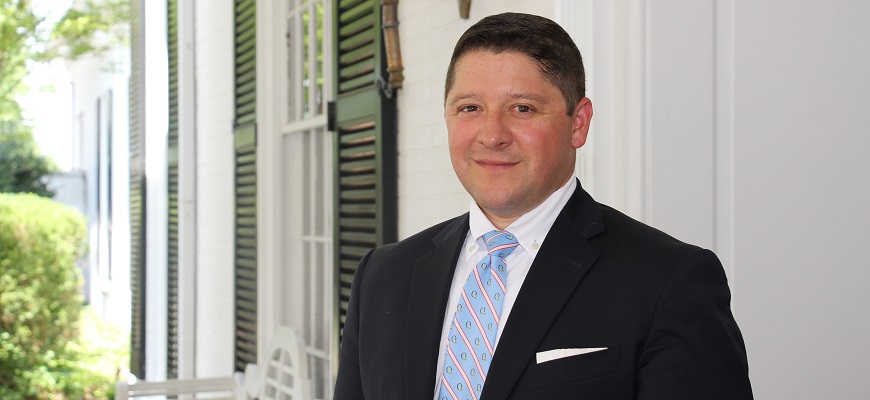 Top of his game
UofSC alumnus leads club hosting PGA Championship
---
By Allen Wallace,
awallace@sc.edu
, 803-777-5667
---
Tom DeLozier was 30 years old when he became general manager of Quail Hollow Club in Charlotte, N.C. On Aug. 10, another career milestone will arrive as the club hosts the 99th PGA Championship.
An alumnus of the University of South Carolina's College of Hospitality, Retail and Sport Management, DeLozier's passion for hospitality, impeccable standards and insatiable work ethic have helped him prepare to lead his team in one of the golf world's brightest spotlights.
"Hosting a major is a tremendous honor," DeLozier says. "The eyes of the world are on your facility."
In many ways, he's been preparing for that honor most of his life.


Beginnings
DeLozier's interest in hospitality began with his roots. He grew up in Bolivia and was fortunate to travel around the world, developing an appreciation for the hospitality industry and for different cultures.
"I realized early on I wanted to do something related to travel, and hospitality is part of our family culture," he says.
Family ties also helped attract him to golf. His uncle, Henry DeLozier, is a prominent golf industry consultant. His younger brother, Patrick, also an HRSM alumnus, is the former club manager at Augusta National and current general manager at The Alotian Club in Arkansas.
When DeLozier began looking for colleges, he was drawn to South Carolina's hospitality program, one of the first of its kind to incorporate club management into its curriculum and one of only two worldwide endorsed by the Club Management Association of America. He learned from faculty members with industry experience including associate professor Cathy Gustafson, who spent more than eight years as a club general manager before moving into teaching.
While at the university, he maximized every opportunity to gain hands-on experience, working first for Sodexo and then Marriott. He learned the restaurant and hotel side of the hospitality industry, and worked on the catering team for events at the university president's house and the faculty club at McCutchen House.
By the time he graduated in 1999, DeLozier had landed a job as a regional manager for Marriott in Atlanta, overseeing a team of more than 20 employees, at the age of 21.
He could have chosen to stay with Marriott, but his interest continued to turn toward club management. With encouragement from Gustafson and other mentors, he took a job as assistant general manager at Charlotte Country Club, where he remained for eight years, learning from industry greats and making a name for himself.
"It's all about relationships," he says. "The hospitality community and especially the club community is pretty small. The reputation you have for the job you're doing starts following you."


Quail Hollow
The work to build a good reputation paid off when, in 2008, DeLozier was given the keys to Quail Hollow. He was hired as general manager to oversee all aspects of the club's business and lead its 150-employee team. He brought with him the philosophy and passion developed at Carolina as well as the lessons learned throughout his life.
"In hospitality in general, if you don't like people, this is not the field for you. I genuinely enjoy delivering service," he says. "I'm part of the Quail Hollow family. It's not just a business. We capture the happiest moments in people's lives, from debutante balls to weddings to retirements. It's a great honor."
The club, while exclusive, prides itself on a relaxed atmosphere that strikes the perfect balance between fun and prestige with a motto of "Greatness has a home." It also has gained notoriety for its beautiful course where golfing icons like Rory McIlroy and Rickie Fowler have launched their careers on the PGA Tour.
"We are always working to take good to great and better to best in everything we do," says DeLozier. "There is a great pride shared by our members and staff, and I think you can feel that when you are here."
DeLozier had been at Quail Hollow for just two years when he helped orchestrate the biggest moment in the club's history to that point: being awarded the PGA Championship. Since then, he has led the seven-year effort to prepare for a tournament expected to draw 50,000 people a day Aug. 7–13 — all while providing his members with the exceptional service Quail Hollow is known for.


Championship
Few people in DeLozier's profession will have the chance to lead a club that hosts a major championship.
"It feels like joining an inner sanctum of professionals who have been through this," he says. "It's a tremendous honor. You want to get to the big dance."
Quail Hollow is a small club by design, and while it has hosted the Wells Fargo Championship for years, the PGA Championship is a much larger undertaking.
"The best analogy I have heard is from our PGA Championship director Jason Mengel, who said, 'It's like getting a high school football stadium ready to host the Super Bowl,' " DeLozier says. "It's pretty remarkable what we're doing for one week of golf. It's been a huge undertaking."
Since Quail Hollow's successful bid to host the PGA Championship, DeLozier and his team have overseen the transformation of the club, including the construction of more than 300 structures — the equivalent of a 26-story building.
DeLozier has worked countless hours, making sure every detail is covered to meet his goal: making the 99th PGA Championship the best yet. "There's no other place in the world that's doing what this small club in Charlotte is doing in golf," he says.


An individual who has the desire and willingness to learn and a positive attitude, we can do so much with that.

Tom DeLozier

In addition to maintaining a world class golf course and reconstructing greens to offer a brand new experience for the tournament — the club also has focused on exceptional hospitality, with the goal to create the best possible experience for every visitor. DeLozier led the expansion of the Green Mile Club, Quail Hollow's signature hospitality facility, which for the PGA will become a two-story building with panoramic views of the closing holes.
The newly added tents to accommodate fans looking for food and drinks are right next to the course, allowing visitors to watch the tournament as they grab a snack or meal. The Championship Shops, the retail side of the event, will be housed in a newly built 50,000-square-foot tent. Fans can walk into the grand entrance of the tent as they arrive and walk out the other side to a stunning view of the 18th hole.
"I can't think of another experience like it," DeLozier says. "You almost feel like you're walking through Downtown Disney right into the epicenter of the championship."
Despite the size of the event, Delozier has maintained a strong focus on relationships and his passion for people, from taking care of his members to making the tournament a learning experience for hundreds of students.


Mentoring and building for the future
"The students really want to be here. There's a learning curve, but their passion is powerful and their energy is contagious," DeLozier says. "I was a student not that long ago. I remember the impact internships and advice had on me. I'm very aware of how important that is."
In preparation for the PGA Championship, DeLozier and Gustafson began working on a partnership more than two years ago to create opportunities for more than 150 Carolina students to serve as interns for the tournament. In addition, students from around the country and around the world have come to Quail Hollow to work in every aspect of tournament production, including operations, greens maintenance, hospitality and retailing.
"The tournament provides a unique opportunity for students to work with the best in the business at a premier event," he says. "I focus a lot on fostering and developing people. Mentoring and training are mission-critical to our success."
DeLozier says he can recognize a person with potential to succeed in his industry within minutes of meeting them.
"You have to want to do this. Passion is the first indication," he says. "An individual who has the desire and willingness to learn and a positive attitude, we can do so much with that."
Some of those passionate people working at Quail Hollow just happen to be Gamecocks. Course superintendent Keith Wood is an alumnus, having earned a bachelor's degree in biology. Rachel Nesbitt, a 2017 graduate of the university's hospitality program, is working at Quail Hollow as the first recipient of the John Deere Fellowship. And, Mary Elizabeth Dew, a current tourism management major, is serving as the Quail Hollow summer management intern.
"It's pretty incredible to see the rise of the Gamecock nation here in Charlotte," he says.
Always planning ahead, DeLozier will lead another club project as soon as the PGA Championship is over — next year's Wells Fargo Championship and then the President's Cup in 2021.
"We're just getting started, guys. We're just getting started."


---
Share this Story! Let friends in your social network know what you are reading about
---