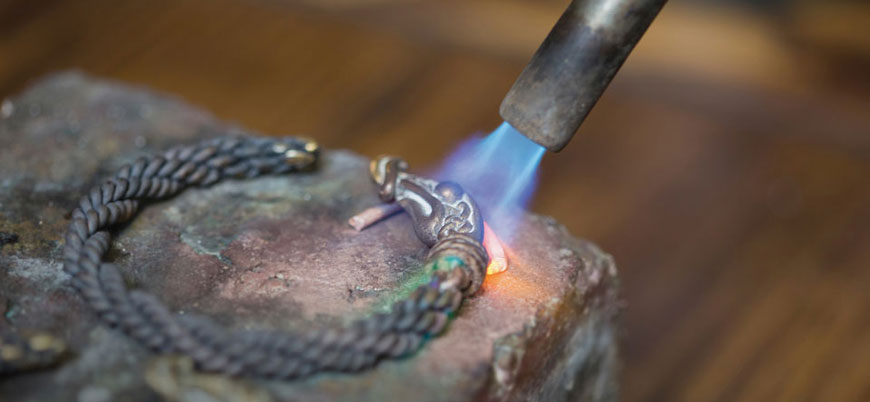 Crafting a tradition
Creativity is embedded in the DNA of the Hansen family
---
By Melinda Waldrop,
melwal@mailbox.sc.edu
, 803-777-3685
---
The flame flares into life and burns — first orange, then bright green. Danny Hansen carefully traces the blue-hot tip along the braided metal. He guides the fire along the bracelet's curve, stopping at the silver clasp of the dragon's eye.
It's a process he's repeated often after unexpected national television exposure spurred a big boost in his family's business.
Danny, a 1990 Honors College graduate, and wife, Sherry, own Crafty Celts, a handcrafted jewelry business based in Batesburg, S.C. Their son Kendall, a current Honors College student, often helps out, designing and crafting pieces alongside his dad.
The Hansens got their start mostly by making items for the renaissance fair circuit, and while they occasionally fielded inquiries from people claiming to be making movies or TV shows, they never took the calls seriously.
That changed one day with a phone call from a woman with a thick Irish brogue.
"You could hear the red hair over the phone," Danny says. The woman, who represented a production company, asked if Crafty Celts could provide jewelry for what Danny thought was going to be a BBC documentary.
It was a good opportunity to sell a few pieces, but beyond that, Danny didn't expect much. "I boxed some pieces up and mailed the box off and never thought about it again," he says.
Hereditary talent
Danny, who doubled-majored in computer science and studio art, grew up with a sketch book in hand, no doubt emulating his father, Harry Hansen, a longtime USC art professor and landscape painter. Danny also took art classes at Carolina, including a jewelry-making class taught by Truman Teague where he immediately found his niche.
"I've been drawing my whole life, but when I discovered I could make the thing in real life instead of drawing pictures of the idea, that's when I switched," he says.
The new medium fed into other interests. As a member of the Society for Creative Anachronisms and a frequent renaissance fair participant, Danny became dissatisfied with accessory options for his costumes. So he made his own, first crafting a cloak broach.
Jewelry-making remained a hobby, though, as Danny worked as a typesetter at a Kinko's copy shop and Sherry as a lab technician at Midlands Tech. Doing the family's income taxes one day, Danny realized that their handmade jewelry brought in more money than their day jobs.
"I quit my job pretty much that week," says Danny. Kendall was 6 months old. "My father thought I was insane."
Crafty Celts makes neck rings, or torcs, along with pendants, earrings and weapons such as bronze daggers. Most pieces range from $30 to $160.
Kendall, one of four Hansen children, has shown the most interest in the ins and outs of the family business. "When I first started working in the shop, I believe I was about 8," he says. "I very specifically remember using a blowtorch."
Big break
The Hansens have been firing up blowtorches with regularity since that call from the Irish woman. It turned out she represented the History Channel show "Vikings," which Danny — not an avid TV watcher — learned when a potential customer inquired about a bracelet featured on the show.
"I was oblivious," he says. "I was like, 'If I had stuff in a TV show, I think I would know.' "
I've been drawing my whole life, but when I discovered I could make the thing in real life instead of drawing pictures of the idea, that's when I switched.

Danny Hansen
A visit to the show's website turned up pictures of his work, and Danny scrambled to track down contact information for the show's producers. He ended up sending them another $10,000 worth of jewelry.
"They got it and they loved it," he says. "They were really excited to be working with someone who makes the real thing."
The first season of "Vikings" generated a bit of extra business. In season two, a Crafty Celts bracelet played a major role in a plot line.
"Our business doubled," Danny says. "It just exploded."
The Hansens' relationship with the show, which is slated to begin its fifth season this fall, continued, and was recently solidified by a licensing agreement with MGM. Company website craftycelts.com has been overhauled to showcase the association.
The Hansens have enjoyed the chance to model their work as well. After multiple suggestions from people who'd seen him in full reinassance regalia, Danny contacted "Vikings" about appearing on-screen, and he flew to Ireland with younger son Kelley to serve as extras in a few episodes.
Danny Hansen doesn't see more acting in the family's future, but "Vikings"-related profits have allowed Crafty Celts to move to a larger workspace with $100,000 of upgraded equipment, including a new casting machine. The company has also revamped its website and is hoping to hire additional employees — while Danny catches his breath.
"I'm looking forward to the plateau," he says. "I'm looking forward to having all the pieces in place and then just making jewelry and selling it."
---
Share this Story! Let friends in your social network know what you are reading about
---