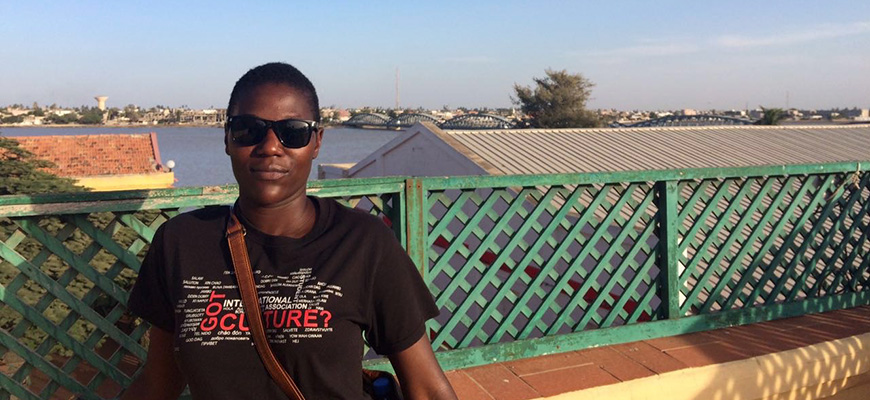 From refugee to global education advocate
Education doctoral student earns fellowship to study ways to make education more accessible to girls in West Africa
---
By Kathryn McPhail,
mcphailk@mailbox.sc.edu
, 803-777-8841
---
In 1991, Noella "Binda" Niati was forced to flee her home in the Democratic Republic of Congo, amid intense violence and political upheaval. At just 6 years old, she became a refugee along with her family, fleeing to Nairobi, Kenya. Her family would flee once more when she was 10 years old and find refuge in the United States. With many worries and few answers to what their future would hold, they started a new life in Cedar Rapids, Iowa.
"We were in culture shock," remembers Niati. "We left behind all of our extended family. It was just my father, mother, brothers and me. We were grateful to be safe, but it was a huge change."
The years to come would lead Niati and her family to various parts of the U.S. including Nebraska, New York and South Carolina. Her father, a French professor, and her mother, a nurse, always stressed the importance of education.
"They believed, and I do too, that every child deserves the opportunity to have an education. Education is a human right and should be accessible to everybody," stresses Niati.
Niati, who is now working towards her doctoral degree in Educational Foundations and Inquiry, is putting those words into action in the continent she left more than two decades ago. This year, she earned the prestigious Fulbright Public Policy Award to travel to the Ivory Coast. She will spend 10 months working as a special assistant to the Minister of Higher Education and Scientific Research. She will research educational policies and study ways to encourage children to stay in school and increase access to quality education.
"Education, especially for girls, is not a priority for many families in West Africa. In fact, even though more than 90 percent of children attend primary school, only around 45 percent of them continue past the sixth grade," Niati says.
Many girls must take on financial responsibilities to contribute to their family's livelihood — often working as maids or fieldhands.
"As they grow older, you end up with a lot of young people with limited skills and education. This leads to many problems for the developing country. So, I will be focused specifically on researching the best ways to encourage young people to stay in school through high school and beyond. A solid education will not only improve their personal lives, but can play a positive role in the country overall," Niati says.
She believes the key to political stability in many struggling African countries is engaging youth through civic education and social engagement. She stresses that the higher students go in school, the more likely they are to participate, be heard and instigate change in their communities.
"Take my home country for example — the Congo has been in turmoil for decades," says Niati. "Leaders are corrupt and very little changes — limited infrastructure, no support for education. They barely invest in social systems that will improve communities: health care, education, buildings and roads. That is the case for other African countries, too. My hope is that change can, and will, happen. Encouraging youth to stand up to social and political injustices and become involved in positive and nonviolent ways is key."
Niati has seen, firsthand, how youth engagement can lead to political and social change. Last year, she received a Boren Fellowship to study French and Wolof, one of the country's native languages, in Dakar, Senegal. The Boren Fellowship's African Flagship Languages Initiative enables U.S. students to add an important international and language component to their education by participating in overseas language immersion in various countries. She interned with the United Nations Educational, Scientific and Cultural Organization (UNESCO) where she focused on empowering people of all ages to actively work towards resolving global challenges and become proactive contributors to a more peaceful and secure world.
I'm a refugee from Congo whose life was enhanced through education, and I hope to bring those opportunities to young people in Ivory Coast and beyond.
While in Senegal, she conducted research on Y'en a Marre, an internationally recognized social movement group led by rappers and journalists, founded in 2011. Initially formed to protest the frequent power outages in the capital city, the group gained popularity when they contested the attempted coup d'état of the Senegalese constitution by then president Abdoulaye Wade. Wade tried to change the constitution in order to run for a third term and lower the number of votes needed to win office.
One of the founding members of Y'en a Marre was a rap duo known as Keur-Gui. At 17 years old, one of the rappers was beaten and arrested because the lyrics to one of his songs spoke out against the mayor. Later, their first album was censored by the government. From then on, the group committed themselves to addressing social and political issues, a feature that is still visible in their music.
"These musicians were able to connect with young people, unite them in nonviolent action and encourage them to vote. And it worked. The president lost and there was a peaceful transition of power," Niati says. "Now, the spirit of Y'en a Marre has spread to other countries, corrupt leaders are being voted out of office, and youth are voting in much higher numbers. This goes beyond Ivory Coast or Senegal. It has worldwide implications. This is what democracy in action looks like and we as young people need to see and experience this."
Niati continues to study how attitudes towards education might be improved by using hip-hop music and culture as a pedagogical tool to connect with children and teens.
"Maybe there is a way that educational systems across the continent can use the momentum created by Y'en a Marre to increase engagement and influence access to education. I'm a refugee from Congo whose life was enhanced through education, and I hope to bring those opportunities to young people in Ivory Coast and beyond," Niati says.
---
Share this Story! Let friends in your social network know what you are reading about
---