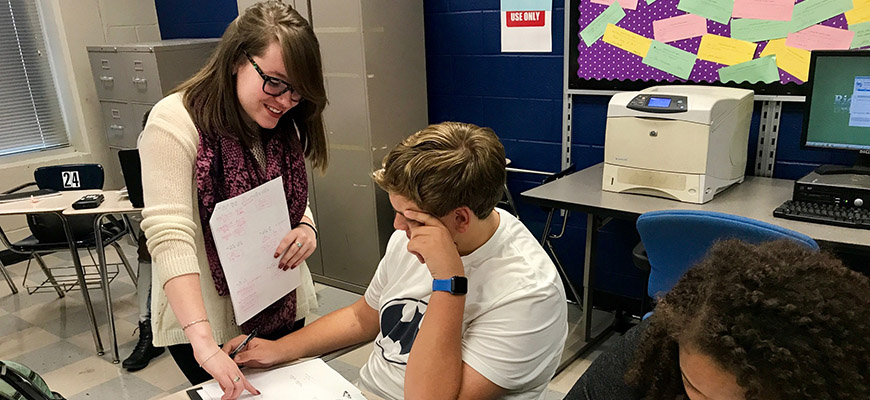 Retaining South Carolina's newest teachers
College of Education launches induction program for recent graduates
---
By Kathryn McPhail,
mcphailk@mailbox.sc.edu
, 803-777-8841
---
College of Education alumna and math educator Alison Schriro fell in love with teaching when she was still in high school.
"I tutored some of my friends in math and I realized I had a knack for expressing concepts in different ways, depending on how their brains received the information," Schriro says. "I loved helping them figure out the process and I knew I wanted to become a math teacher."
Despite years of tutoring her classmates and a year of student teaching while at Carolina, Schriro says nothing could completely prepare her for that first day as a new teacher at Dreher High School in Columbia.
I feel like USC is saying 'We know you need support, and we are here for you.' And that means the world to me.

Alison Schriro, math teacher and USC alumna
"Stepping in front of a classroom full of freshmen can be overwhelming. They were trying to find their way in a new school ­— and so was I."
Schriro says the hardest part of her first three months as a teacher was not the advanced-level math she was teaching, but rather the behavior and classroom management issues she faced each day. But, she is finding support from a familiar source — her alma mater.
In October, the College of Education launched a new program aimed at increasing teacher retention and success in the classroom by providing three additional years of support to teachers after graduation. The Carolina Teacher Induction Program, or CarolinaTIP, is a bridge between the College of Education's teacher preparation programs and South Carolina's schools. Schriro is one of 15 recent education graduates taking part in the program's inaugural year.
"We know the first three years can be difficult for new teachers, with an increasing number of them leaving the profession during this time," says Nicole Skeen, CarolinaTIP coordinator. "Carolina wants to support our graduates during the transition from the university to the classroom in hopes of retaining quality teachers throughout South Carolina."
During its first year, CarolinaTIP is focused on graduates who are teaching at one of the 18 Professional Development Schools (PDS) in the Midlands area where the College of Education has deep and sustained partnerships. The group of teachers, who held their first workshop in mid-October, represent nine schools in four school districts. CarolinaTIP is helping the teachers implement best practices ranging from behavior management to instructional strategies.
Skeen observes the CarolinaTIP teachers in their classrooms to help them identify ways to improve.
"We are striving, through this extended support, to increase teacher satisfaction and retention, which directly impacts student learning," Skeen says.
Schriro is already seeing a positive impact in her math classes.
"After observing my class, Nicole offered some great advice for keeping my freshmen on task and for cutting down on the disruptions," Schriro says.
Skeen says feedback from the teachers will help to shape the program for the future.
"There are very few induction programs across the country like this one, so we are learning as we go," Skeen says. "But, Carolina is committed to preparing and retaining quality educators. As we shape the program, we plan to expand support to include more school districts across the state. As we work collaboratively beyond the walls of the university to impact the profession, the true beneficiaries will be the students of South Carolina."
Schriro says her commitment to teaching hasn't wavered, despite a few first-year bumps, thanks to the support of her administration and her Carolina family.
"I feel like USC is saying 'We know you need support, and we are here for you.' And that means the world to me," Schriro says.
---
Share this Story! Let friends in your social network know what you are reading about
---