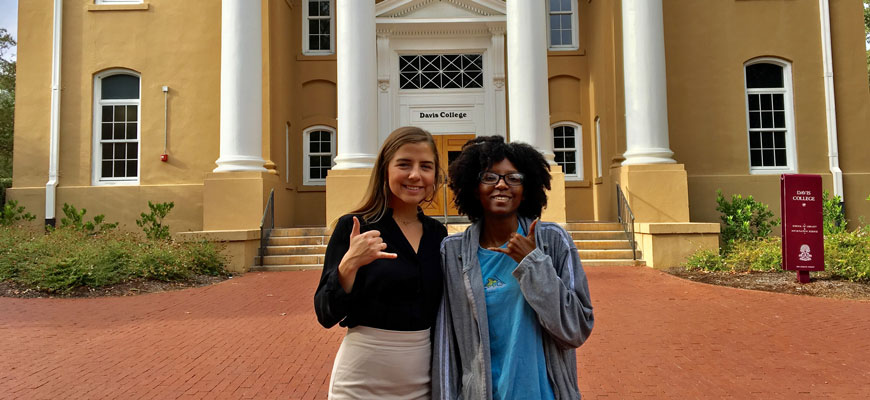 Two Carolina students explore the growing world of information science
---
By Taylor Evans,
mrassist@mailbox.sc.edu
, 803-777-7704
---
If you speak with LeAnne Davison and Tavashia Berry, you will learn that they are two students with very different backgrounds and interests.
LeAnne Davison grew up in the South Carolina Upstate city of Greenville. She comes from a large, blended family of lawyers and is the youngest of 10 children. The outgoing first-year student aspires to be an attorney.
Tavashia Berry bounced around from small town to small town for most of her childhood before settling in Summerville, a small city in the South Carolina Lowcountry. She is a first-generation college student and the second in a family of five children. The reserved second-year student aims to become a librarian.
Despite their different backgrounds and intended career paths, Davison and Berry are among 47 students drawn to the information science major offered by the University of South Carolina School of Library and Information Science.
Recently, the major has taken off, with enrollment growing by 62 percent — a reflection of the growing demand for college graduates who can analyze data and apply insights to solve problems. At its core, information science focuses on how information can help organizations make smarter, better-informed decisions.
Launched in 2009, the major is relatively new and largely misunderstood.
"I think a misconception about the field is that it's all technology or it's only technology," says School of Library and Information Science director David Lankes. "Knowing technology and being comfortable with technology is important, but knowing how to understand people and organizations is probably more important than that."
Information science students take courses on topics like big data and information chains, in addition to classes in related disciplines such as computer science and linguistics. The varied curriculum prepares graduates for the workforce with the ability to analyze data, build and implement information systems and manage the resulting impact within an organization.
The program currently boasts a 10-1 student-teacher ratio, something Davison says has been beneficial as she navigates through her major.
"It's a small teacher-to-student ratio so the teachers are very attentive to your needs. I think that the staff in information science has all been super helpful with explaining to me my major and even how I can use it to complete my goals," Davison says.
Berry enjoys the program's flexibility, and she says it's an ideal major for students who enjoy studying multiple subjects at once.
"I have a feeling if I picked a major that was just one steady track of nothing but classes for that major, I would have gotten bored a long time ago," Berry says.
Because the information science major falls under the library school, Lankes says another misconception is that the program is aimed at aspiring librarians.
"We are thrilled to prepare some librarians, and we do a great job of it at the graduate level; however, that's not the focus of the undergraduate level," Lankes says. "Normally, you can apply these skills in just about every industry and every industry has a slightly different name for what they are doing."
The title "information scientist" is mostly an umbrella term, considering that employers often create job titles for graduates with data analysis skills. Information scientists use data to help organizations make smarter, better-informed decisions by focusing on the application and social impact of data and information.
"Many information scientists go on to become data scientists, business analysts, web designers, usability specialists and data analysts. It's the idea that where are they going to take those skills and apply them," Lankes says.
Davison says her information science skills will be an asset when she ultimately attends law school.
"I do think information science, the way we analyze say a case study or a set of data could be helpful in law school because you have to read cases and pull out important pieces," Davison says.
Berry plans to build on her data analysis skills with a graduate degree in library and information science or education. The number of opportunities in information science has broadened the types of organizations she hopes to work for.
"Now I'm focusing more on becoming an archivist, museum curator, librarian of Congress maybe," Berry says.
Lankes says the information science program supports the university's emerging focus on data analytics and prepares students to build better communities, regardless of the industry they go into.
"If we succeed, our graduates aren't just really skilled, they are really skilled folks who have a dedication to making a difference. They have a social mission as well as an academic mission," Lankes says.
---
Share this Story! Let friends in your social network know what you are reading about
---