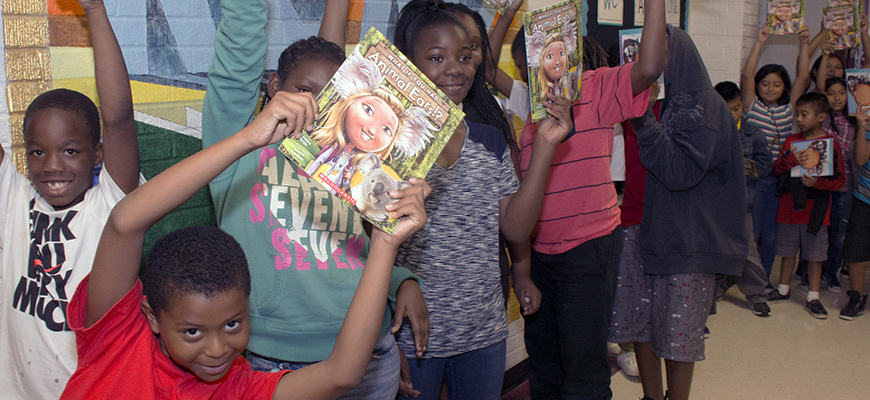 Building a stronger community through reading
WeReadSC aims to improve literacy by strengthening school and public library partnership
---
By Kathryn McPhail,
mcphailk@mailbox.sc.edu
, 803-777-8841
---
A group of teachers gather around a table in a small room at B.C. Grammar Elementary School in West Columbia, South Carolina, to discuss the reading challenges their students face and how to best teach reading to ensure success. Most students at the school — 85 percent — qualify for free or reduced-priced lunch and 45 percent are Hispanic. Literacy coach and 22-year educator, Lisa Ragsdale, leads the discussion and believes the best way to help the children is to adequately prepare the teachers.
"We are focused on professional development for our teachers. We want to help them identify their greatest needs as educators and work to arm them with the tools they need to best serve their students," Ragsdale says.
Just a few miles away at the Cayce-West Columbia branch of the Lexington County Public Library, the staff is also thinking about how to encourage reading among the children in the community.
"Our struggle is how to best communicate with the students and their families," says Matthew Smith, senior branch librarian. "Some aren't aware of the programs we offer, and some don't have regular transportation to get them to the library. Therefore, we want to meet them where they are — the school — and share the extensive resources we offer at the library."
Combining the efforts of the library and the elementary school to enhance literacy in the community is the focus of a grant called WeReadSC which began in August 2017. As part of the $100,000 grant funded by the Hearst Foundations, the University of South Carolina's College of Education is partnering with the South Carolina Center for Children's Books and Literacy, housed in the College of Information and Communications, to help the community unify its literacy efforts.
When you foster a love of reading in a child and encourage families to read together, the positive outcomes are endless.

Beth White, education professor
"Children first learn at home, then in the community, then at school, then all of the above. If we only focus our literacy program on one aspect, we weaken our efforts," says Pamela Hoppock , WeReadSC program coordinator. "By working together, we provide a stronger support for our youth and their families."
Hoppock and professors in education and library and information science are working with the school and library on various initiatives.
"We started the school year by giving out 500 new books to students and meeting their families," Hoppock says. "We also hosted a Cocky's Reading Express visit at the school and handed out more books. We are creating a literacy video series called 'Put your #BeakInABook' featuring community leaders talking about the importance of reading. We've held events at both the school and the library, and we will continue to do so."
Education professors, including Beth White, Michele Myers, Heidi Mills and Eliza Braden, regularly work alongside B.C. Grammar teachers, observing their classrooms and offering advice and techniques to enhance reading instruction.
"We are seeing teachers become more confident in the ways they teach readers," White says. "For example, I just worked with a fifth-grade teacher — who happens to be one of my former students from Carolina — who needed some guidance on how to shorten her lessons. Her lessons were a bit too long, and she worried that she was overwhelming her students. After observing her, I offered some guidance on how to keep the students engaged while still teaching the curriculum."
White says she hopes the one-year grant will be renewed so they can see more long-term effects of the joint efforts, including a positive impact on test scores.
"There is no doubt WeReadSC is already impacting this community," White says. "When you foster a love of reading in a child and encourage families to read together, the positive outcomes are endless."
---
Share this Story! Let friends in your social network know what you are reading about
---