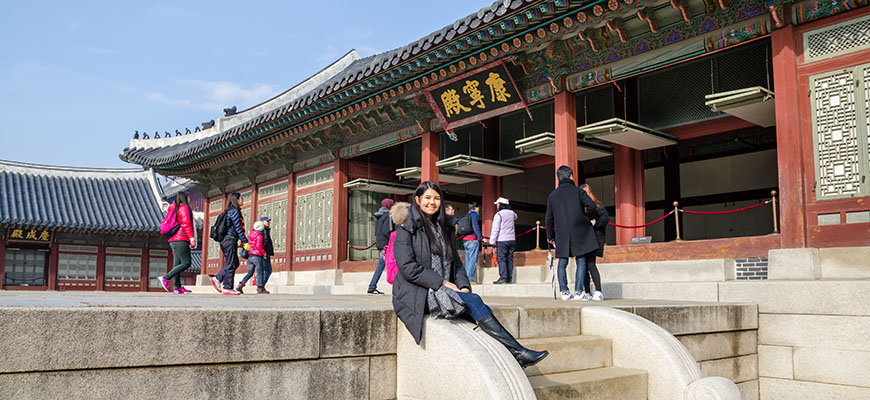 Passport to success
New global studies major prepares students to lead in 21st century economy
---
By Mary-Kathryn Craft,
craftm@mailbox.sc.edu
, 803-576-6195
---
From technology to politics, there's no doubt the world is more connected than ever.
Global studies, one of the University of South Carolina's newest and fastest growing majors, equips students to lead in our increasingly linked world. An interdisciplinary program housed in the College of Arts and Science, global studies began in 2016 and is now home to 125 undergraduates.
"Global studies embodies what arts and sciences traditionally stands for but in a new and exciting way with emphasis on a broad view of the world, and I think that's as good as it gets," says Agnes Mueller, program director and professor of German. "It's a traditional liberal arts degree with bonuses. The bonuses are the courses — many of which are housed in professional schools — and the incredible experiences in a world region."
"I think people have to recognize that broad-based understanding of the world, which a program like global studies emphasizes, is really the only way to be successful and interconnected in today's global world."

James "Jimmy" Story, Carolina alumnus and consul general at U.S. Consulate in Rio De Janerio
One of the program's strengths is flexibility because it's not tied to one department. Students design their studies around one of five concentrations: global health, conflict and security, sustainability and development, global cultures, or the new concentration, leadership in the global economy. They also must select a world region and foreign language for intensive study.
"It gives you the opportunity to figure out first what you are passionate about, what your interests are and then you are able make use of the tools it gives you to achieve what you see yourself accomplishing in the future," says junior Federika Sydow, who is majoring in global studies and anthropology. "It's a very innovative program because it requires you to be a dynamic person, internationally inclined and curious."
Humanities are at the program's core, and College of Arts and Sciences advisers work closely with students to layer in courses from throughout the university including the Arnold School of Public Health, the Darla Moore School of Business, the College of Information and Communications and the College of Hospitality, Retail and Sport Management.
Career advantage
Language skills, travel experience and deep understanding of other cultures provide advantages to graduates in the job market.
James "Jimmy" Story, consul general at the U.S. Consulate in Rio de Janeiro, Brazil, wishes global studies had been around when he was an undergraduate at Carolina. An Honors College and interdisciplinary studies graduate, Story has built a successful career in foreign service with leadership positions in Colombia, Afghanistan and Brazil. He sees the tremendous value of a global perspective every day.
"I think people have to recognize that broad-based understanding of the world, which a program like global studies emphasizes, is really the only way to be successful and interconnected in today's global world," he says. "It's a different mindset than how we used to think. I guarantee you that as a chemist in California you have to understand that what's going on in Berlin, Germany is going to affect you."
During his undergraduate days, Story took advantage of opportunities to study in eastern Europe, Puerto Rico and at the United Nations in New York City. These experiences paved the way for his graduate work at Georgetown University and award-winning career in foreign service.
"At the end of the day, I was really able to pull all of that together, and when I look at situations now, I look at things holistically," Story says. "For somebody working in the international arena that's pretty important."
Story recently shared his experiences with current Carolina global studies students during a video conference call as part of the program's monthly global café session. Mueller and the program's advisors coordinate this regular gathering of students to share ideas, get updates and hear from a variety of speakers. President Harris Pastides will offer insight on global health during the upcoming meeting.
Opening doors to the world
Senior Sidney Cutter has studied abroad in Seoul and Grenoble and Arras, France. She also completed a summer internship in Senegal and credits global studies with opening doors to explore her passion for linguistics. A French and global studies double major, Cutter would like to teach English abroad or join the Peace Corps.
As she prepares for life after graduation, Cutter recently has spent time in the Career Center and understands how her experiences abroad will give an edge when answering job interview questions. She's able to give examples of overcoming difficult situations from her time working for a human rights organization in Senegal helping families and her experiences traveling alone in South Korea and France.
"Even if you don't want to work abroad, it's just good to learn a different way of thinking," she says. "After studying in other countries, it's easier to come up with solutions to a problem. Because global studies is liberal arts, you have to critically think and develop your own questions."
Caitlyn Jennings wants to tell the stories of people throughout the world in an effort to promote better understanding across cultures. The global studies and visual communications major studied in Cuba and has traveled to India and Bolivia. When the junior from Charleston learned about the new major, she realized it was the perfect way to combine her love of language, travel and helping others.
"It opens you up to so many opportunities class-wise and career-wise," she says. "You can really make it your own and gain such an awesome world perspective. Where else can I take the creative aspect I really enjoy and make a positive impact? Global studies is really an amazing way to bring it all together."
---
Share this Story! Let friends in your social network know what you are reading about
---