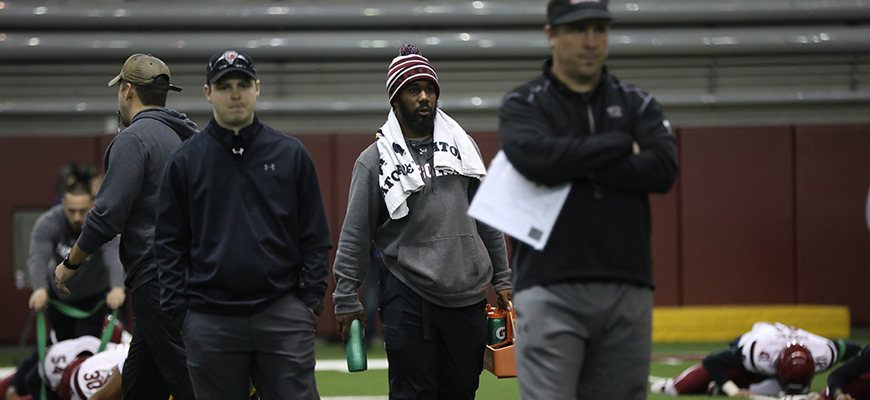 More than a diploma
CarolinaLIFE impacts students long after graduation
---
By Kathryn McPhail,
mcphailk@mailbox.sc.edu
, 803-777-8841
---
A few powerful words spoken to him as a child continue to impact Ronald Parker's life.
"My parents said to me, 'Ronald, you may have a disability. But, a disability doesn't have you. You are more than your disability.'"
Parker, who received specialized instruction for learning difficulties throughout his schooling, is now a sophomore in the CarolinaLIFE program which is housed in the University of South Carolina's College of Education.
Founded in 2008 by a group of parents looking for postsecondary options for their children, CarolinaLIFE provides an inclusive college experience for students with diverse learning needs. More than 80 students have been served by the program. Students, including Parker, take courses related to their professional field of interest while also learning skills to prepare them for employment and independent living.
"We truly represent our motto — Learning is for Everyone," says Anthony Plotner, program director and College of Education associate professor. "College is a time for everyone to learn, explore and grow. All students have support needs, regardless of whether they have a documented disability. We believe all students can thrive at the university with the correct amount of support. We are here to provide that support."
Part of that support comes in the form of internships for CarolinaLIFE students. Partnerships with organizations and companies inside and outside the university provide valuable work experience for students. For Parker, his internship landed him a sideline view of the Gamecocks' football team.
Last summer, he worked with various sports camps hosted by Gamecock Athletics — preparing Gatorade and setting up hydration areas. His work ethic and dependability got him noticed.
"He did a great job and worked hard. He did everything we asked him to do with a positive attitude," says Clint Haggard, head football athletic trainer. "So when football season was approaching, we asked him if he would like to stay on to help with the team."
Since Parker played football in high school and grew up loving the sport and the Gamecocks, his answer was simple.
"Oh, I said yes immediately," Parker says. "It has been a great experience. I get to travel with the team. I had never flown before, so that was amazing but kind of scary. I've met all kinds of people. Athletes who I have admired are now my friends. It's been a real blessing."
This internship, and my experience with CarolinaLIFE as a whole, has changed my life. They have taught me to be fearless, regardless of my disability.

Ronald Parker, sophomore
On Saturdays in the fall, you can see Parker on the sidelines preparing and managing the hydration stations, icing towels used to keep players cool and filling dunk tanks with ice to prevent athletes from over-heating.
"This internship, and my experience with CarolinaLIFE as a whole, has changed my life," Parker says. "They have taught me to be fearless, regardless of my disability. I've learned to be more responsible and independent. I've matured a lot, too. My future goal is to work for a college sports team and maybe the NFL one day. I'm gaining great experience now that will hopefully allow me to reach that goal."
CarolinaLIFE not only enriches the lives of the students in the program, but also the experiences of many other Carolina students.
"CarolinaLIFE adds to the diversity of the university at large," Plotner says. "Our students have a unique perspective that adds value and strength to our campus community. They are immersed on campus – living, learning and experiencing college life just like their peers. This inclusiveness benefits all students."
The program also supports the professional development of pre-service teachers, about 20 of whom work as graduate assistants for CarolinaLIFE each year. They teach courses and serve as academic, employment and personal development coaches.
"We feel that this experience sets our graduate assistants apart once they join the workforce. They have quality experiences in providing support and instruction for students with diverse needs," Plotner says.
In addition to providing valuable experiences for future teachers, the CarolinaLIFE program also provides a pipeline of employees for business partners such as Lexington Medical Center, EdVenture Children's Museum and local school districts.
"Many of our graduates have full-time jobs and live independently, which benefits our communities," Plotner says.
An impact worth supporting
The far-reaching impact of CarolinaLIFE led the College of Education to choose the program as its focus for Give 4 Garnet, a 24-hour giving day which took place April 18. The universitywide fundraiser brought in more than $3.7 million, with the College of Education more than doubling its goal and raising $35,000 for CarolinaLIFE.
"The donations made during Give 4 Garnet will help provide scholarships for CarolinaLIFE students as well as enhance program development and student experiences through new opportunities with campus and community partners," said Erin Eigenbrot, director of development and alumni relations.
---
Share this Story! Let friends in your social network know what you are reading about
---