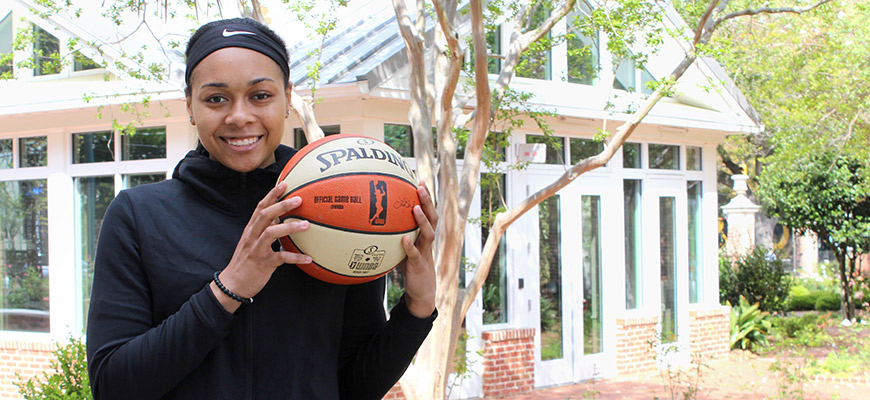 Keeping her eye on the ball
WNBA star Allisha Gray comes back to UofSC to complete degree
---
By Megan Sexton,
msexton@mailbox.sc.edu
, 803-777-1421
---
A year ago, Allisha Gray was faced with a big decision. Stay for her final year at the University of South Carolina, where she had just helped the women's basketball team win the national championship, or enter the WNBA draft.
She decided to leave and was selected by the Dallas Wings as the fourth overall pick in the first round. The standout guard started all 34 games for Dallas in her first year as a professional player and earned Rookie of the Year honors.
But she wasn't finished at Carolina.
While in Dallas at the start of the WNBA 2017 season, Gray took proctored exams to complete her spring classes. In the fall, she tackled online courses. This spring, she completed the senior semester in the School of Journalism and Mass Communications on campus before heading to basketball training camp.
She says the decision about whether to leave for the WNBA was made easier when she learned she could continue her studies and graduate on time from USC.
"My parents are really big on education so I made a promise to them that after the season I'd come back and finish my degree. And here I am now," Gray says. "All the hard work you put in, especially as a student athlete, landing in a plane at 1 a.m. and being in class at 8 a.m. — on time. Study halls after practice. All the late nights. Why wouldn't you want to come back and earn that degree, because you definitely worked hard for it."
On May 12, she will walk across the stage, shake President Harris Pastides' hand and, with her parents in the audience cheering her on, she will celebrate earning her degree in broadcast journalism from the College of Information and Communications.
She then will rejoin her team and continue her professional basketball career — with a few Gamecock classmates on the court with her. Former teammate and best friend A'ja Wilson also will earn her degree from the journalism school at Carolina this spring and was chosen as the No. 1 pick by Las Vegas in the WNBA draft.
Gray started her collegiate career at the University of North Carolina, but transferred after two years to play for Coach Dawn Staley and the Gamecocks, where she hoped for the chance to play for a national championship.
"To come here and play for Coach Staley, that was a great honor, she's a legendary coach. And the Gamecock women's basketball fan base, I've never seen anything like it. That was definitely exciting. And to reach the goal of a national championship. It was surreal."
A few weeks later, she was on her way to Dallas.
"Going into the WNBA, the rookie of the year was not on my mind. I was just happy that I achieved a childhood dream of mine. I was going to go in, have fun, play and enjoy the process," Gray says. "And then this rookie of the year talk started happening. It was just amazing."
When her basketball playing days are over, Gray hopes to pursue a career in sports broadcasting, and she says her time at Carolina has prepared her well for her future. While her initial goal in journalism classes was to work behind the scenes, now she wants to be in front of the camera.
"The journalism school has definitely helped me out in many ways. Coming in, I was a very shy person. I credit the journalism school with definitely helping me come out of my shyness," she says.
This spring, she was part of the journalism senior semester — where she and other seniors produce and direct daily news shows, report and write stories, anchor news broadcasts, give the weather report and work in the control room. In mid-semester, when students have a chance to focus on their area of interest, Gray signed up for the sports block.
So what's it like for an athlete to cover other athletes?
"I'll say kudos to the reporters who have to do it. It's definitely not an easy job. I know as an athlete, when reporters ask me a question and I don't want to answer it, I'm going to give a bland answer. But as a reporter you have to keep digging in to that question until they give you an answer. I'll say, for me, that's the hardest part about reporting. Getting those answers from people," she says. "I have to put myself in a reporter's mindset and not an athlete's mindset. When I ask a question as a reporter and they say, 'I don't want to answer that.' I say, 'I understand how it is.' But as a reporter I have to be like, 'No, I need the answer to this question.' "
Gray's skills and work ethic did not go unnoticed by the instructors in her senior semester journalism class.
"I better understand why she is so successful on the basketball court. She outworks everybody in the room," says Rick Peterson, broadcast instructor in the senior semester. "The same work ethic she has on the court she brought into the newsroom."
Peterson says she led the class in the most stories posted to the website.
"She's a dream-type student. She takes constructive criticism, she's determined to improve," Peterson says. "That's all you can ask for — students who are willing to work hard with a great attitude and who make it their goal to do better the next time."
Greg Brannon, who also is an instructor in senior semester, says Gray's experience as a basketball player — from being yelled at on the court to being critiqued in post-game film sessions — helped her embrace constructive criticism in the newsroom. And he says the improvement from her first days on camera to her last was stunning.
"She came in and approached the class with a willingness to learn. She wanted to learn. She allowed us to poke her on her presentation in front of the camera. She embraced all that. She made the comment, 'I understand it's not personal. You want me to be better.' "
On May 12, she will be back at the Colonial Life Arena, not as an athlete or a journalist, but as a member of the graduating class of 2018.
"It's an honor for me to be able to walk, to see my parents happy and me happy. Who would give up this experience?" Gray says. "It's a once-in-a-lifetime day for me. I'm going to enjoy this whole graduation day."
---
Share this Story! Let friends in your social network know what you are reading about
---