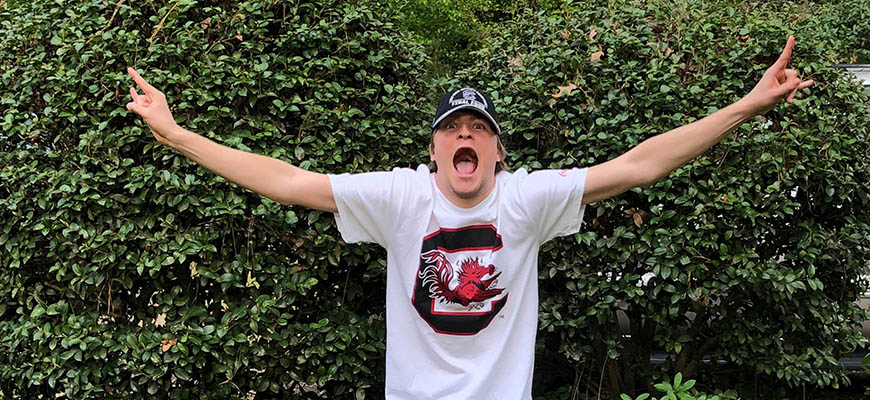 Sharing the love for Carolina
Student's unforgettable reaction to reading his acceptance letter goes viral
---
By Kathryn McPhail,
mcphailk@mailbox.sc.edu
, 803-777-8841
---
Update Aug. 24
Remember Mac Watson?
This spring, a video of him opening his acceptance letter from the CarolinaLIFE program went viral.
Now he's officially on campus and all moved in, starting classes and gearing up to work with Gamecock Athletics.
As Watson begins classes at the College of Education, he says he has already been recognized as "the guy from the video" a few times on campus.
He says the recognition has only added to his excitement about his future as a Gamecock.
---
A cellphone video of 20-year-old Mac Watson opening his acceptance letter from the University of South Carolina's CarolinaLIFE program spread quickly on social media last week — with nearly 200,000 views and 2,200 shares in just a few days. The heartwarming video shows Watson overwhelmed with emotion, crying and then cheering, as he realizes he will soon be a Carolina student. His raw emotions are gaining him a lot of positive attention from thousands of people who've watched the video — many sending him congratulatory messages and welcoming him to the Gamecock family.
Watson's desire to attend Carolina began this year after his parents heard about CarolinaLIFE, an inclusive certificate program offered at UofSC for students with diverse learning needs. The family traveled from their Virginia Beach, Virginia, home to visit campus and learn more about the program.
"We listened to the CarolinaLIFE faculty speak about the program and how it promotes independence, and we knew that this was a fantastic opportunity for Mac," says mom Laurin Watson. "Plus, Mac loved that he could live in a dorm in the heart of campus and attend sporting events. He's a huge sports fan."
Founded a decade ago by a group of parents looking for postsecondary options for their children, CarolinaLIFE provides an inclusive college experience for students with diverse learning needs. Students take courses related to their professional field of interest while also learning skills to prepare them for employment and independent living. They are immersed on campus — living, learning and experiencing college life just like their peers. Since its inception, the program has served more than 80 students.
Mac Watson is one of six students who were accepted into the incoming freshman class of the CarolinaLIFE program.
"Ever since his interview, he has been so anxious to find out if he was accepted," says Laurin Watson. "He would check the mailbox every day — sometimes several times a day — hoping to find the letter from Carolina."
Watson knew her son would react with excitement if accepted, so she decided to record him opening the letter with her phone. But his reaction shocked even her.
"I expected him to be super happy but what you saw was a genuine release of emotion. I was behind the phone crying as I watched my son become so emotional. I think he was just so relieved to be accepted because he is so ready to go."
Mac Watson's twin brother went to college in Virginia last year. Though Mac Watson took a year off after graduating in 2017 from Chesapeake Bay Academy, a school that serves students with learning differences, he knew he wanted to attend college like his brother.
My goal is to get a job and be independent ... I am excited to be a Gamecock student and to learn new things. I am excited to go to sporting events, and I am excited to start my life.

Mac Watson, incoming freshman
"Mac wants the same things as other kids. He loves to play and watch sports, wants to graduate from college and land his dream job in sports," Laurin Watson says. "As his parents, we want him to accomplish those goals and learn the skills needed to become an independent adult."
Helping students work and live independently are main goals of CarolinaLIFE. Partnerships with organizations and companies inside and outside the university provide valuable work experience for students, with many students earning full-time jobs after graduation. Mac Watson hopes to intern with Gamecock Athletics­ — an established partner that continues to collaborate with CarolinaLIFE to place students in competitive internship positions.
"My goal is to get a job and be independent," Mac Watson says. "I just want to be like my family and take care of myself. I am excited to be a Gamecock student and to learn new things. I am excited to go to sporting events, and I am excited to start my life."
The far-reaching impact of CarolinaLIFE led the College of Education to choose the program as its focus for Give 4 Garnet, an 18-hour giving event which took place April 18. The universitywide fundraiser brought in more than $3.7 million, with the College of Education more than doubling its goal and raising $35,000 for CarolinaLIFE.
"These donations made during Give 4 Garnet will help provide scholarships for CarolinaLIFE students as well as enhance program development and student experiences through new opportunities with campus and community partners," says Erin Eigenbrot, director of development and alumni relations. "There is no doubt the video helped to increase awareness about the program on this important day of giving. It touched the hearts of many people who, in turn, made donations to this important program."
Laurin Watson and her husband, Stock, are pleased the video of her son helped to raise awareness and support of CarolinaLIFE.
"It clearly affected people in a genuine way," she says. "I hope it starts an important conversation regarding students with learning challenges who want — and deserve — to go to college. There need to be more options like CarolinaLIFE as well as more financial support for students. If sharing his joy through this video can somehow help other kids like Mac and their families learn about programs such as CarolinaLIFE, then I think it's fantastic."
---
Learn more
To learn how you can help make dreams come true for students like Mac Watson, visit the College of Education's Carolina Fund website.
---
Share this Story! Let friends in your social network know what you are reading about
---