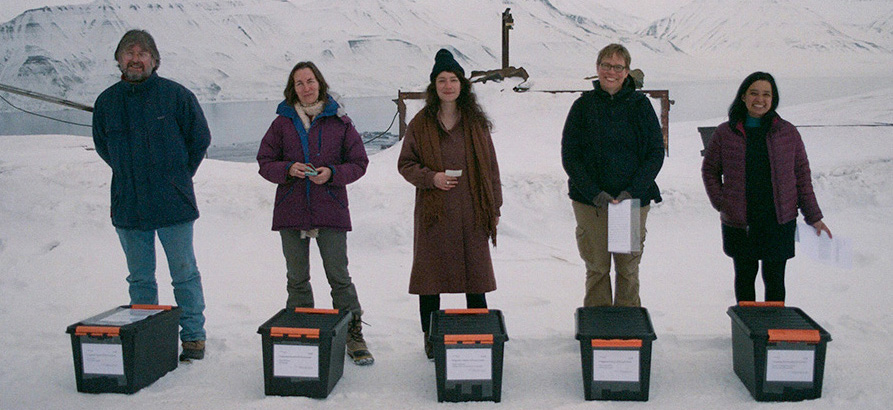 Sowing art and science
Global seed vault project showcases art professors' work in biodiversity awareness
---
By Mary-Kathryn Craft,
craftm@mailbox.sc.edu
, 803-576-6195
---
Buried in an icy mountain between mainland Norway and the North Pole lies a vault holding millions of seed samples from across the globe. Frozen and dormant, these seeds are for safe keeping in case disaster strikes the world's food supply.
Now, artwork by three College of Arts and Sciences School of Visual Art and Design professors rests nearby as a part of an initiative to raise awareness about the Svalbard Global Seed Vault and the cultural importance of seeds.
Mary Robinson, Sara Schneckloth and David Voros were selected to create and show work in the Forgotten Stories of Frozen Seeds exhibition. The project is an international collaboration among scientists in the biodiverSEEDy project, artists and farming communities. In April, the trio traveled to Norway where they gave public talks about their inspiration for the pieces and journeyed to the vault.
Their art was packed in plastic boxes and deposited into a deep mine shaft near where the seeds are preserved on Svalbard.
"The intent of the project is to have seed preservation not just be about the science of seeds, but to retain connections between farming communities, the origin stories of the seeds, and to inspire us to think about the value of biodiversity," says Schneckloth, studio art professor.
Schneckloth, who grew up in Iowa and has an undergraduate background in environmental policy work, has dedicated her art career to exploring the visual language of biology, geology and architecture.
For the Svalbard project, she created dozens of mixed-media drawings chronicling the germination of individual seeds, 15 of which were exhibited and are now interred in the mountain. She planted 16 types of seeds in her Columbia studio, examined them throughout the growth process and illustrated the journey using watercolor, colored pencil, wax and ink.
"Scientists are really focused on preserving genic strains and heirloom seeds, and at the same time, these heirloom seeds were developed by people," says art professor David Voros, who focused his work on telling the story of his Hungarian grandmother's journey to the United States. "I brought seven or eight different kinds of pepper seeds because that's such an important part of Hungarian cooking."
In addition to his role at Carolina, Voros directs an international arts and humanities program in Italy where he met scientist and biodiverSEEDy project director Fern Wickson in 2017. Together they brainstormed an idea for bridging the scientific and cultural connections of seeds through art.
Robinson's artistic representation of seeds came to life through the repetition and colors employed via her specialty – printmaking.
"Much of my work for the last 20 to 25 years has been exploring plant life as a metaphor for metaphysical growth and transition," Robinson says. "One of the goals of the biodiverSEEDy project was to celebrate the seed in terms of culture and history. So for me, I was interested coming from a family of farmers in North Carolina and having been thinking about the loss of biodiversity for a long time."
Robinson made five small books of about 30 pages each with intaglio, relief and screen prints of seed shapes in a variety of colors and patterns. The patterns were inspired by observing California acorn woodpeckers create holes for storing their seed of choice, the acorn.
She bound the books by hand using the Coptic stitch technique, which originated with ancient Egyptians. Robinson thought this was an appropriate method given that the artwork was destined for burial.
Robinson and Schneckloth utilized their work on the seed project into the classroom during the spring 2018 semester. Robinson had students complete a project where they explored the seed as a metaphor. While she was in Norway, Schneckloth arranged for her class to visit the A.C. Moore Herbarium and explore the connections between science and drawing with biology professor John Nelson.
"...both art and science are about the close examination of the world we live in, about not taking things for granted. Being able to inhabit our world fully, through this kind of inquiry, whether it's aesthetic inquiry or data-driven inquiry, I think the union between the two of them is natural and lets us see and think more deeply."

Sara Schneckloth, studio art professor
Connections across disciplines are key for greater understanding and progress. School of Visual Art and Design alumnus Tucker Prescott, a filmmaker and artist in Los Angeles, accompanied the Carolina professors to Norway to document the project. He's currently working on a documentary about the seed vault project.
"What I enjoyed most about the trip is understanding what it means to have an artistic community, what it means to have a dialogue and to be able to collaborate as a group," he says. "Also, the idea of making interdisciplinary work. It really increases the significance of what you're doing to create something with meaning across multiple levels."
The connections between art and science are important to remember, Schneckloth says.
"There are so many occasions to take things for granted, and both art and science are about the close examination of the world we live in, about not taking things for granted," she says. "Being able to inhabit our world fully, through this kind of inquiry, whether it's aesthetic inquiry or data-driven inquiry, I think the union between the two of them is natural and lets us see and think more deeply."
---
Share this Story! Let friends in your social network know what you are reading about
---