Movement and meaning
Dance company to perform haunting, timely piece at Kennedy Center
A national audience will have the opportunity to experience the University of South Carolina Dance Company's bracing performance of a contemporary piece at the John F. Kennedy Center for Performing Arts.
"'Honor and Ash' is a sublime and timely piece that allows us to show off our dancers' high artistic values and technical brilliance," says Susan Anderson, professor and dance artistic director. "Our program was chosen because this work has a complete sense of unity with amazing production values in lighting, dance, costumes, choreography and music. The work puts the viewer on a journey with a beginning, middle and thought-provoking resolution. Each and all fit together to meet the highest professional standards."
The dancers will perform Saturday (June 9) at the 2018 American College Dance Association's National College Dance Festival, a three-day event in held in Washington, D.C.
Carolina's 13-year-old dance major is one of 30 national collegiate programs invited to perform at the festival. In order to be considered for the spot, interested programs participated in regional conferences where adjudicators selected two universities to represent their district. USC Dance is one of two programs selected from the 44 performances in the Southeastern region, as a result of its haunting performance of "Honor and Ash," a contemporary piece choreographed by nationally recognized dance educator Shaun Boyle.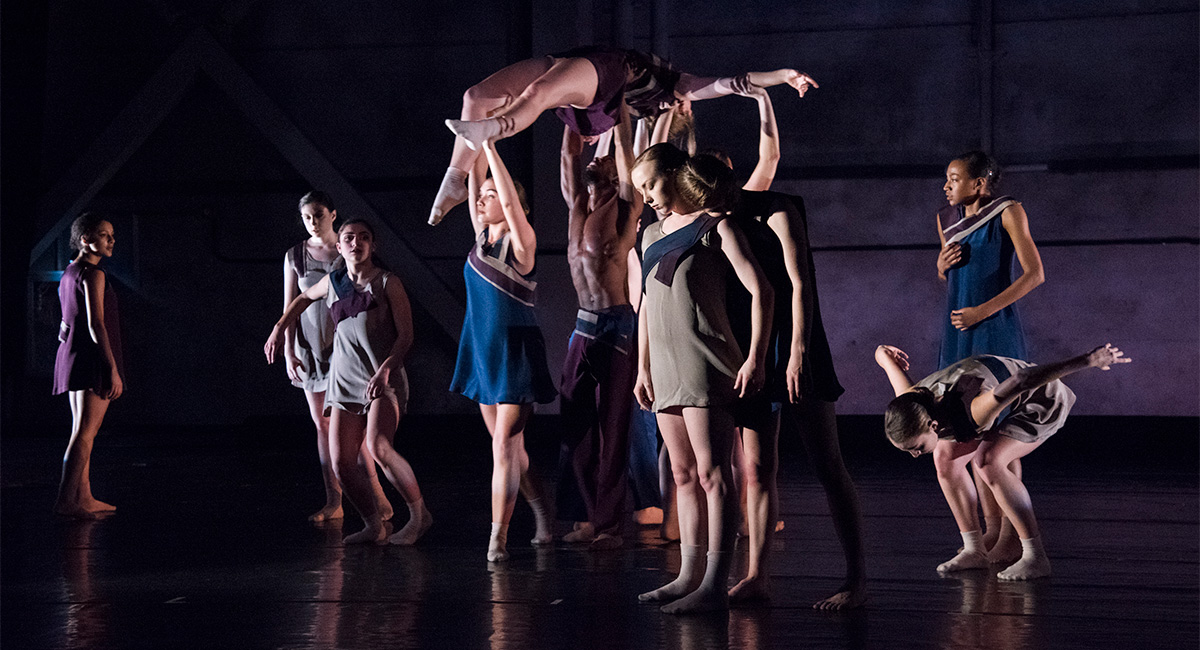 Production designer Eric Morris sets the mood with his lighting in complement to the music and choreography. The stage is completely stripped to evoke a scenario of desolation. Adjudicators have called the production "a work notable for its epic vision, searing humanity, spare stage design and detailed costumes, supported by an ensemble capable of intense and complex physicality and the subtle nuance of the slightest touch."
"This is such a special piece to perform. During the rehearsal process, we had several discussions about the origin and the meaning of the work," says dancer Elaine Miller, a 2018 graduate. " 'Honor and Ash' was inspired by acts of violence, so each of the dancers picked a specific act of violence that directly or indirectly influenced us. This could be something that happened in our lives or something we read about in the news. We would focus on our reactions to these acts throughout rehearsals and performances and turned these intangible concepts into movement."
The 12-dancer ensemble consists of juniors and seniors with one freshman. Their silk costumes have a military motif and a dusty appearance. The dancers are Jackie Benthall, Maia Charanis, John L. Green II, Emma Janus, Maria Macaroni, Michael McManus, Elaine Miller, Petra Morgan, Emma Morris, Emily Patterson, Lydia Sanders and Imani Trotman.
"This is a genuine badge of honor for our university and our dance program because having the opportunity to perform at this festival is equivalent to winning a state championship," Anderson says. "It also gives us a chance to show off the professionalism and continuing success of our dance program. Everyone wants to be a part of a winning team in some manner, whether by dancing, attending shows or donating to the program's development."
Part of the College of Arts and Sciences, the dance program is renowned for its ballet education. "Dance Magazine" has recognized it as one of the top nonconservatory programs in the nation for its specialization in classical ballet. The program combines the classroom and studio environment with the extensive depth and breadth of a superior arts and sciences education. Dancers typically spend five to six hours a day in the studio, training in ballet, contemporary dance and jazz.
The cast is preparing for the festival by having focused rehearsals days before leaving for Washington, D.C. The trip is funded by the College of Arts and Sciences.
"We were very excited to share the piece with audiences at the regional conference, and we are thrilled to to share it with an even larger one in D.C. It is truly an honor to perform at a venue as reputable as the Kennedy Center, and we can't wait to represent USC at the national conference," Miller says.