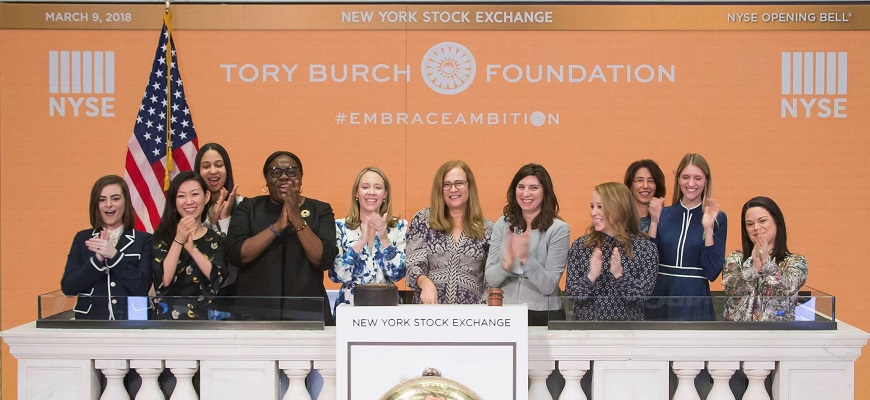 Embracing ambition
---
By Allen Wallace,
awallace@sc.edu
, 803-777-5667
---
Kate Ruscher is living her dream, working in New York City in the heart of the fashion world. On her 22nd birthday, she stood beside her Tory Burch Foundation co-workers and rang the opening bell at the New York Stock Exchange.
Ruscher landed the big job even before she officially claimed her degree in retailing from the University of South Carolina in May. She's often asked who she knows or what inside connection gave her an employment advantage. Her answer is simple: "Working really hard and being really ambitious is what got me here."
"Ambitious" is a word which has been used as a pejorative in reference to women at times, and Ruscher is already playing a part in changing that. She's encouraging women to "Embrace Ambition," the title of a marketing campaign she helped the Tory Burch Foundation launch on International Women's Day in March.
"It's really nice working with people who care," Ruscher says of her job at the foundation, where the mission is to empower entrepreneurial women. "I never really thought about working on the nonprofit side of the fashion industry, but it's such a rewarding experience."
Ruscher began working to stand out from the crowd from the moment she arrived on the Columbia campus. The Raleigh, N.C., native seized the opportunities offered at UofSC and made the most of them. She caught the attention of retailing professor Annette Burnsed, who became her mentor and friend. Burnsed told Ruscher about a chance to study in London through a newly established partnership with Regents University there, and Ruscher jumped at the chance.
"She told me I have what it takes," Ruscher said of Burnsed. "It means so much to know that someone who's been out there and done it thinks I can do it too."
In London, Ruscher learned about fashion styling and photography from some of the best in the field. In Columbia, she rose from sales associate to manager at Columbia's Petal Boutique, gaining hands-on experience in retail and again displaying outstanding work ethic. She also interned at the PGA Championship at Quail Hollow Club in Charlotte, N.C., as a member of the PGA merchandise committee responsible for running the 43,000-square-foot Championship Shop, which served more than 200,000 customers in six days.
As a senior, Ruscher applied for and won a semester-long digital marketing internship with the Tory Burch Foundation. She also became one of four students selected to represent the Gamecocks at New York Fashion Week through a partnership between the university's Office of Trademarks and Licensing and IMG College Licensing.
"We got so much more out of it than I expected," Ruscher said of the Fashion Week experience. "The IMG people were really great, and I got to see so many sides of the industry."
Spending her final semester as an undergraduate student in New York was difficult in some ways for Ruscher, as it meant an early goodbye to friends and missing some campus experiences. Still, she never slowed down.
Carolina's IMG partners sent rave reviews about Ruscher and her fellow students who attended Fashion Week, and Ruscher's final internship project for her coursework was cited as one of the best her professor had seen in the internship course in four years.
Meanwhile, her supervisors at the Tory Burch Foundation were also taking notice and taking action to keep her on the job. While her internship was scheduled to end in May and no full-time position was available, they found a way, extending her position through 2018 and offering her the chance to grow and become even more prepared for a permanent role.
Ruscher says her exposure to different roles has made her certain of one thing: "I need to do something where I get to be creative." Wherever that need leads her, the new South Carolina alumna is off to a fabulous start. When asked for advice for those who hope to follow in her footsteps, she cites the tag line of the campaign she helped launch.
"Embrace your ambitions," she says. "You're the only one who can give you what you want."
---
Share this Story! Let friends in your social network know what you are reading about
---