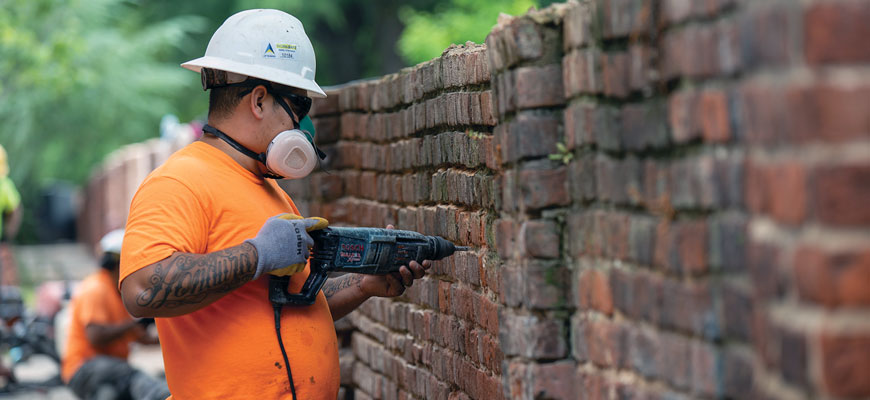 Brick fix
3-year campus wall renovation project enters final phase
---
By Craig Brandhorst,
craigb1@mailbox.sc.edu
, 803-777-3681
---
If you've walked along the Greene Street lately, you've heard the hammers and drills. You've seen the workers, you've seen dust.
You've also seen the small piles of handcrafted new bricks, and the other small piles of damaged old bricks — bricks that look even older than they are, thanks to 183 years of use and abuse.
That's right, the final phase of the three-year campus wall renovation got underway this summer outside Woodrow College. Craftsmen have been repairing the inside of the double-thick brick wall first, before students return in August, and will then focus on exterior repair.
"The way work is progressing, we asked to get as much of the interior work finished as possible before classes start because students live in the residence halls, and then they'll work their way back from west to east," says Emily Jones, the university's landscape architect and project manager for the wall's restoration.
The project's final phase, which focuses on the stretch from the old basketball courts east of Woodrow to the driveway between Preston Residential College and the School of Journalism and Mass Communications, is on schedule to be completed sometime this fall.
We ended up using an old-fashioned, natural lime mortar recipe that's really only used in restoration projects now. Chemically and mechanically, it's a better fit for the historic brick.

Emily Jones, university landscape architect
And repairing the 12,000-square-foot, 180,000-brick wall has required more than a few new bricks. When the $1.5 million project began in 2015, planners had to resolve structural as well as aesthetic considerations. For starters, the entire cap had to be replaced, beginning on Sumter Street. As they worked their way along the wall, masons then had to address a host of other issues.
Nails had been driven into the mortar by students posting banners and fliers. Vegetation had taken root between the bricks. Under-fired bricks had crumbled and flaked, and over the past century, more than a few misguided vehicles had rammed into the historic edifice, which was constructed by enslaved craftsmen in 1835-36.
On top of all that, prior repairs had made matters worse in many cases, not better.
"One of the problems over the years was that patches were made with a more modern mortar that ended up damaging the softer, older brick," says Jones.
The culprit? Portland cement. Due to its chemical composition, the preferred mortar for modern construction is actually a poor match for older brickwork, which can't stand up to the mixture's strength and stiffness.
"We ended up using an old-fashioned, natural lime mortar recipe that's really only used in restoration projects now," says Jones. "Chemically and mechanically, it's a better fit for the historic brick."
To achieve an accurate match in color and texture, multiple mortar samples were tested. Ultimately, a custom mortar was developed using a blend of Italian and French lime and just the right variety of sand.
And the result doesn't simply look like nice, according to Jones. It's also sturdy enough to stand the test of time. "I think we're talking many decades [before the wall is due for another makeover] and hopefully longer," she says.
"The patches only really started probably in the last 50 years, and that had to do as much with vehicles becoming more common as with the bricks getting old. I think for the first 150 years, before vehicle and parking conflicts, it was probably fine."
To discourage people from hammering nails into the wall across from the Russell House, sturdy eyebolts were installed several years ago so that student organizations could hang banners without further damaging the mortar and brick. These eyebolts are now being replaced with less conspicuous metal anchors.
Elsewhere, at least one change will be more immediately noticeable.
"We're re-opening a passageway through the wall at the very east end of Woodrow," says Jones. "There were two columns very close together, and it was clear there had been an opening in the wall. Opening up that passageway will allow foot traffic another way to access Greene Street."
---
Share this Story! Let friends in your social network know what you are reading about
---