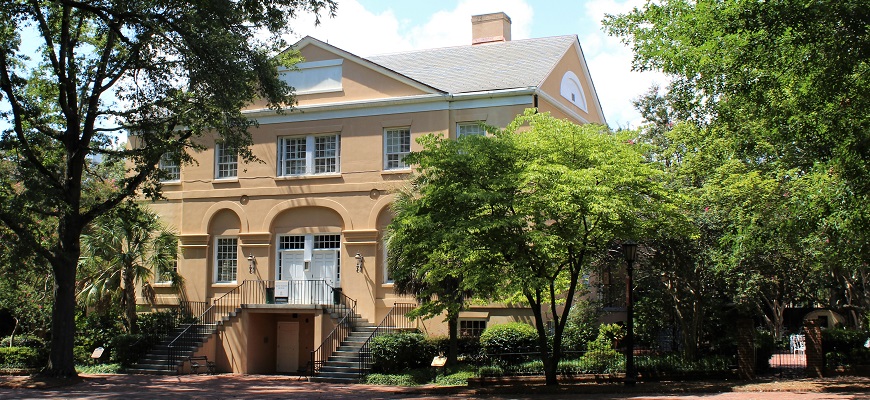 McCutchen House gets cooking
---
By Allen Wallace,
awallace@sc.edu
, 803-777-5667
---
A restaurant offering some of the best food in the capital city sits on the historic Horseshoe at the University of South Carolina, and it will soon be open for a new season.
Beginning Sept. 6, McCutchen House will be open for lunch Tuesday-Friday and for dinner each Thursday night. The on-campus, student-run restaurant offers a variety of dining experiences while serving as a hands-on training ground for hospitality management majors in the School of Hotel, Restaurant and Tourism Management.
Lunch and dinner
The Bistro Lunch is served from 11:30 a.m.–1:30 p.m. and includes a four-course meal and beverage for $12. The lunch menu changes every two weeks and features a mix of Southern favorites like Charleston red rice with shrimp and sausage as well as international options and McCutchen favorites like the famous tomato pie appetizer and chocolate walnut pie for dessert. New this year, the dessert menu also includes a warm vanilla bread pudding topped with Epworth peanut butter ice cream, locally made and benefiting Epworth Children's Home.
"The excitement is through the roof."

-Jim Storey, McCutchen House general manager
Also making its debut this year are a children's menu and the lunch-to-go menu, with all entrees available for takeout for only $9. Lunch reservations are recommended, but walk-ins are welcome.
Thursday Night Dinners at McCutchen House are a special occasion that have become known as one of the best deals in town. The evening includes a chef-prepared, four-course menu for $28 with entrees such as filet mignon and red snapper. The menu changes every week, and guests 21 and over are welcome to bring their favorite beer and wine. Advance dinner reservations are required.
"As we have begun training our hospitality students for the upcoming semester at McCutchen House, the excitement is through the roof and we are very much looking forward to another successful semester," says McCutchen House general manager Jim Storey.
Experiential learning is a cornerstone of the College of Hospitality, Retail and Sport Management's degree programs, and hospitality students learn the ins and outs of running a restaurant each semester at McCutchen House. Under the guidance of experienced faculty, students rotate through different roles throughout the semester, gaining firsthand experience in everything from food and beverage to front-of-house management.
Chef du Jour classes
In addition to serving up great food, McCutchen House offers cooking classes that are open to the community for anyone who want to improve their skills in the kitchen or learn new ones.
The Chef du Jour classes are hands-on and cover three to five recipes in one class in a comfortable and fun setting. The fall classes are scheduled for Saturdays (but never on home football days) with themes including soups, pies, holiday cookies and "The World of Bacon." Seating is limited, so reserving your spot early is recommended.
Beer and wine tastings
McCutchen House is also the place to go for adults interested in learning more about (and sampling) some of the world's best beers and wines.
Fall 2018 wine and beer classes begin Sept. 25 and are open to anyone 21 or older. This season's offerings include Alsace wines, sparkling wines from around the world, rare and boutique wines and new beers that are creating a buzz.
---
Learn more
Visit the McCutchen House website for more information about dining, events, community course and professional culinary training programs.
---
Share this Story! Let friends in your social network know what you are reading about
---