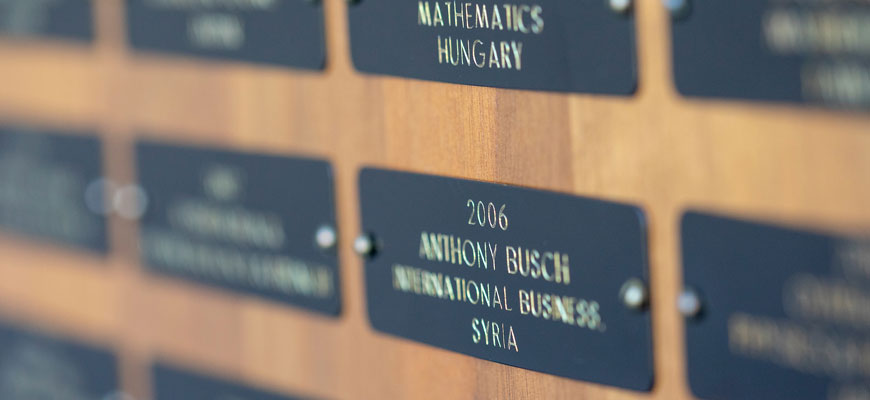 Rising to the top
With assist from office established nearly 25 years ago, students win top fellowships and scholarships
---
By Chris Horn,
chorn@sc.edu
, 803-777-3687
---
Patrick Kelly remembers the exact moment his dream of becoming a Truman Scholar came undone.
He had dotted every 'i' and crossed every 't' in his political science and history studies and joined the mock trial team at the University of South Carolina. "If it was what you were supposed to do for pre-law, I was doing it," Kelly says.
Landing a Truman Scholarship would help pay the steep tuition of law school, Kelly reasoned. But at the end of his interview with a university faculty committee that screens and nominates Truman Scholar candidates, one professor didn't think Kelly's stated plan for attending law school and working in the nonprofit sector actually reflected his real passion. Kelly had been sharing with the committee his enthusiasm for mentoring high school students through a nondenominational organization called Young Life.
" 'Mr. Kelly, that was a fantastic interview,' " Kelly recalls the professor saying. " 'You have a strong application, but it's obvious you really want to work with teenagers. So why don't you go teach?' "
It was an awkward end to the interview, says Kelly, who had enrolled at Carolina with the university's highest scholarship for out-of-state students. "But after a few days of being frustrated and reflecting on what the professor said, I came to the conclusion that he was right — that's really where my heart was, working with students. So I started changing my trajectory."
Kelly went on to complete a master's degree in teaching at Carolina and successfully competed for a Madison Fellowship, a prestigious national award for future civics and social studies teachers. He's been an award-winning high school teacher in Blythewood, S.C., ever since, and, years later, he's still grateful for that life-changing moment when he didn't get what he thought he wanted.
"I'm glad now that this professor was engaging in the interview process in a way that was attuned to where my passions really lay, instead of just focusing on my coursework and GPA. He was listening to more than what was just on paper, and I appreciate that."
Icing on the cake
Other highly competitive awards that Carolina students regularly win include National Science Foundation Graduate Research Fellows, Critical Language Scholars, Boren Scholars and Udall Scholars. Since 1994, Carolina students have been awarded a national fellowships and scholarships totaling $29.5 million.
That's our goal, to help students see themselves — that's why we're here. Winning the fellowships is the icing on the cake.

Novella Beskid, director, Office of Fellowships and Scholar Programs
"Fifteen years ago, about three-fourths of our national fellowship recipients were from the Honors College, but that has shifted," says Novella Beskid, the founding director of the Office of Fellowships and Scholar Programs. "The overall quality of the student body has risen quite a bit."
The office staff meet with any academically talented students who want to pursue competitive opportunities, engaging in reflective conversations that help students focus on larger goals. "We want all students to think about being more intentional in how they spend their four years at Carolina," Beskid says.
She points to a small mirror on the wall sent to her office by Matt Hodge, a 2005 civil engineering graduate who received a National Science Foundation Graduate Student Fellowship. On the back of the frame, he wrote, "Thank you for helping me see myself."
"That's our goal, to help students see themselves — that's why we're here," Beskid says. "Winning the fellowships is the icing on the cake."
Process of preparation
Like Kelly, most students who compete for national fellowships are challenged by the Carolina professors serving on scholar screening committees to engage in intense self-reflection. Asking yourself hard questions about personal and professional goals isn't easy at any age — but Lara Bratcher Harvey learned that the exercise can pay dividends far into the future. She was named a Truman scholar as an undergraduate in 2003 and went on to earn a master's in public health from Harvard and a medical degree from Vanderbilt.
"Working with faculty in preparation for the Truman competition was wonderful in helping me talk about my goals and what I wanted out of my career and, more generally, for my life," says Harvey, now an assistant professor of gynecologic surgery at Vanderbilt's School of Medicine. "That process also helped me polish my responses in other interviews, which helped for medical school, my medical residency and the research grant proposals I'm writing now. I still use the same method of preparing for an interview that I did as an undergraduate."
Shelley Smith, a now-retired sociology professor, was chair of Carolina's Truman Scholar faculty committee for years — she remembers Harvey and Kelly well. She says the process of merely competing for prestigious national scholarships helps students mature and gain a better grasp of how to define and attain their goals. Those who actually win the scholarships gain far more than the monetary benefits, she says.
"These scholarships elevate them into networks they wouldn't otherwise be a part of, and that's a really important aspect," Smith says. "One of the first things Truman Scholars do upon winning is they attend an event in Missouri with other Truman Scholars. I know that a lot of our scholars come back astounded at meeting these other students. It's a little humbling, I'm sure."
Big things 20 years from now
It's been more than 20 years since Steven Burritt attended that event in Missouri. Burritt was named a Truman Scholar in 1995, the year after the Office of Fellowships and Scholar Programs was created, and he remembers being in awe of the other scholars.
"As part of Truman Scholar leadership week, you were asked to put a half page of whatever you wanted about yourself into a booklet, and I remember flipping through the pages and wondering, 'How the heck am I part of this group?' " he says. "Some of these kids had started nonprofits while they were in college."
Burritt, now the executive director of MADD in South Carolina and a member of Carolina's Truman Scholar screening committee, continues to be in awe of Carolina students competing for national scholarships.
"I've been pretty impressed by the caliber of students coming through. The amount they've accomplished and the number of opportunities they've taken advantage of by early in their junior year blows me away," he says. "The number who have traveled abroad, the fact that they're already working on research projects. So many have come through our committee wanting to work on specific issues in specific parts of the world, and part of me wants to go, 'You're 19, how could you even know about this?' "
Burritt probably hasn't met Adrianna Bowman, but she illustrates his point. An economics major from Lexington, S.C., she was named a Critical Language Scholar by the U.S. Department of State last year to study Chinese. As a senior, she was named a Boren Scholar and is learning Hindi, the official language of India.
These scholarships are not so much prizes for what you've already done, but because the scholarship committees [at the national level] think you're going to do big things 20 years from now — something really worthwhile.

Carol Harrison, faculty chair, Rhodes Scholar screening committee
"I'm conversationally fluent in Mandarin, but I kind of got tired of Chinese, so I picked Hindi because of India's prevalence in Asia," says Bowman, who is planning to do graduate work in international political economy at the University of Pittsburgh. Her ultimate goal is to become an ambassador or foreign service officer.
Having ambitious, long-term goals is a plus when competing for national scholarships and fellowships, says Carol Harrison, a history professor who chairs the Rhodes Scholarship screening committee.
"These scholarships are not so much prizes for what you've already done, but because the scholarship committees [at the national level] think you're going to do big things 20 years from now — something really worthwhile," Harrison says.
"So we have conversations about what that might be, what they want to do in the world. The process is super useful. They might not get the Rhodes — most candidates don't — but they often get another scholarship. Part of the thinking is that you can learn to be a better candidate."
A labor of love
The university has had at least one Goldwater Scholar every year for the past 26 years, and math professor Doug Meade has chaired the faculty committee that assists Goldwater candidates for much of that time.
Every institution can nominate up to four students for the Goldwater Scholarship each year, and Meade's committee always has more than four qualified students. The process of winnowing the number of nominations to four, and working with each of those candidates to submit a competitive application becomes a labor of love, he says.
"Each member of the Goldwater Selection Committee has a passion for working with talented students," he adds. "Even though each of us is very busy, we always make time in our schedules to meet with the USC students who apply for the Goldwater Scholarship. These students are a pleasure to work with, and we take pride in helping them to narrow their career choices."
Carolina's success in national fellowship competitions boils down to three ingredients: talented students, dedicated support staff in the Office of Fellowships and Scholar Programs and faculty members willing to go the extra mile in helping students find their passions. It's a formula that has worked exceptionally well for nearly 25 years, and bodes well for future achievements.
---
Share this Story! Let friends in your social network know what you are reading about
---