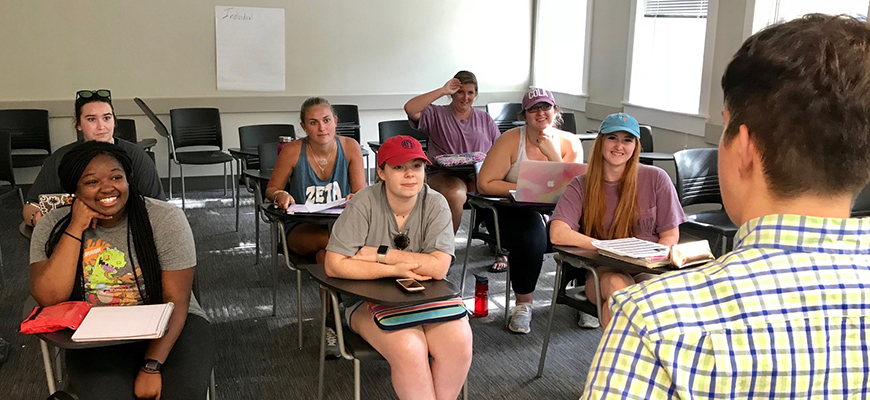 Filling the void
College of Education launches program to prepare teachers to serve children with special needs
---
By Kathryn McPhail,
mcphailk@mailbox.sc.edu
, 803-777-8841
---
While observing an elementary class last year, education student Kyanna Samuel realized she wanted to be better prepared to teach children with special needs.
"There was a little boy with autism in the class who struggled to interact with the teacher and other students," says Samuel, a junior at the University of South Carolina. "That experience made me realize that I would soon be teaching students with various learning differences, and I needed more specialized training."
Samuel chose to participate in the College of Education's newest special education program which includes a series of six courses for early childhood education undergraduate students and current teachers — specifically those who serve children from birth to third grade.
Besides better serving students, I think this program will help me overall with patience, communication skills and problems solving skills. It will help all of us be better people as well as teachers.

Kyanna Samuel, education student
"Already, I am learning ways to make sure my classroom setting is inclusive and how to start intervention and best communicate with families and other professionals," Samuel says.
The creation of the certification program is one way the College of Education is tackling the growing teacher shortage in the state. South Carolina is in critical need of special educators, with special education vacancies making up the largest share — nearly 20 percent — of unfilled teaching positions. Last year, about 100 special education jobs went unfilled statewide. Also, a law passed in 2017 requires educators to be licensed to teach special education to children 3–5 years old.
Before now, special education courses were only taught at the master's degree level at Carolina. Professor Kate Ascetta says the online courses allow current teachers to obtain certification while working and also give early childhood education students specialized training without adding extra time toward the completion of an undergraduate degree.
"We begin with courses that touch on topics such as assessment, social and emotional development, curriculum and instructional practices and of course, partnerships with families" Ascetta says. "Then each courses after that does a deep dive into a particular area. Students are provided with evidence-based strategies — grounded in research — that are proven to support the growth and development of young children."
Ascetta knows first-hand why many educators choose not to teach children with special needs or learning differences.
"I was a preschool special educator for seven years," Ascetta says. "Special educators need to be highly specialized and yet broadly aware of the diverse needs of their students. It is not an easy job, but with the right pre-service education and ongoing support, special educators can be prepared to design instruction that meets the needs of all students."
Coursework, coupled with in-classroom observation and teaching, will better prepare educators to teach young children with special needs while growing their confidence professionally.
"Inclusion is critical at this age group. So, no matter what type of early childhood setting you plan to teach in, you will have students with developmental delays that need additional support and curriculum modifications," Ascetta says. "Therefore, this certification will add to the teacher's toolbox of evidence-based practices that can be used to address the diverse needs of young learners."
Strengthening the teaching "toolbox" also means Samuel as well as her classmates, like fellow junior Taylor Huneycutt, will stand out among their peers when it comes time to find a job.
"Professionally, I think this program will help me shine," Huneycutt says. "Not everyone is fortunate enough to have a program like this one at USC so I think this certification will impress future employers."
"Besides better serving students, I think this program will help me overall with patience, communication skills and problems solving skills. It will help all of us be better people as well as teachers," Samuel says.
---
Share this Story! Let friends in your social network know what you are reading about
---