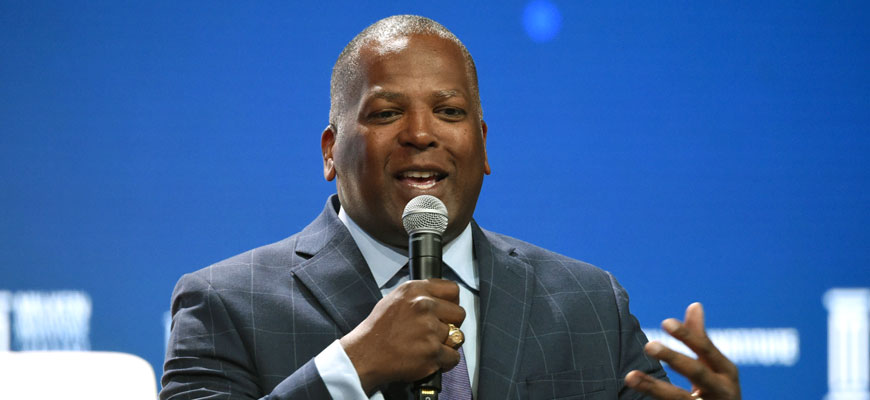 Attracting talent
USC welcomes thousands of out-of-staters each year, many stay and have big impact on the Palmetto State
---
By Page Ivey,
pivey@mailbox.sc.edu
, 803-777-3085
---
Each fall, thousands of new students come to the University of South Carolina from out of state, and a lot of them later make a permanent home here, improving our communities and benefiting our economy. It's the exact opposite of brain drain, and one of many reasons the Carolina family is so vibrant and diverse. This is the first in a series of stories first published in USC Times in which we spoke to successful alumni who came from out-of-state and fell in love with their adopted home.
---
Name: Steve Benjamin
Hometown: Queens, New York City
Degrees: '91 political science, '94 law
Current role: Mayor of Columbia
His story: My family's roots are in Orangeburg (South Carolina) and we spent every summer there. I was accepted to USC, The Citadel, Auburn and Purdue. Having family in Columbia and Orangeburg made a big difference and so I chose Carolina and moved here as a 17-year-old college student.
I had a very profound experience on Sept. 11, 1987. Growing up in New York City, we lived in a tough neighborhood, but I had two awesome parents. And in New York City, Catholicism is really large and the presence of the pope is very real. And here I was a 17-year-old, relatively clueless freshman on a college campus for the first time, hearing Pope John Paul II address students on the Horseshoe: "It's good to be young. It's good to be young and a student. It's good to be young and a student at the University of South Carolina." That was really a life-changing experience for me. It made me realize that just a few months earlier, I wasn't sure what I'd be doing with my life and now I'm here on this college campus — this wonderful microcosm of society — a stone's throw from one of the most influential men in the world, telling me that I have been blessed.
I left the Horseshoe that day and went immediately over to student government and student affairs and got involved in student life. I got involved in the Minority Assistance Peer Program, got involved in the NAACP. The next year, I was a student senator and eventually became the student body president.
Columbia and the university really have given me so much, my life story has been, how do I pay that back? How do I use the opportunities that I have, the blessings I've received to make sure other little boys and girls, similarly situated, have the same opportunities that I have been given.
---
Share this Story! Let friends in your social network know what you are reading about
---