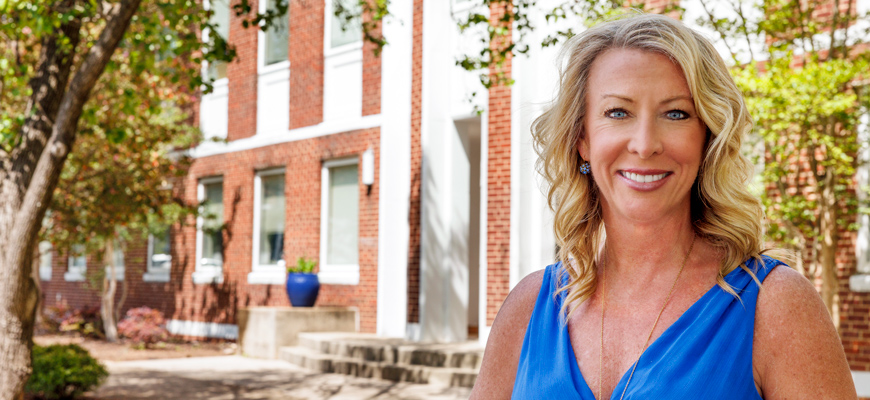 After son's diagnosis, alumna becomes leading advocate for families affected by autism
Lorri Unumb channels personal journey into focus and direction as a catalyst for change
---
By Carol J.G. Ward,
ward8@mailbox.sc.edu
---
When Lorri and Dan Unumb's son Ryan was almost 2 years old, they noticed he wasn't behaving and developing like other children. The couple was living in Washington, D.C., where they both were employed as lawyers with the U.S. Department of Justice. After appointments with several specialists, Ryan was diagnosed with autism shortly before his second birthday.
"They all said the same thing: For a child with this degree of autism, you need to get him into a very intensive program right away," Lorri Unumb says. "I didn't even know what autism was. Because 20 years ago, it just wasn't the household word it is now. I didn't even know what they were telling us to do. But we were going to do it. Whatever it was they were recommending, we were going to do it."
Two decades later, Unumb, a University of South Carolina alumna ('90 journalism and political science, '93 law), is an internationally known autism advocate who has written ground-breaking autism insurance legislation and co-founded, with her husband, a nonprofit center for families affected by autism in South Carolina. In 2019, she became CEO of the Council of Autism Service Providers, an association of organizations serving people with autism.
Becoming an advocate
The intensive therapy that specialists recommended for Ryan was applied behavior analysis. ABA is a one-on-one intervention that uses positive reinforcement and repetition to develop social, emotional and communication skills for individuals on the autism spectrum. At the time of Ryan's diagnosis, ABA was mainly home-based, and therapists recommended a 40-hour per week program.
"That made me cry. He's 2. As his mother, 'I thought he can't do this for 40 hours a week,'" Unumb says.
Then the Unumbs learned that the cost to have a certified behavior analyst and technicians work with Ryan in their home was going to be $70,000 a year.
"I literally remember turning to my husband and saying, 'Well, thank goodness we have health insurance.' I didn't know that health insurance wouldn't pay one penny," Unumb says.
They were fortunate that they were able to live on Dan's salary and dedicate Lorri's to pay for Ryan's therapy. The couple also sold their house, downsized and took other measures to cut expenses. Before Ryan was 4 years old, they moved back to South Carolina to be nearer Lorri's family for support.
She remembers meeting other families in autism support groups and being reluctant to talk about how much the applied behavior analysis was helping Ryan because some parents wouldn't be able to shoulder the financial burden.
"I got to the point where I couldn't sleep at night thinking about those families," Unumb says. "Yes, we had to sell our house. We're lucky we had one to sell."
In 2005, at her kitchen table, she wrote legislation to require health insurance to cover evidence-based treatment, including ABA, as prescribed by a doctor for children with autism. After two years of intensive lobbying of South Carolina legislators to explain autism and the need for insurance coverage, the bill, called Ryan's Law, was enacted in 2007. Similar legislation had passed in Indiana in 2001. Although South Carolina's law wasn't the first, it was a catalyst for change – change that Unumb would lead.
After two years of debate and media coverage, people all over the country heard about Ryan's Law. Because health insurance is regulated at the state level, the national nonprofit Autism Speaks contacted Unumb and asked her to work with them to get a similar law passed in all 50 states. At the time, she had a job she loved at the National Advocacy Center, a federal training center on the UofSC campus operated by the U.S. Department of Justice.
"When Autism Speaks called and said we'd like to give you a career doing what you've been doing on a volunteer basis, I couldn't turn that down," Unumb says.
For the next decade or so, she traveled to all 50 states writing legislation, finding families and providers to support it, educating legislators and finding lawmakers to champion the bill.
In 2019, the 50th state – Tennessee – came on board.
Making a difference
As she traveled the country working to pass insurance legislation, Unumb noticed that, while her son continued to receive ABA at home, many states had centers that offered autism therapies on site. These centers provided a hub for therapists to draw on each other's expertise, something that didn't always happen in the most efficient manner with home-based programming.
Unumb recalls that when Ryan was having difficulty learning colors, the therapist would leave a note asking if anyone else on his team had ideas. It might take a week for a response. The inefficiency frustrated Unumb because she felt Ryan was hitting a plateau.
Around 2009, while she continued to work with Autism Speaks, she and Dan visited a center she had been impressed with in New Jersey.
"I said to Dan, 'We're going to have to move up here because for Ryan to have the best shot, he needs a center like this," Unumb says.
They talked to the executive director and even looked at houses in New Jersey, but as their flight landed back in Columbia, she remembers thinking, "This is so unfair. I want to live in South Carolina, and I don't want to feel like I have to move to do right by my child."
So, the Unumbs decided to create the center they needed close to home. That was the genesis of the Autism Academy of South Carolina, which opened its doors in 2011 in a Sunday School building at Capital City Baptist Church and served three students. In 2013, the center moved to its current location at 1505 Blanding St., a former YWCA building owned by St. Paul's Lutheran Church.
In 2019, the name was changed to The Unumb Center for Neurodevelopment in honor of the founders' leadership and award-winning advocacy work on behalf of families with autism. The Unumb Center now has about 50 employees and serves over 200 children and adolescents in the Midlands each year. In addition to applied behavior analysis, the center offers diagnostic testing and assessments, social skills groups, summer programs including Camp U and Field Day, job training with an on-site t-shirt printing shop, individual and family therapy, and behavioral feeding therapy.
In law school, I remember getting this terrific sense of just because something is the law doesn't mean it always has to be that way. You can change the system even though it might not be easy.

Lorri Unumb, UofSC alumna and internationally known autism advocate
Unumb's son Ryan, now 21, has been at the center since fourth grade and is their longest client. She has two other sons: Christopher, a high school senior, and Jonathan, who is in eighth grade.
In 2021, the CDC reported that approximately 1 in 44 children in the U.S. is diagnosed with an autism spectrum disorder, according to 2018 data. Boys are four times more likely to be diagnosed with autism than girls.
"Children on the spectrum are so different. What works for one might not work for someone else. We're designed for students who can't access the curriculum in their school system, either because of their behavior or level of functioning," Unumb says. "It's so nice for the professionals to be able to walk down the hall and say, 'I have tried this over and over, and it's not working' and get feedback from their colleagues."
Kem Green says therapy at The Unumb Center has helped her daughter Jaedyn develop and become independent in ways that she never would have otherwise. They make the drive from Orangeburg every day because opportunities in their hometown are limited for Jaedyn. Through ABA, she is learning to participate in conversation, answer basic questions, request attention, make purchases and be independent.
"Jaedyn used to spend a lot of time in her room wanting to be alone," Green says. "Now she enters your room and wants to be a part of what's going on. She wants to play. She wants to talk. It helps us appreciate the smaller things in life … what so many others overlook and take for granted."
A vision for the future
For the past three years, Unumb has been the CEO of the Council of Autism Service Providers but continues as board chair for The Unumb Center as she has from the beginning. Although initially reluctant to leave Autism Speaks because she felt there was more work to be done implementing the insurance legislation she helped pass, Unumb decided she could continue that work and have an impact through the trade association that helps set industry standards and maintain quality for about 300 autism service providers around the country.
When asked what's next, Unumb says she would like to work toward assisting families and individuals with autism by expanding services across the lifespan.
"We've done a great job serving children through age 21, but I'd like to be able to offer that continuum of services. I'm living it with my son because we don't know what's next for Ryan," she says. "You would think surely I've got it figured out. I don't. It's a tough problem."
For now, The Unumb Center serves the community not only through its weekday programs and services but also through outreach opportunities such as Happy Glampers, a fundraiser for Camp U and the Autism Family Fair.
The free family fair is hosted in partnership with UofSC's Early Social Development and Intervention Lab and is one example of the relationship between the university and the center, which offers opportunities for interns, practicum students and postdoctoral scholars from the School of Social Work, Department of Psychology and College of Education as well as marketing interns from the School of Journalism and Mass Communications.
"Graduate students from my lab and other labs have done clinical practicums through The Unumb Center, and students have worked as volunteers at their summer camp," says psychology professor Jessica Bradshaw, director of the Early Social Development and Intervention Lab. "By providing these opportunities, the center is helping train the next generation of psychologists focused on autism."
Now a well-known autism advocate, Unumb says her journey was not exactly what she expected when she studied broadcast journalism and political science and then attended law school at South Carolina.
"I certainly didn't foresee or project this career path, but I think the education I received and the way my classes and my professors challenged me to expand my thinking and to think about what should be – instead of what is – prepared me," she says. "In law school, I remember getting this terrific sense of just because something is the law doesn't mean it always has to be that way. You can change the system even though it might not be easy. You have a lot of power as a citizen, and with an idea and a positive approach to making a change, you can affect a lot of people's lives."
In addition to the Early Social Development and Intervention Lab, the UofSC College of Education and CarolinaLIFE will participate in the fair 5:30-7:30 p.m. Friday (May 27) at EdVenture Children's Museum. Admission is free for adults and children.
Children with autism and other special needs will have the opportunity to explore EdVenture in a calming, adapted environment with free entertainment and refreshments.
Autism service providers in the Midlands also will be available to share their resources.
"We want to support the autism community by offering an event that is catered to them and takes into consideration sensory and behavioral needs while also expanding their awareness of resources and services that are available for them," says Elizabeth Dixon, clinical research and outreach coordinator.
---
Share this Story! Let friends in your social network know what you are reading about
---