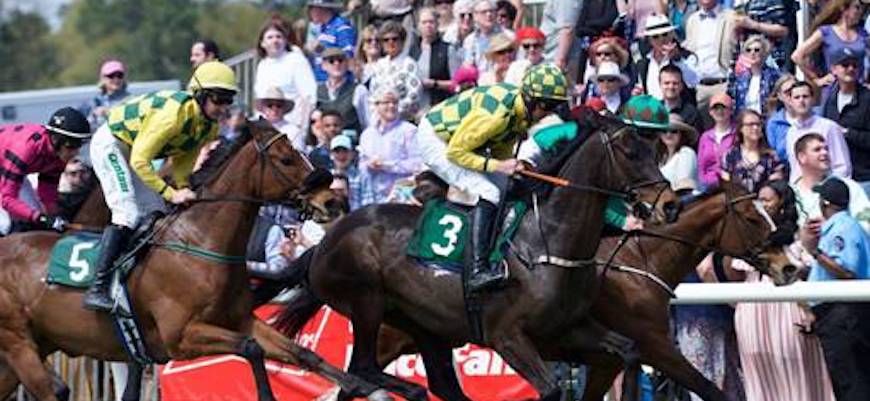 Equine economy
New interdisciplinary research will provide state leaders with crucial information on growing sector of economy
---
By Allen Wallace,
awallace@sc.edu
, 803-777-5667
---
A horse is a horse of course, but horses are also an economic force.
A recent American Horse Council study finds that the U.S. equine industry is responsible for about $122 billion in economic impact and 1.74 million jobs on a full-time basis, that generate $79 billion in total salaries, wages, and benefits. How much of that is felt in South Carolina? That's the question University of South Carolina researchers will answer after receiving a $46,500 grant from the South Carolina Department of Agriculture.
The new six-month study will show how each segment of the equine industry (racing, sport, ranch/work, guide and recreation) contributes to the economy as well as the rich cultural fabric of South Carolina. The data will be used to inform future policy and business discussions.
The last statewide study of South Carolina's equine sector was conducted 14 years ago, so the new study will play an important role in showing how much the industry has grown and how much it means to the state in 2018. In Florida, for example, the equine economic impact has risen by 33 percent in the last decade.
Simon Hudson, endowed chair and director of the Richardson Family SmartState Center of Economic Excellence in Tourism and Economic Development, will lead the new project aided by Fang Meng and Kevin So from the SmartState team. The center is part of UofSC's College of Hospitality, Retail and Sport Management.
The collaborative research project will also include interdisciplinary research partners Todd Koesters from the sport and entertainment management department and Joseph Von Nessen from the Darla Moore School of Business.
"The equine industry is a dynamic blend of tourism, entertainment and cultural heritage that plays a critical role in South Carolina's identity and economy, so we are excited to have a strong team of specialized experts working together on this project," Hudson says.
Koesters brings unique knowledge and specialized industry expertise to the team, having worked for Churchill Downs Entertainment Group as vice president of marketing and sales before becoming a professor of sport and entertainment management at UofSC. Von Nessen is a research economist specializing in regional economics, regional economic forecasting and housing economics. He regularly conducts a wide variety of economic impact analyses, feasibility studies and independent market research projects for clients in both the private and public sector.
Hudson and his team, along with Koesters, conducted a comprehensive study in 2012 for Aiken's Chamber of Commerce on the feasibility of an international horse park in Aiken. That work was helpful in winning the grant for the state-level study, which is now ready to begin.
"Studies like this provide great benefit to the tourism industry, the communities that depend on it and the state as a whole," Hudson says. "Effective knowledge development and sharing between academic researchers and industry practitioners provides a competitive advantage for South Carolina that is critical for adapting to evolving and growing industries."
The Richardson Family SmartState Center of Economic Excellence in Tourism and Economic Development was established in 2010 with a goal to propel research directly applicable to supporting tourism and economic growth in South Carolina. Since the center's creation, Hudson and his team have worked on more than 15 projects ranging from African-American tourism challenges and opportunities in South Carolina to the state's growth as a top destination for retirement.
Photo courtesy of Colin Demarest, Aiken Standard
---
Share this Story! Let friends in your social network know what you are reading about
---