Shared commitment
Inspired by welcoming environment, donors give $1 million to South Carolina
---
By Alyssa Yancey,
alyssa.yancey@uscmed.sc.edu
, 803-216-3302
---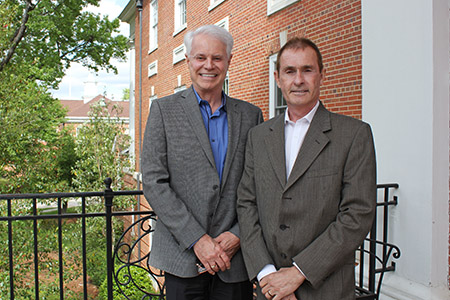 When Clark West and Elliott Mitchell met in college in 1972, being gay was taboo. West recalls emotional and physical abuse during his early schooling, and Mitchell says he changed jobs every two years during his first 15 years out of college to avoid suspicions about his sexual orientation.
Together more than four decades, the couple has seen a significant social shift toward acceptance in recent years, but they acknowledge there is still more work to be done.
After building a successful business together, they were eager to do their part to help the current generation of LGBTQ students, but they were frustrated by the lack of programming at their alma mater and the political climate in their home state of Alabama.
"In 2015, we received some national publicity from an article that essentially said we were no longer going to financially support our alma mater because we didn't feel like they were doing enough for diversity," says Mitchell. "We love our university, but we felt like they should be leaders, and they were not stepping up to the plate to do that."
The publicity led to new opportunities. Numerous institutions, including the University of South Carolina, reached out in the days and weeks after the article ran.
"The phrase kept coming into our head, 'If you can't do it where you want to do it, then do it where it's needed and where people want you.' "

Clark West
Earlier this year, West and Mitchell joined with The Point Foundation, the nation's largest scholarship-granting organization for LGBTQ students of merit, to provide financial support via an estate gift to three universities: USC, the University of Oregon and the University of North Alabama. The couple has agreed to establish a $500,000 endowment to support scholarships for USC School of Medicine students.
"We are very grateful for this generous gift. Having a diverse student population not only enriches the School of Medicine community but also serves to improve patient care and outcomes," says School of Medicine executive dean Les Hall. "Additionally, with the cost of medical school climbing nationally and an increasing shortage of providers, student scholarships are essential to the future success of our health care system."
West and Mitchell also established a $500,000 endowment to support scholarships for students attending associate degree-granting institutions in South Carolina who wish to transfer to one of the Palmetto State's baccalaureate-granting colleges or universities, including USC.
"The phrase kept coming into our head, 'If you can't do it where you want to do it, then do it where it's needed and where people want you,' " says West.
When West and Mitchell first visited USC in 2015, they were excited to find a vibrant campus that offered many of the programs they had been advocating for at their alma mater.
"We liked how the Carolina Creed came about, we liked what it said, and we liked that incoming students had to commit to that. We thought that was important not just for LGBTQ purposes, but ethnicity and religion and across the board," says Mitchell.
Today, West and Mitchell are excited to be able to give back through institutions that share a commitment to providing a welcoming environment for all.
"It feels kind of cathartic to be able to be a role model and to have young people say 'Thank you so much for everything that you've done, and that you are doing, so we can have a better life,' " says West. "You can actually tell people today that it will get better."
---
Share this Story! Let friends in your social network know what you are reading about
---