Hero in Bloom
Kassy Alia turns her grief into a service for the community
It was late summer of 2015, and Kassy Alia was alone in her car, driving home from a work trip, when she started to cry. Her tears, though, were tears of gratitude, joy, contentment. She was working on her doctorate in psychology at the University of South Carolina. She felt fulfilled by her work in community health research. She had a beautiful, healthy baby and a thriving, blissful marriage. Her life was everything she always wanted.
"And it wasn't fancy and it wasn't big, but I was just so content in my life," she says. "In that moment in the car I remember feeling overwhelmed with my appreciation for how blessed I was for all those gifts."
Then, just a few weeks later, everything changed.
On the morning of Sept. 30, 2015 — the same day her son, Sal, turned 6 months old — Kassy's husband, Greg Alia, a 32-year-old officer with the Forest Acres Police Department, was shot and killed as he attempted to apprehend an armed man at Richland Mall in Columbia.
The event would help to define Kassy Alia in the years that followed, and the intense grief she experienced has changed her life in ways that she could never have imagined. But that grief has also been an inspiration, leading her to launch a nonprofit organization that has changed not only her own life but the lives of police officers, marginalized communities and just about anyone who crosses her path. It's a remarkable story of recovery, but no one who knows Alia is the least bit surprised by her resolve.


Shifting focus
Kassy Kugler came to USC from Maryland on a swimming scholarship in the fall of 2005. Swimming taught her a deep level of commitment and mental toughness, she says now. Staring at the black line at the bottom of a pool for hours each day will do that. She swam for four years at Carolina, and served as team captain her senior year.
But swimming did not work out as she had hoped. An injury at the end of high school had set her back, and, finally, a disappointing performance in the SEC meet her junior year jolted her to think about life beyond the pool. The summer before her senior year, she decided she would concentrate on getting into graduate school to study psychology with a focus on health promotion. She stayed in Columbia for the summer for a research project and was enjoying the work, thinking about her next chapter. Then one summer night she walked into a Five Points bar and met the love of her life.
Greg Alia was a 2006 USC graduate with a degree in media arts and a minor in criminal justice. After graduation, he had moved to California to work as a production assistant on movies including Iron Man and one of the Indiana Jones movies. He had just moved home to Columbia that summer, feeling the call to serve in law enforcement.
But Kassy wasn't thinking about love. She was preparing for her career after college. "I was focused. No boys," she says. "I didn't give him my number."
Until the next day, when she ran into him at the grocery store.
"I remember everything about meeting him, from that night to the next day. I don't know if there's such a thing as love at first sight, but if there is, that was it," she says. "We had our first date that week and it took off from there. I remember it shook me that summer. It was a different kind of experience, falling in love with him."


A 'gut response'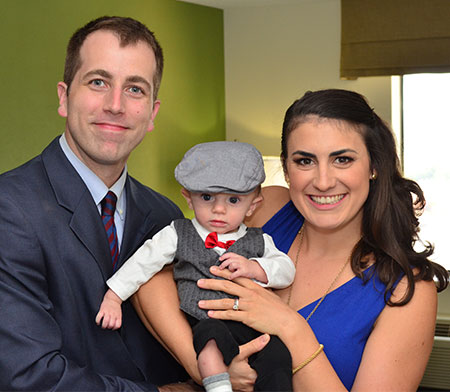 Kassy was at home working on her dissertation when she got the news that her husband had been killed, leaving her with a young son and staggering grief.
"I'm thankful that out of all the feelings I've felt since losing my husband, that anger and hate have been among the least common feelings," she says. "But in those first few moments, I remember feeling really angry."
When she thinks back to those days in 2015, she remembers the protests and demonstrations against police-involved shootings that were happening around the country. People seemed to think they had to be either for the police or for the community — you couldn't be both. News feeds on social media were packed with strong, often polarizing, reactions on every side.
Within hours of her husband's death, she started speaking out in the media, telling Greg's story. It was what she refers to now as a "gut response." She wanted to honor her husband, and she wanted her son to be able to look back and see stories about his dad that didn't focus on hatred.
"More than anything, I knew at that time I didn't want to fuel the hate and the divisiveness. I didn't want to be part of a polarizing message. I didn't want his death to become a tally mark for one team over another," she says. "I wanted to remind people of the humanity in it all. Whether you hate the police or love them, it was a man who died. He was a father, he was a son, he was a brother. He was my husband. I wanted people to remember a person was killed that day."
At 3 a.m. the night Greg was killed, she wrote a post on Facebook, asking for two things: She wanted people to tell stories of her husband that she could share with Sal when he was older; and because she considered Greg and many other officers heroes, she wanted people to use the hashtag #heroesinblue as a way to raise awareness of the positive interactions that police officers have each day.
For Kara Allen, who has been friends with Kassy since the two started swimming together when they were 9 and 10 years old, Kassy's response to her husband's death was not all that surprising.
"She is one of the strongest people I've ever known. When she really believes in something she believes it in her core. She's unwavering," Allen says. "At the time, like many of her friends and family, I was devastated. To see her do what she did was amazing. I can't think of anyone else in my life who would have reacted the way that she did, but I also don't know anybody quite like her."
The #heroesinblue hashtag turned into Heroes in Blue the organization, which was dedicated to raising awareness and rallying community support for law enforcement. It included a Feed an Officer campaign, where donations would be used to provide restaurant-prepared lunches to police departments on Dec. 14, Greg and Kassy's wedding anniversary. The first-year goal was 25 lunches; instead, 210 officers across 14 police stations were fed, and the organization collected $3,500 in gift certificates. In the years since, the growth has exploded, with hundreds of officers fed, thousands of dollars collected and dozens of restaurants participating.
Heroes In Blue also featured a tragedy response arm, which helped provide financial and other support to families of police officers who were killed in the line of duty in South Carolina. The organization was successful, raising $146,880 for fallen officers during 2017-2018 fiscal year, but Alia knew there was more that could — and should — be done to address the full picture of police and community relationships.


Listen and understand
While Alia says losing her husband was the worst thing she could imagine happening, sitting in meetings with prosecutors who asked for her recommendations on a penalty for her husband's killer was a close second. It was especially difficult when the discussion centered on the possibility of the death penalty.
"It seemed in every meeting, it would wreck me for days at a time. It would drag me into a pit of darkness that I was trying to avoid," she says. "I thought, 'How am I going to sit in the court room for years of my life facing my greatest pain for something I don't stand for? And how am I going to go home and love my son? How am I going to be the mother that he deserves? How am I going to teach him about empathy and compassion and forgiveness if I can't find that in my own heart? I was a wreck."
She thought about what she could tell Sal when he was older. She imagined a discussion of justice and consequences.
"But none of that helped. And it wasn't until I was in another long car ride, going to a work event, that I had some time to myself, and I pictured how I would feel if I were the mother of the man who killed my husband. Immediately I pictured him like my own little boy. I pictured how I feel looking at Sal with so much hope and possibilities. And I realized I knew nothing about this man's story. I accepted that while I didn't know his story, I knew there were too many factors in our society that could contribute to the risk for engaging in crime and violent activity. It was then that it hit me, the opportunity for police and communities to come together to prevent this pain from happening to others."
In the courtroom, when her husband's killer was sentenced to life in prison, she spoke about the need to look at situations proactively, as a way to prevent crime, rather than seek blame after the fact. After the sentencing, she continued to deliver the same message. She is talking, she says, about a way to change the future, to prevent a repeat of the painful experiences lived by too many on all sides.
That holistic approach was soon reflected in the name of the organization she launched. Heroes in Blue was rechristened Serve and Connect, a nonprofit that partners police departments, organizations and communities to improve people's lives. As CEO and founder, Alia has spent a lot of time going into marginalized communities and listening to people.
"I had been a community health researcher. I knew the statistics around disparities," she says. "I thought I understood the story of discrimination in our country, but it was not until I really started diving into this issue and met people from all diverse perspectives, especially those who are seemingly most different from myself, that I began to understand the humanity in the numbers and the experience of discrimination for communities of color. It was then I really saw the faces behind the statistics. Early on, I sought so much to be understood. This work was more about seeking to understand and listen."
A servant's heart
Ryan Alphin, '04 criminology and criminal justice, is the executive director of the South Carolina Law Enforcement Officers' Association and the Police Chiefs Association. He knows how difficult it can be for law enforcement to gain the trust of some minority communities, such as the Hispanic or African-American communities. He first met Alia a few days after her husband was killed and was immediately struck by what he calls her "servant's heart."
"They can see us as an adversary. They see Kassy as a bridge," says Alphin, who serves as chairman of the board of directors of Serve and Connect. "She respects law enforcement but has the heart and compassion to also see their true struggles. She has the legitimacy to do that. People understand this is a woman who wants to understand the issues that both sides face."
Alia believes the power of Serve and Connect is in listening to people's stories told in community settings. That includes a story shared by a police officer who talked about responding to a call in a parking lot where two women with a small child were begging for money. After hearing about their plight, the officer was able to obtain supplies from Greg's Groceries, one of the organization's programs, which provides police with boxes of non-perishable foods to share with people in need.
But Alia also recalls another story, this one told by an African-American man who described the fear he felt during his own first interaction with police when he was just a boy. The man, who now works with people with serious mental illnesses, described teaching his sons how to react in encounters with police officers. "It was so raw and real," Alia says. "He wasn't seeking judgment or blame, he was just being open."
The stories can be inspiring or heartbreaking. What matters most is that they are heard by a wide audience, which is why, in April 2019, Serve and Connect will host its first Courageous Conversations panel, which Alia hopes will elevate the dialogue between police and the South Carolina communities they serve through honest, difficult conversations. The first discussion will be about race and police relations.
"When I give talks, I say my fight has been for police and community relationships," Alia explains. "But I do think there's a bigger message here. If we can find the strength to be open and find empathy, when we have a willingess to walk in someone's shoes and seek understanding of the world through their eyes, that's when we can find real solutions."
She also is using her background as a researcher — she expects to finish work in May on her doctorate in the College of Arts and Sciences' clinical community psychology program — to learn more about the best ways to find those solutions. Working with her USC mentor and dissertation chair Abe Wandersman, distinguished professor emeritus of psychology, Alia has received a grant from the Robert Wood Johnson Foundation to study a collaborative approach to policing and community in the Eau Claire neighborhood in Columbia.
"There's a difference between programs that sound good and programs that make a difference," Wandersman says. "Kassy's trying to bring evidence-based approaches — things that have worked — into collaborative community policing. She's looking at ways to bring the community and police together for the common good. There's an opportunity to do this in a way that has credibility to both police and communities. And if it can be established (as successful), it can have a scope beyond South Carolina's border."


Embracing the gifts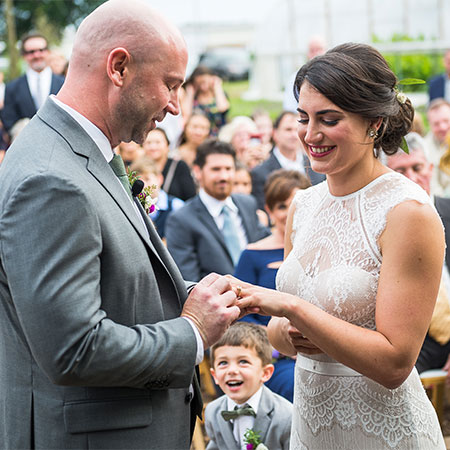 Alia had another life change this fall. In October, she married Mitch Ray, who had been a member of Kassy and Greg's friend circle.
Their personal relationship started slowly. Ray says he believed deeply in what she was doing and got involved first in Heroes in Blue, and then Serve and Connect. Ray, who works in the screen printing and embroidery business and made Heroes in Blue T-shirts soon after the hashtag appeared, says he was drawn to how Alia turned a tragedy into a calling.
"She is authentic. She really is that way," Ray says. "If you put yourself in the situation and wonder, 'How would I handle that?' It's pretty amazing to have a front row seat to that. Kassy always looks at the other person's side. She listens and empathizes. These things are complicated, and she's taken the time and has the patience to do it. That's been a big part of her recovery. She tries to understand every peel of the onion."
He jokes that he may have fallen in love with Sal first. That relationship is especially important to Kassy, along with the acceptance and love she has received from Greg's family.
Kassy says people tell her all the time that Greg would be proud of the work she's doing and how she has handled herself in the wake of tragedy. She tells them there are two things she is certain he would be proud of — the relationship she has with his parents and his sister, and that his little boy is thriving.
"Greg helped bring me into the woman I am today, a woman who has been able to sustain the loss of him and be able to carry forth in this way," she says. "I think he saw something in me that I didn't even see in myself. He helped the best parts of me bloom. I'm very lucky to be given the gift of that kind of love. By embracing the woman I've grown into, I'm embracing the gifts that Greg left with me. I honor his legacy that way."
---
Kassy Alia spoke about how to build authentic trust between law enforcement and citizens at the inaugural TedX@UofSC in October 2018.