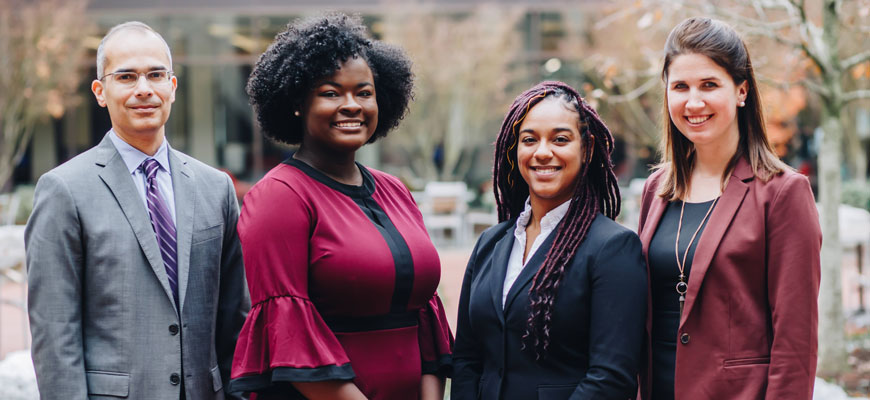 Justice for all
2019 Social Justice Award recipients to be honored at MLK Commemorative Breakfast
---
By Chris Horn,
chorn@sc.edu
, 803-777-3687
---
A University of South Carolina faculty member, staff member and two students who exemplify Martin Luther King Jr.'s commitment to service, equality and social justice will be honored at the university's annual MLK Commemorative Breakfast Jan. 18 at The Zone at Williams-Brice Stadium. Tickets to the event are $10 and can be purchased online.
The 2019 Social Justice Award recipients are (pictured above from left to right) Rajeev Bais, School of Medicine; Lyric Swinton, undergraduate sport and entertainment management major; Chelsea Jimenez, undergraduate education major; and Maureen Grewe, Office of Student Conduct and Academic Integrity.
Bais, an infectious disease expert, is the founder of the Carolina Survivor Clinic, which serves the long-term needs of resettled refugees in the Columbia metro area. The clinic provides health care, English-language instruction for adults, tutoring and soccer programs for youth, and a therapeutic garden. About 400 student volunteers serve at the clinic.
"What we're trying to show students is that the idealism expressed by Martin Luther King can become a reality," Bais says. "Being recognized for this award is more of a recognition of what the university has done, what the students have done, what the refugees themselves have been through and who they are — and that we can change the world for the better. Personal recognition means nothing, but recognizing what we can accomplish as a society, realizing that potential — that means everything."
Grewe, director of student conduct, has taught University 101 since 2011. She is involved in the Junior League of Columbia, a nonprofit that focuses on the development of women, volunteerism and strengthening the health and well-being of children and families in the Midlands.
"To me, social justice means using our talents in concert with others to help those less fortunate than us," Grewe says. "Working to better our communities by giving of our time and resources creates a lasting impact on the individuals we interact with and our community as a whole."
Jimenez, a senior in the College of Education's early childhood program, is interested in pedagogies focused on equity, cultural relevance and anti-racism. Last year, she won first place in the education category at the annual Southeastern Association of Educational Opportunity Program Personnel conference for her research on teaching young African-American students how to code-switch.
"What social justice means to me is advocating for all people for their basic needs and rights, but especially those groups that are historically marginalized," Jimenez says. "In our increasingly diverse society, it is important that we are actively working to ensure that there is equity within all fields of life as we hope to be as inclusive as possible."
Swinton, a junior in the College of Hospitality, Retail and Sport Management, is a first-generation college student and the first-ever secretary of inclusion and equity in student government. She was the only undergraduate speaker at the inaugural TEDxUofSC event in October.
"Having a seat at the table means nothing if you can't say what you feel while you're there," Swinton says. "Diversity and inclusion must both be present to create a socially just society, and I've made it my life's work to see that happen."
---
Share this Story! Let friends in your social network know what you are reading about
---