20 in '19
A look back at UofSC highlights from the past year
The University of South Carolina is known for its welcoming environment, and in 2019 the university earned official acknowledgement of that warm feeling by taking the top spot among public universities for first-year student experience. In an action-packed year, the first-year ranking was a standout — but not the only one. From soccer champions to woolly mammoths, record research funding to a record-setting freshman class, the University of South Carolina had a lot to be proud of in 2019. Here are 20 of the year's highlights.
Artificial Intelligence Institute
The university took a big step in artificial intelligence in 2019, opening a new AI Institute and hiring a national leader in the field to direct it. Amit Sheth leads a campuswide effort that builds on and harnesses the efforts of dozens of faculty members already working in AI. While AI research and programs are growing around the country, South Carolina's institute is among the first in the Southeast to include diverse colleges and departments, with 10 colleges and several research centers involved. Also central to the university's approach is incorporating ethics into its work: "As a flagship university, we are perfectly positioned to examine holistically not just what we can do, but what we should do," says Hossein Haj-Hariri, dean of the College of Engineering and Computing. The university has committed $1 million a year for five years to the institute, along with renovating the top floor of the former law center on South Main Street to house the researchers.
Basketball shines
The 2018-19 women's basketball team once again went deep in the NCAA tournament in March, falling in the Sweet 16 to the eventual champion, Baylor. The 2019-20 season has started brightly, with the women scoring early season upsets of No. 4 Maryland and No. 2 Baylor and their 10th-straight win over Clemson. Women's coach Dawn Staley is in her 12th year as head coach and compiled a 273-97 record in her first 11 seasons as a Gamecock.
Caslen becomes 29th president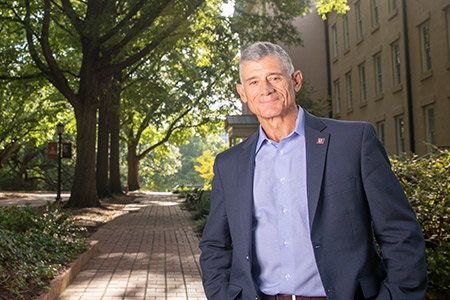 Named the university's 29th president in July, Bob Caslen has wasted no time getting to know its students and faculty, stopping in at countless events, inviting students to twice-weekly workouts and recognizing individual efforts in academic, athletic and research excellence with a special commemorative coin. The retired Army lieutenant general, a West Point graduate and former superintendent of the U.S. Military Academy, has spent his first few months reaching out to all segments of the university community, seeking a wide range of perspectives as he considers plans for addressing access, affordability and diversity at the university. "I've told the faculty, 'I'm going to be your biggest advocate,'" he says. "I believe in shared governance, from the bottom up, so that when it comes time to make a decision, everybody is on board."
Comics collection makes UofSC a center for pop culture
The university was the recipient of a donation of one of the world's largest comic book collections. Donated to the university by lifelong enthusiast Gary Lee Watson of Ohio in spring 2019, the collection includes more than 143,000 unique comic books, 20,000 magazines, 15,000 paperbacks and 5,000 pulp publications. University Libraries' staff estimates the acquisition makes the Irvin Department of Rare Books and Special Collections one of the nation's top five public repositories of comic books and makes the university an intellectual center for researchers, students and the public who are interested in working with comic books and popular 20th-century literature and culture.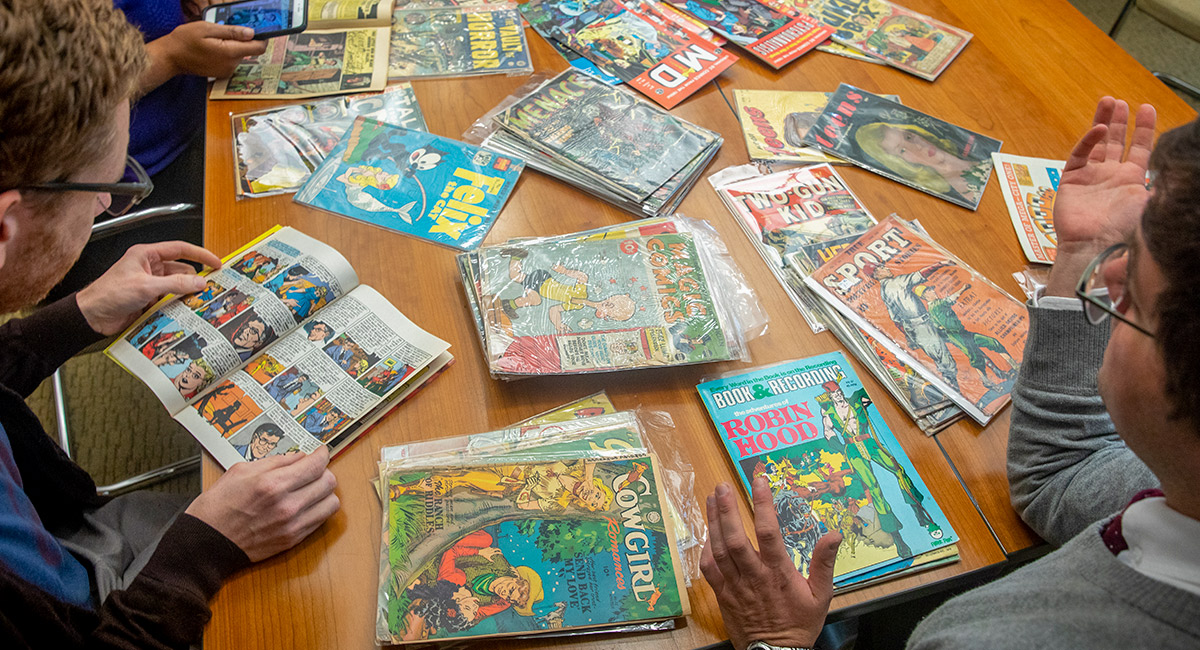 Equity summit
Following a successful on-campus debut in 2018, the South Carolina Collaborative on Race and Reconciliation hosted its second Equity Summit at the South Carolina State Museum and the Nickelodeon Theatre in November. The three-day summit attracted leading figures in race equity and inclusion efforts from around the country for a series of panels, workshops and public dialogues. Based out of the university's Office of Diversity and Inclusion, the summit is part of an ongoing effort to build a network of advocates, educators and other community stakeholders working to address equity issues across the Southeast.
Gamecock lands national tennis championship
Tennis standout Paul Jubb raised quite a racket this year. In May, Jubb became the first Gamecock to win a national championship in men's tennis. Two months later, he was serving on the grass courts at the All England Club, having earned a wild card spot at the 2019 Wimbledon Championships. Jubb also earned a scholar-athlete award from the Intercollegiate Tennis Association and made both the SEC academic honor roll and the College of Hospitality, Retail and Sport Management dean's list. "Being a student-athlete has helped me become a more organized person, and helped me learn to manage my time," Jubb says. "I try to really stay disciplined."
Hootie comes home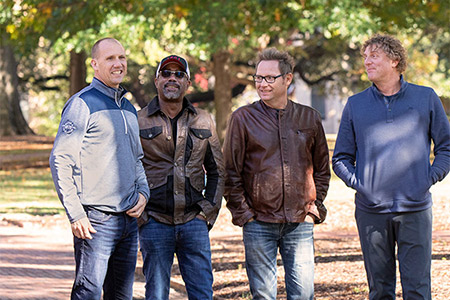 This summer, Hootie and the Blowfish celebrated the 25th anniversary of the band's hit album Cracked Rear View with its first tour in more than a decade, performing to sold-out arenas all over the country. The final stop on the U.S. tour brought them back to where it all began — the campus of the University of South Carolina – for three sold-out shows in September. The bandmates met while they were students at South Carolina, and got their start playing cover songs at campus parties and Five Points clubs on their way to becoming one of the most popular groups of their generation. Throughout the years, they've remained loyal to their alma mater and devoted Gamecock fans.
Major makeover for south campus
Construction of the Campus Village student residential housing redevelopment will begin in February. The transformative, multistage redevelopment — which will begin with four residential buildings accommodating 1,800 students at the northeast corner of Sumter and Whaley streets — is the most ambitious capital project in the university's history. The project, which is inspired both by historic values and contemporary design, will offer a unique living-learning experience with academic support space, a dining hall, a shuttle stop and a campus safety office, as well as a coffee shop. "The Campus Village project will allow us to better serve the needs of generations of future Gamecocks," says university President Bob Caslen.
Our 10th Truman Scholar
Bennett Lunn became the university's 10th Truman Scholar in April. A graduate of South Aiken High School, Lunn is a student in the South Carolina Honors College pursuing a BARSC degree, in which he is able to create his own curriculum focused on jurisprudence and education policy. Lunn is interested in public education policy reform with a focus on inequity in public schools, a career goal that the Truman Scholarship will help him pursue. Named for President Harry S. Truman, the award provides a $30,000 scholarship for graduate studies and is awarded to students who plan careers in public service.
Movietone collection preserves history
University Libraries celebrated the 100th anniversary of the newsreel with events promoting its Fox Movietone News collection. "This is a snapshot of the world that nobody else took," says Greg Wilsbacher, curator with the Moving Image Research Collection. "It is one of the most important global cultural heritage collections in the world." Some of the most important events captured on the newsreels were technological advances, such as airplanes in flight, everyday life around the world and footage from the bombing of Pearl Harbor. 2019 also was the 40th anniversary of the collection being at UofSC, where the silver nitrate film has been carefully preserved and extensively digitized to make it readily accessible to scholars and the public.
Nation's best first-year experience
University 101, a first-year seminar started at the University of South Carolina in 1972 to help students adjust to college life and learn about the university's offerings, sparked an international movement called the first-year experience. U-101 helped South Carolina consistently earn kudos from U.S. News and World Report for the university's work with students, peer leaders and instructors. This year, for the first time in nearly 20 years, U.S. News included a numerical ranking for first-year experience programs — and named UofSC the top first-year student experience among the nation's public universities. "The University of South Carolina offers students an experience unmatched by any other institution in the country," says President Bob Caslen. About 80 percent of freshmen take U101, with 268 sections of the class offered this fall – each capped at 19 students.
Pastides moves on
After a successful 11-year tenure that included a $1 billion fundraising campaign, multiple new building projects and academic initiatives, and a rise in the institution's rankings, Harris Pastides concluded his service as university president in July. He and Patricia Moore-Pastides left an indelible mark on the university, celebrating its triumphs and rallying the university family during setbacks. The former public health dean and vice president for research has devoted more than two decades of service to the university, and he plans, after a one-year sabbatical, to return to the university in 2020 to support the institution's advancement efforts. Among Pastides' post-presidential endeavors so far is a recent appointment to the board of the American Medical Association.
Research on the rise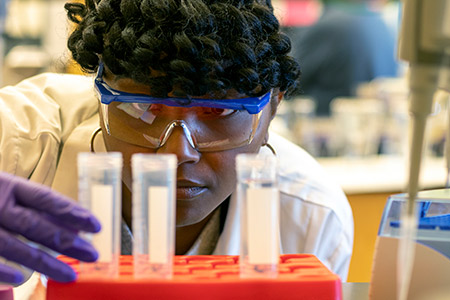 From Alzheimer's disease to physical fitness, from climate change to communications disorders, university faculty are conducting innovative research aimed at improving our communities. In fiscal year 2019, these efforts were awarded a record level of support, garnering $278.6 million — the fifth consecutive year of record-breaking funding. Funding from highly competitive federal funding agencies, particularly the National Institutes of Health, rose 9 percent, with health science awards totaling more than $100 million. "By making strategic investments in our exceptional scholars and our infrastructure, the University of South Carolina is building a research community characterized by innovation and excellence that has made and will continue to make an enormous positive impact on our state, nation and world," says Prakash Nagarkatti, vice president for research.
Powerhouse graduate programs
Rankings released in March by U.S. News show that the University of South Carolina now has 53 unique nationally ranked graduate programs — more than all other colleges and universities in the state combined. These programs — covering everything from business to the health sciences, the arts and law — help train graduate students destined to become future leaders in their fields. "More than 6,200 graduate students from more than 60 countries come to South Carolina to join a community of engaged scholars focused on attaining the knowledge to make a positive difference in their chosen fields," says Cheryl Addy, vice provost and dean of the Graduate School.
Record-setting freshman class
Sometimes bigger really is better. The university's fall 2019 cohort of approximately 8,700 first-year students (including transfers and residential bridge students) is the largest pool of new students ever enrolled at the Columbia campus — while also setting a new bar for academic achievement. "The diversity and academic talent represented in this new group of students will make us even stronger, and I look forward to seeing these students become an integral part of our community," says President Bob Caslen. Underrepresented minorities make up 24 percent of the new students, African American enrollment is up 7 percent, and nearly 17 percent of the freshman class is comprised of first-generation college students. At 5,200, this year's freshman class also includes the largest number of in-state students ever. Overall, the freshman class entered with an SAT average of 1,273.


Soccer champions
The UofSC women's soccer team added another trophy to the case with a Southeastern Conference tournament championship in early November. The team did not lose a single conference game during the regular season, but because of three ties lost the regular season title to the Arkansas Razorbacks. The Gamecocks beat the Razorbacks for the SEC tournament title, earning a No. 2 seed in the NCAA tournament. The Gamecocks beat Samford, Notre Dame and Kansas to progress to the quarterfinal round before losing to Washington State.
Social media insights lab
A new way of listening to conversations — about news events, brands, customer service and politics — is happening on the first floor of the School of Journalism and Mass Communications. The Social Media Insights Lab, which opened this year, uses artificial intelligence-powered Crimson Hexagon software to capture and interpret data from a wide swath of sources. It's able to analyze sentiment and identify emerging trends that are occurring in real time on sources from Twitter to YouTube to blogs. The lab is already gauging sentiment on the campaign trail as South Carolina gears up for its first-in-the-South presidential primary in early 2020.
Students support children's hospital
In March, more than 1,500 people converged on the Strom Thurmond Wellness and Fitness Center for Dance Marathon's signature event. The student-led fundraising campaign, which culminates with a 14-hour main event each spring, raised a record $1,038,156 for the Prisma Health Children's Hospital. "Let's make this so loud they can hear us at the hospital," Dance Marathon president Kaity Lynch told those assembled. "Let them know there is a group of students fighting for them on a Saturday night." Over the past five years, Dance Marathon has raised nearly $4 million, completely funding the Child Life program and supporting other hospital projects, including a new playground now in progress, specially designed for children undergoing treatment.
What happened to the woolly mammoths?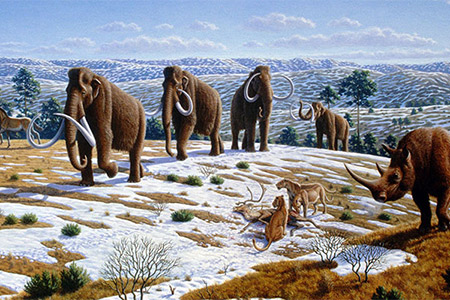 What can White Pond in Elgin, S.C., tell us about the extinction of woolly mammoths some 13,000 years ago? Quite a bit, according to research by South Carolina archaeologist Christopher Moore. Unusually high concentrations of platinum found at White Pond support White's theory that an asteroid or comet crashing to Earth was a significant factor in the extinction of many large animals, including wooly mammoths, as well as a decline in early human populations. Controversial from the time it was presented in 2007, the Younger Dryas Impact Hypothesis has gotten a boost in recent years, as Moore and other researchers have continued to gather evidence at White Pond and numerous papers have been published showing platinum anomalies dating to the same time period at other sites throughout the world.
Telling South Carolina's civil rights history
When it comes to the civil rights history of the United States, South Carolina rarely takes center stage. That's because most of the pivotal moments that have been etched in our collective memory took place elsewhere. But South Carolina actually has a rich and significant civil rights history, and the university delved into that history this year through letters, film clips, photos and more in the Justice for All exhibition. Among the state's little-known stories are a bus desegregation case filed in 1954 by Eastover native Sarah Mae Fleming, 17 months before the Rosa Parks incident; the 1950 Briggs v. Elliott case from Clarendon County, which helped lay the groundwork for the landmark Brown v. Board of Education case; and the 1969 Charleston Hospital Workers Strike, which brought 5,000 people to the streets and inspired workers throughout the country.