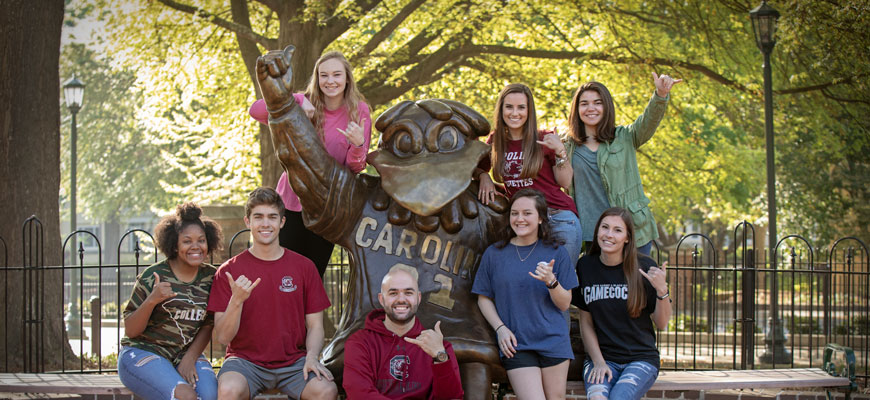 UofSC welcomes diverse, talented class of students
New UofSC students number 8,700 strong
---
By Jeff Stensland,
stenslan@mailbox.sc.edu
, 803-777-3686
---
The approximately 8,700 students arriving in Columbia this week are part of the largest pool of new students ever enrolled at the University of South Carolina's flagship campus. Preliminary enrollment numbers show that the university also is increasing in diversity and serving more students from South Carolina than ever before, surpassing last year's record and setting a new bar for academic achievement.
The enrollment success is due to a growing reputation for academic excellence and a superior student experience unrivaled by other schools in the state and region, says university President Bob Caslen.
"I'm thrilled and honored to greet this extraordinary class of first time students to campus and to Columbia," Caslen said. "Although I'm also new to the university, it's apparent that Gamecocks are deeply devoted to this institution, and for good reason. The diversity and academic talent represented in this new group of students will make us even stronger, and I look forward to seeing these students become an integral part of our community."
Highlights of the new freshman and transfer student class include:
Approximately 8,700 new freshmen, transfers, and residential bridge students are expected to enroll on the Columbia campus, including more than 5,200 South Carolinians—beating last year's record for the most Palmetto State students ever enrolled.
Underrepresented minorities make up 24 percent of Columbia's new students, and freshman enrollment of underrepresented minorities is projected to grow 13 percent over last year.
African American freshman enrollment is projected to grow by 7 percent over last year, and it has grown by more than 50 percent since 2016.
Hispanic freshman enrollment is projected to grow 27 percent over last year and is up 77 percent since 2016.
Nearly 17 percent of the new freshman class is comprised of first-generation college students.
In addition to in-state residents, new students hail from all 49 other states and the District of Columbia.
About 594 freshmen are enrolled in the South Carolina Honors College (1473 SAT/33 ACT/4.77 WCGPA), and an estimated 1,500 freshmen are participating in the Capstone Scholars program (1373 SAT/30.8 ACT/4.37 WCGPA). Overall freshman profile: 1273 SAT, 28 ACT, 4.14 WCGPA.
Including graduate students, overall enrollment at the Columbia campus is expected to reach more than 35,000.
"Our continued success in attracting top students from South Carolina and beyond is directly related to the transformative experiences of current and former students," said Scott Verzyl, associate vice president for Enrollment Management. "UofSC not only offers students tremendous opportunities inside the classroom to obtain a world-class education, but our vibrant and diverse campus culture also affords students the opportunity to engage in beyond the classroom experiences, grow as individuals, master critical skills, develop strong relationships and become future leaders."
---
Share this Story! Let friends in your social network know what you are reading about
---