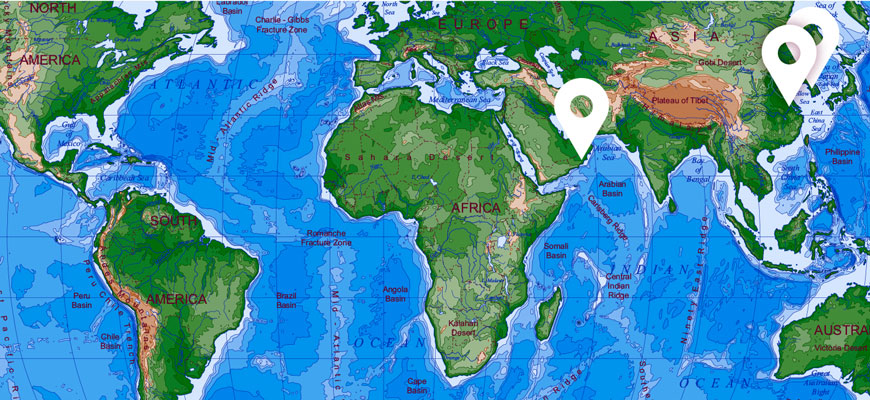 Global footprint
International partnerships boost consciousness, raise university's profile
---
By Craig Brandhorst,
craigb1@mailbox.sc.edu
, 803-777-3681
---
The University of South Carolina has been a global player for a long time. The master of international business program, for example, has dominated the U.S. News & World Report rankings for three decades. The Walker Institute — originally the Institute for International Studies — has been supporting international teaching, research, and public affairs programming since 1961. Our strong relationships in Taiwan and Korea go back decades, and students have been studying abroad since the invention of the backpack.
But since 2011, when the Focus Carolina strategic plan was announced, the university has significantly increased its internationalization efforts, transforming a healthy overseas presence into a clearly defined global footprint.
"When President Pastides assumed office, he started a process of strategic planning, and one of the recommendations that came out of that process was to become a global university," says Allen Miller, vice provost for Global Carolina. "To do that, we needed to up our study abroad game. We needed to be able to send more students out, give them more varied experiences. We also needed to have more international students on campus."
Becoming a truly global university also meant burnishing the university's international reputation, says Miller.
In places where the university already enjoyed a strong presence — Taiwan, Korea and Vietnam, for example — the strategy was simply to build on existing networks. But developing partnerships in places like the People's Republic of China was also necessary because, as Miller explains, "It's a market too big to ignore. Not being there would be like not being in Europe."
And then there are places like Oman, where a relationship developed organically over several years and eventually became a full-fledged collaboration.
"The core educational mission of Global Carolina is to produce students who have a global consciousness and are able to function as responsible citizens in the global community," Miller explains. "But there are also a lot of educational institutions worldwide that simply will not deal with you if you are not ranked. As long as reputation is part of rankings, we foreclose opportunities for scientific and scholarly collaboration if we are not a known presence in the world."
Social Work in Seoul
The field of social work has been practiced in Korea for about 70 years, and the university's College of Social Work has enjoyed a presence there for almost three decades. Launched in Seoul in 1993, the Korea-based Master of Social Work program offers the same curriculum that students receive at the Columbia campus and equips graduates to improve social services in their native country by broadening their understanding of social work theories and applications in the context of the Korean culture.
The program also raises the university's international profile.
When you go from here to Oman, you are not disconnected from USC at all. It becomes like your blood.

Ayoub Alwahaib, graduate student in mechanical engineering
"Many people in Korea make a connection between social work and the University of South Carolina, which bolsters the image of the university as a global institution of higher learning," says Kyunghee Ma, the program's director. "Specifically, having a social work program in Korea demonstrates how much UofSC contributes to improving societies around the world."
The university's presence is also changing the social work profession in Korea. Nancy Brown has taught nearly every cohort since 2001— frequently teaching courses on addiction and substance abuse — and describes a shift from what has been a case management approach to an approach predicated on front-line treatment.
"Social work in Korea has been pigeonholed, but there's a movement into more treatment areas. Social workers that we train are ready to engage clients," Brown explains. "The more people that graduate from our program, the more people there are who will have this perspective on the profession and have the capacity to treat people."
And that's really the goal: to improve people's lives by expanding and improving the field of social work in Korea while being respectful of Korean culture.
"Social work is sensitive to culture and economic and political contexts in which it is being practiced," says Ma. "Some U.S. universities have come to Asian countries in the hope of offering social work degree programs, but no other U.S.-based university has been as successful."
Opportunity in Oman
When the first Omani student came to South Carolina in 1985, no one could have anticipated the influx of other Omani students who would follow — thanks, initially, to word of mouth. Three decades later, though, you'll find approximately 70 Omani students on the Columbia campus in any give semester, most of them active in the Omani Student Association. There's a Gamecock alumni club in Muscat. And, last fall, a delegation that included Miller and President Pastides paid a visit to the small Middle East nation to celebrate a new academic partnership.
In November, after the Caledonian College of Engineering in Oman and the Oman Medical College merged to form the National University of Science and Technology, UofSC signed a memorandum of understanding with the newly formed university to help them launch an accredited program in engineering.
"We think we have the second largest population of Omani students on a single campus of any university in the United States," says Miller, who is also now on the National University of Science and Technology's board of trustees. "Oman is a place where we have both deep ties and we think we can stand out."
Every summer we have three to five faculty from USC visit Nanjing Medical to teach, and their students keep coming here every year.

Xiaoming Li, professor, Arnold School of Public Health
And the admiration is mutual, according to Omani students like Ayoub Alwahaib, who came to South Carolina to study mechanical engineering on the advice of an uncle back home. The uncle, who earned a bachelor's and a Ph.D. from the university (as well as a master's degree from Virginia Tech), made Alwahaib's decision simple. "He said, 'Just go to USC. It's a really good university.' He really liked it here or he wouldn't have come back for his Ph.D."
Alwahaib likes it here, too. After graduating in December, he immediately started work on his master's in mechanical engineering and now spends the bulk of his time in the combustion lab at the McNAIR Center for aerospace research. Like his uncle, he plans to pursue a Ph.D. After that, who knows? He would love to land a job in the U.S., but he's also excited about what's happening back in Oman, especially the university's strong relationship with his homeland.
"When students from here go to Oman, or when President Pastides goes to Oman, they contact the USC alumni there — to talk to the them, see what has happened in their lives. Did they get a good job? What do their coworkers say about USC?" he says. "When you go from here to Oman, you are not disconnected from USC at all. It becomes like your blood."
3+2 = More to Come
Whereas Carolina's now-robust relationship with Oman evolved organically over decades, the partnership with Nanjing Medical University began just three years ago, in 2016. It's expanding rapidly, though — thanks, in part, to Xiaoming Li, an Arnold School of Public Health professor and SmartState Endowed Chair for Clinical Translational Research.
In 2015, Li came to Carolina from Wayne State University, where he helped establish a joint degree program with NMU. After he arrived at his current post, his contacts at the Chinese university asked if something similar was possible at UofSC.
With strong support from Global Carolina and the leadership of both the Arnold School and the School of Medicine, that's exactly what happened. In 2016, five students from NMU spent three weeks at the UofSC School of Medicine doing clinical observation. That same year, representatives from NMU visited Columbia and signed a memorandum of understanding.
"By that time, Nanjing Medical had already designated funds specifically to support collaboration with USC," says Li. "That was a major milestone."
Since then, the number of Chinese students coming to the University of South Carolina, whether for clinical observation at the School of Medicine or research training at the Arnold School of Public Health, has continued to ramp up. In 2017, there were 10 NMU students here, and in 2018 the number jumped to 22. This year, we will host 25.
Meanwhile, NMU has been bringing South Carolina faculty to China to teach summer courses since 2017.
"When President Pastides assumed office, he started a process of strategic planning, and one of the recommendations that came out of that process was to become a global university."

Allen Miller, vice provost for Global Carolina
"Every summer we have three to five faculty from USC visit Nanjing Medical to teach, and their students keep coming here every year," says Li. "And last April, Provost Gabel and the deans from the School of Medicine and the Arnold School visited Nanjing Medical. At that time, USC was recognized by Nanjing Medical as one of four strategic partners in the world, and the only one in the United States."
Pending final approval, the next step is a 3+2 program allowing students from NMU to complete three years toward an undergraduate degree in China then come here for two years, after which they will graduate with a bachelor's degree from NMU and master's of public health degree from South Carolina. Eventually, Li hopes that some of those students will return for a Ph.D. He also hopes the relationship with NMU — which is a comprehensive university, not simply a medical school — can involve other disciplines.
"Long-term, we want to see formalized degree programs," says Li. "Before this year, everything was School of Medicine and Public Health, but we are hoping to expand into the humanities and social sciences. We now have two students here for foreign language, and next year we may see students studying literature or philosophy. We are concentrating on the 3+2 for now, but if we can make that a success, we can replicate it in different areas."
---
Share this Story! Let friends in your social network know what you are reading about
---