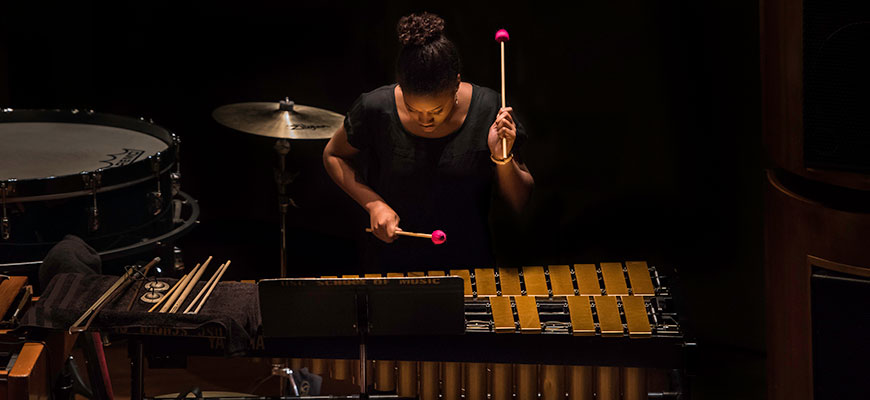 Magical musical tour
Musical Feast showcases student performances in a variety of musical genres
---
By Carol J.G. Ward,
ward8@mailbox.sc.edu
, 803-777-7549
---
Do you love jazz? Or perhaps a string quartet is more to your liking. Maybe you've never been to an opera and would like to get an idea of what it's all about.
At the Musical Feast on April 13, guests are invited to stroll through spaces within the Koger Center to experience a variety of musical performances presented by School of Music students. On the first floor, guests can enjoy a performance by vocal jazz ensemble Carolina Alive or sit on the mainstage to hear solo selections from scholarship recipients. The second floor will feature a string quartet and performances from Opera at USC. In the main rehearsal hall, guests can feel the beat with entertainment from the Percussion Ensemble and Palmetto Pans Steel Band.
The Musical Feast is a fundraising event hosted by the Friends of the School of Music to support student scholarships. Michael Halbrook, a senior in viola performance and member of the USC Symphony, is the recipient of a scholarship supported by the fundraiser and will be among the student performers.
"The scholarship has afforded me the opportunity to pursue my passion, and I am so grateful for that," Halbrook says. "The idea that people so generously invest in the future of others, especially young musicians, like me, is very moving and inspiring. The least I can do is offer a taste of what I've achieved with a performance of a short piece for the incredible people that have provided me with the opportunity to pursue music."
The Musical Feast has gone through several iterations over the past 27 years. Most recently, it was a seated dinner followed by a half-hour performance by faculty. This year, the event was reimagined into a moveable musical feast with student performers. By changing the concept and the location, the event can triple attendance from 100 guests at a seated dinner to about 300 at the Koger Center, which along with the addition of sponsorships this year, significantly increases the fundraising potential for music scholarships.
"Many years ago, they did something similar in the music building, which is a wonderful building — very useful and practical — but it's designed to teach music not to entertain," says School of Music Dean Tayloe Harding. "So what we've done this year is to go back to the concept of the moveable musical feast and to host it in the Koger Center, which is designed to actually hear and witness performances, and it's a little more formal setting."
The event had not been as financially lucrative for the past two or three years, according to Pat VanHuss, Friends president. With the new format, this year's goal is to raise $75,000.
"When I became president, I went to Dean Harding and told him the Friends wish to reimagine the Musical Feast. … We should have our scholarship students provide the music and their faculty members assist and present musical events in every location in the Koger Center for two-and-a-half hours. We'd want everything from opera to jazz to drums. We want to do a complete showcase of what the School of Music is about, so that patrons can see their impact," VanHuss says.
Over the past 27 years, Friends of the School of Music has raised more than $750,000 to support music scholarships, and the Musical Feast has been a staple of that fundraising.
"With his efforts to transform this year's event, Pat VanHuss has not only helped to build new excitement among our patrons but also to secure sponsorships in addition to ticket sales, which will help our students achieve their education," says Polly Lafitte, director of development.
Both Harding and VanHuss expect this year's event to be more fun and interesting for guests who will be able to mingle and interact while enjoying musical performances and food and drinks at stations throughout the venue.
"People will be able to move about and enjoy what they want to hear, and by the way, they may step in and listen to a little bit of opera that they've never heard," VanHuss says.
---
If you're going
2019 Musical Feast, 6:30-9 p.m. Saturday (April 13) will be at the Koger Center, 1501 Greene St. Tickets are $125 per person; $85 young professionals (ages 25-40 with ID).
---
Share this Story! Let friends in your social network know what you are reading about
---