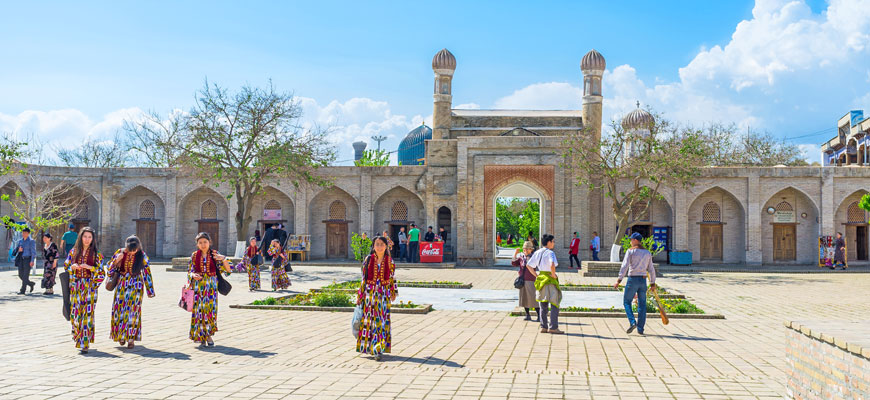 Retailing professor wins Fulbright for work in Uzbekistan
---
By Allen Wallace,
awallace@sc.edu
, 803-777-5667
---
The Fulbright program is one of the most famous and prestigious scholarship programs in the world, with 59 alumni who also have Nobel Prizes and 82 Pulitzer Prize winners. Many people in academia try throughout their career and never win a Fulbright Scholarship. Professor Mark Rosenbaum, chair of the retailing department, now has three.
Rosenbaum spent most of May in Uzbekistan, working to help the developing nation continue to grow, in an effort made possible by his Fulbright Specialist win earlier this year as an expert in services marketing.
His mission is to help launch the country's new Center for Services Management. The center will help Uzbekistan and other central Asian nations prepare for expected growth in their service industries, such as international tourism, retailing/Internet commerce, health care, insurance, transportation and logistics.
"When countries think about building their service economies, I want them to think of the University of South Carolina's College of HRSM."

Mark Rosenbaum, retailing
"As countries industrialize, their service industries increase in terms of importance," Rosenbaum says. "Commercial and nonprofit organizations alike must understand how to deliver services in a manner that maximizes individual, communal and national well-being."
Rosenbaum is working closely with the Uzbekistan government, the Tashkent University of Economics and Silk Road University to create the center. He visited the country earlier in 2019 with colleagues from South Carolina's School of Hotel, Restaurant and Tourism Management to lay the groundwork for the current project. A delegation from Tashkent University of Economics and Tashkent University of Information Technologies visited the South Carolina campus in 2018 to establish a memorandum of understanding between the academic institutions.
The center's focus is on building Uzbekistan's service industries and helping its citizens obtain meaningful employment in these industries. The founding partners have launched Silk Road Service as a brand and hashtag representing their shared commitment to service quality and inclusion.
"This Fulbright differs in the sense that the initiative is supported by government officials in both Uzbekistan and the United States," Rosenbaum says. "In fact, I made multiple visits to Washington, D.C., to meet with government officials from Uzbekistan prior to my departure. I had 42 days in the country to revamp its service economy, and my schedule of meetings and presentations quickly filled up.
The Fulbright award underscores the value and global impact that international academic collaboration can have, creating a network of knowledge sharing and education that can build economies and vibrant communities. Rosenbaum's work in Uzbekistan ties closely to the focus back in Columbia for his department and the entire College of Hospitality, Retail and Sport Management.
"As a college, we may be separate departments, but we are all united by a single theme — we teach students how to design and to manage service experiences," Rosenbaum says. "The entire visit follows the college's mission of understanding and managing the customer, fan, guest and patron experience, and it directly relates to new customer satisfaction curriculum we are building."
Rosenbaum will soon return to Columbia, but the international partnership will continue, and he hopes to see it expand. He has also met with government representatives from Afghanistan, Kyrgyzstan, Kazakhstan, Tajikistan and Turkmenistan. Indeed, Rosenbaum will also make a short trip to Tajikistan to discuss possible opportunities for collaboration to help the country build its service sector — namely tourism and hospitality.
"I have developed an incredible trust with many Uzbek leaders and I see this Fulbright as simply the beginning of a long relationship of collaboration and education," he says. "When countries think about building their service economies, I want them to think of the University of South Carolina's College of HRSM."
---
Share this Story! Let friends in your social network know what you are reading about
---