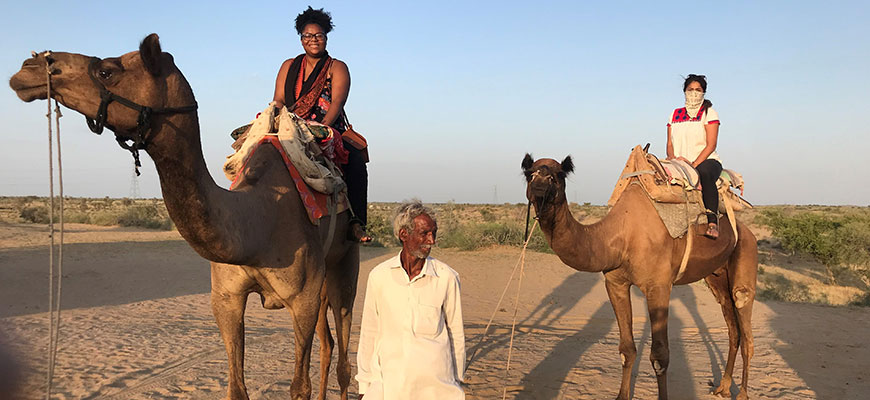 First-generation student takes on the world
UofSC Pickering Fellow hopes to connect cultures through foreign service career
---
By Carol J.G. Ward,
ward8@mailbox.sc.edu
, 803-771-7549
---
Adriana Bowman believes the world can become a smaller place if people of different cultures are able to connect on a meaningful level.
As the recipient of multiple scholarships that have helped her study abroad and immerse herself in foreign languages and cultures, Bowman is hoping to do her part to make those connections happen. She is currently studying Hindi in India on a Boren Scholarship as part of the South Asian Flagship Language Initiative. This year she was one of 30 recipients nationwide of the Thomas R. Pickering Foreign Affairs Fellowship for students interested in a foreign service career with the U.S. Department of State.
"The best part about going to places with cultures so different from our own is the exciting things you learn and witness every day you are there," says Bowman, a senior in the South Carolina Honors College. "Whether that is trying fried bugs in a rural village in China or being stuck in traffic because an elephant is being ridden to a wedding in India. So even though I was super nervous each time, I was excited for a new adventure. You never know what to expect or how the experience will change you."
After an application process she describes as intense, Bowman says receiving the Pickering Fellowship was one of the most validating experiences of her life. Finalists usually travel to Washington, D.C., for an in-person interview. Bowman was in India, so hers was done on Skype during one of the country's biggest holidays. "I like to think the fireworks going off in the background helped me in the interview," she says.
Jennifer Bess in the Office of Fellowships and Scholar Programs says that Bowman is a great example of someone who doesn't give up. She was a finalist for the Pickering Fellowship in 2018 but didn't win.
"She has applied for a lot of fellowships, and she's won several awards, but she's also not won awards. She just kept thinking through — not reinventing herself — but thinking OK that one didn't work, let's try something different or try that one again. She also is always really encouraging of her fellow students to let them know these opportunities exist," Bess said.
With the Pickering Fellowship, Bowman plans to attend the University of Pittsburgh for graduate school and become a U.S. foreign service officer. She is an Opportunity Scholar and Ronald E. McNair Scholar, as well as a recipient of the Benjamin A. Gilman Scholarship and the Critical Language Scholarship, both for study in China. She also was a 2018 finalist for the Payne International Development Fellowship and a 2019 finalist for the Rangel Fellowship, both for students interested in foreign service careers. Her major is economics with minors in Chinese and political science, and she developed an interest in foreign service after studying abroad in China her freshman year.
"I was often the first black person people saw, and they couldn't believe I was American. It was like I was introducing them to a whole new world. Besides that, it was amazing to learn about the Chinese language, Chinese society and even Chinese politics from Chinese people themselves and from my experiences in the country. From then on, I wanted to be able to showcase the many faces of America through public diplomacy as well as learn about other cultures, economies and governments firsthand."
She sees winning the Pickering Fellowship not only as a reflection of her experiences and hard work at the university and abroad but also as a huge step toward her goal of becoming an ambassador. However, she says she is most proud of inspiring those around her to pursue their goals, no matter how difficult or far away they may seem.
"This may sound cliché, but I would say if I can do it, there is no reason you can't do it. You just have to put yourself out there and apply. Take advantage of every opportunity that you can," she says.
The best part about going to places with cultures so different from our own is the exciting things you learn and witness every day you are there. ... You never know what to expect.

Adriana Bowman
Bowman, a first-generation college student from Lexington, says her low-income background has motivated her to succeed. One of her main inspirations and biggest cheerleaders was her father, who passed away while she was in India. Bowman's mother died when she was 11, so as a single father, he raised three girls.
"Even though he had never been to college or abroad, he tried his best to help me with each and every experience. … Growing up with little and not knowing whether I would be able to go to college inspires me to take advantage of every opportunity, no matter how intimidating," Bowman says. "I also want to be successful so that I can inspire other underprivileged people like myself to follow their dreams."
Both of Bowman's sisters attend UofSC. Alysa is a freshman, and Nia is a junior. She also has a 9-year-old brother, who also hopes to become a Gamecock one day.
---
Application process is a learning experience
Students seeking national fellowships are assisted by the Office of Fellowships and Scholar Programs. Bowman says the support of the Office of Fellowships and Scholar Programs was invaluable in helping her discover opportunities, reading draft essays and setting up mock interviews. Even when she didn't win a fellowship, Bowman says the office helped her realize she could learn through the process and apply that knowledge to another application or opportunity.
For more information, visit the Office of Fellowships and Scholar Programs website or call 803-777-0958.
---
Share this Story! Let friends in your social network know what you are reading about
---